You're probably gonna sit a little bit forward of that because the seat kind of curls up to there. So really this strap to me should be more along here to give you some space. This is a slight bit smaller than the Zed 900 Rs but still a very good seat and very wide, which means that whoever you take with you is gonna be holding onto you but they're gonna be comfortable up there and that's just a nice thing to have on a bike for versatility. So really, really good seat. And there's some nice sort of visual interest here too. There's some indents here. You have the smooth leather strap here which compliments the smooth leather on the outside. There's some contrasting white stitching along the edge. It's interesting to look at. It's not done cheaply, it's well done. So now let's take a look at the gauge cluster here.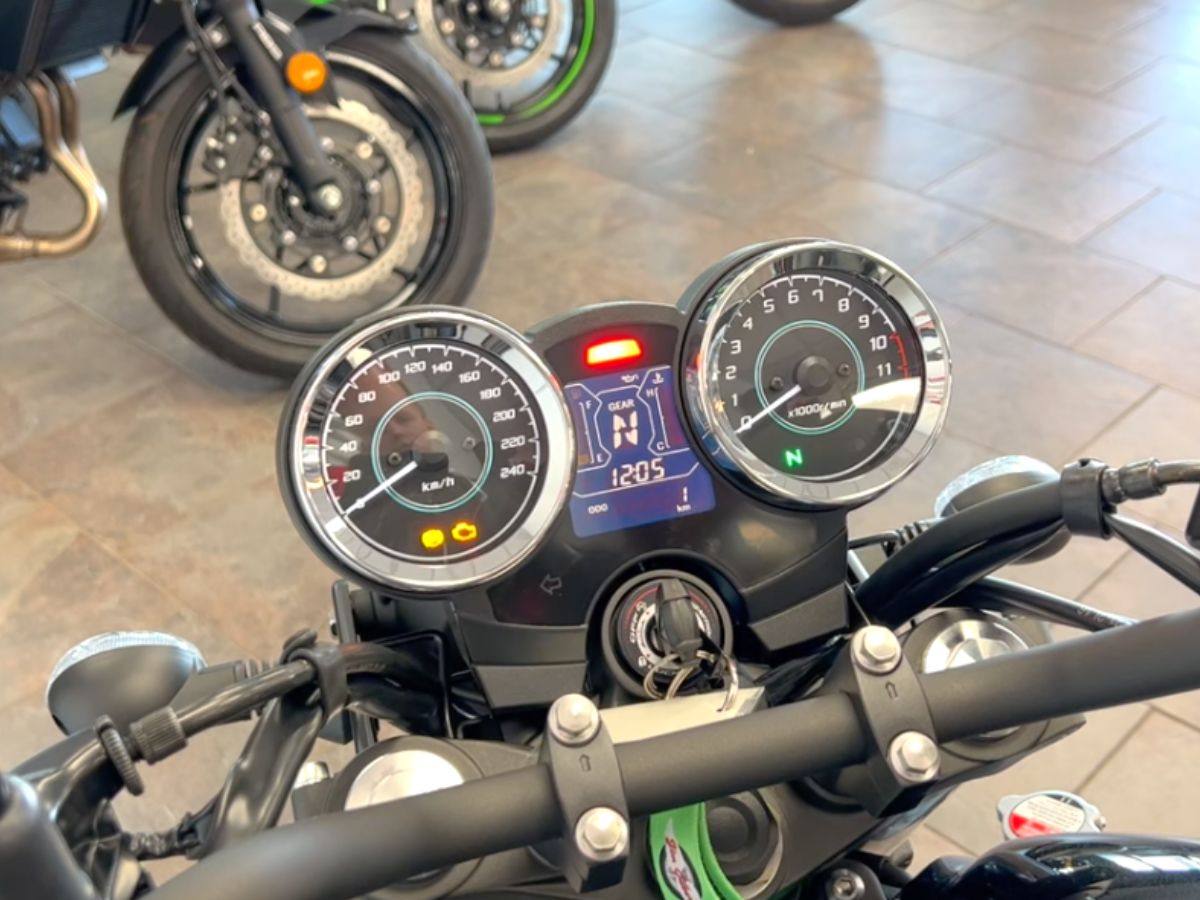 If you're British, you say you're clocks if you're, you know, other places you say uh, the dials, there's lots of ways to call these, but the idea is this is not a TFT display. I really like the clarity of these and I'll tell you why. A lot of, especially in the t armor a lot modern da, a lot of modern dashes with attack armor on a digital display, it's a little harder to tell at a glance exactly where you are. So what I like about this is, you know, you can sort of tell where your tack is without looking down on the road, off the road to focus on it. And especially with the speed when you have a digital speedometer telling the difference between 68 and 86 is something you have to take your eyes off the road, look down at it, read it, and then look back up.
Something like this. If you're going 120 kilometers an hour, the speedometer is straight up or down. So you can tell, am I going roughly a hundred? Am I going roughly 80? You can kind of see where it's at without focusing on it in your peripheral vision you can see where that dial is and to me that allows you to keep your eyes on the road. Now there's plenty of good reasons to have a TFT display, but there is something to be said about the clarity of these dials that you have here, which are sort of retro styled. So we're gonna zoom into that in a second. But before we do, the other thing I really like is you have a handlebar along here. Now on a modern bike, handlebars are becoming less and less, you know, popular on some in some cases, but this is a really good place to mount things like phone mounts, GPS mounts, other types of things.
It's also something where you could mount a windshield because you have that round headlight, there's bolt in the side of each of the, of the headlight and these types of handlebars. If you decide you want a tour with this or even have some sort of windshield that you can pop on and pop off, you do have the ability to very easily mount aftermarket windshields on this to make it sort of something that can give you some extra wind protection. So handlebars, the way the headlights mounted and the overall look here gives you the ability to tour on this bike, which makes it very, very versatile. You've already got the comfortable seating position. You can add wind protection if you don't want wind protection again, you want that breeze. That's how it comes and it looks pretty cool like that. Let's look in a little closer here and see what you've actually got now. So taking a look a little closer here, you can see again everything up close here. You've got really clear, easy to read, uh, dials. Now on the Zed six 50 Rs you have these extra circles in there on the Zed 900 Rs in Canada you don't have those extra circles. You do in the states have a kilometers down here in that kind of color in the Zed 900 Rs. Uh, this one's they don't have, they have kilometers only, not miles. So they're not a dual um, reading type of thing, but you have those little dials in there with the extra little circles. A nice clean font, easy to read. And then what I really, really appreciate is this extra display in the center. Now sometimes this can sort of flicker on screen. It looks like it's pretty clear right now. Obviously the left side is your fuel gauge.

That's blinking. This bike is super low on fuel. We haven't uh, topped it up yet. So just a nice thing to show because it is low on fuel, it is a bar graph and you can see when it gets down you're not really quite empty when it's down to the last bar. You definitely need to get gas when that last bar starts flashing. So again, you're not gonna miss that if you're driving this. Um, and it's just a simple display up here. Now one thing I really, really like is the gear indicator is super clear. At a glance you can see both your revs, your speedometer and what gear you're in. So it's a six speed transmission unlike the older bikes, which are often five speeds. So you've got modern, you know, transmission here and you can see what you've got. You've got a temperature gauge on the far right side. Again this modern bike with liquid cooling having a temperature gauge kind of matters there. You got a clock dead in the center and then you have a controller on your left side handlebar, which we'll show you in a second. But that's gonna control all of your information down here. So currently it's on your odometer, we're gonna cycle through them. Now by hitting the down arrow or the up arrow, we're gonna start with down and we're gonna go to total range. So once you start driving the bike, it's gonna tell you the range till empty. Obviously two things, it needs more fuel and it's gonna calculate the range left on the tank based on how you have been driving. So you have range there and then you've got your average fuel efficiency kilometers per liter or liters per hundred kilometers and kilometers per liter. Again instant.
So average and instant, same thing. I believe you can switch that to liters per hundred kilometers. So that's um, the, you know the measurement that I'm more familiar with. So you can switch both of these to that uh, pretty sure anyways. And then of course you have trip B, trip A and back to your odometer. So that was going down on the button obviously you can go up or down, you can cycle through all these things in different uh, orders there. So kind of nice to have. Now lemme show you the controls that I'm using here to do that. So left side controls, couple things worth pointing out here. There is a little trigger right back here which you can't see that trigger can flash that high beam again, that bright l e d high beam, uh, can really get people's attention. If you just wanna flash that uh, you know, they call it flash to pass but really just to get people's attention you can trigger that on and off and of course to lock your high beams on Ty, typical stuff here. All typical stuff. You have the horn signals, you do have uh, hazard lights. Four-way flashers down here, which we can turn on like that. Uh, and then you have the switch that I was using to adjust your dash. Just a second to go. This is the up and down uh button right there. Now over here you have a slipper and assist clutch. So slipper and assist Clutch does two things. The slipper side allows your wheel if you mess up a down shift instead of the wheel skidding, it's gonna work to let the clutch slide as well. So it gives you better control. It's a, it's a piece that was designed for the racetrack for really aggressive shifting uh, to keep that wheel from skidding. And of course it becomes a safety feature here on this bike.

The side benefit is it does make for a lighter clutch lever pole. Now this is your adjustment for reach. Now somebody's reached out to me in the Collins they said it doesn't actually adjust your reach. What it actually does is it adjusts where the clutch engages and we are both right physically. This actually does adjust your reach. So let's put it on number one. You can see that one is far away away. So my hand is there and that's where it is. Now let's push it out again and we'll bring it to number five and you can see it's much closer. So it does physically adjust the lever. I'm gonna put it just at number three there. It does physically adjust the lever, how close it is. But that can effectively adjust where the clutch engages, at least the feel of where it engages. So again, that commenter kind of right, I'm kind of right as well. But that's what that does. And you have the adjustment uh, here on the clutch side as well as on the brake side. So you can really um, customize that up to fit for anybody over here. You can't see the mirrors come up but they're up and they're clear of your uh, shoulders as well. The round mirrors, good controls here. Let's just look at the other side. Now that's cool. Throttle side, pretty simple stuff over here. You've got obviously the throttle kill switch and then you've got the start button and again the lever over here is also adjustable through this little dial here for the same thing for that front brake feel. Again, we talked about the mirrors here. Round mirrors for the retro style. I'll be fair though, the round mirrors are also very good for visibility and because they're mounted on the handlebar are not way out front on a fairing, they've become closer to your face, which gives you a little bit wider angle and better visibility again.

So even though they don't appear massive maybe in the video, uh, the feeling when you're riding it is that these are very good mirrors that give you very good view. While I've got this view, I'm gonna keep rolling with it and I'm gonna scroll down. You've got the fully modern tank here. Now you will notice a width difference between the Zed 900 Rs and this bike. Again, this bike is covering two cylinders where a Zed 900 Rs goes a little wider cuz it's covering four cylinders but you still have the fully modern uh, tank, the locking tank right there as well. So modern feel, retro feel both combined. I'm gonna take a quick look at the labeling on the side here. I wanna show you the sort of retro labeling that's uh, not something Kawasaki does anymore, but it kind of makes this bike stand out and again makes people question is this a brand new bike or used bike?

Which is kind of fun. So taking a look at the tank here, a couple things I wanna point out. These are raised letters here again, like the way Kawasaki used to do it, but they used to actually use an older font. So this is the modern font in the raised type lettering here. And then same thing with the Zed six 50 Rs. That sort of is a uh, you know, sort of a traditional kind of look. The one thing I can't show you, it was like minus 20 when I woke up this morning. So I'm filming inside. But in on the outside or outdoors you can really see the sparkle in the metallic to this paint it, it looks really, really sharp in the sunlight. What I like about this particular model is the pin striping in here. It's very simple but it's just kind of enough to give it sort of a nice kind of retro look but enough detail other than just the black.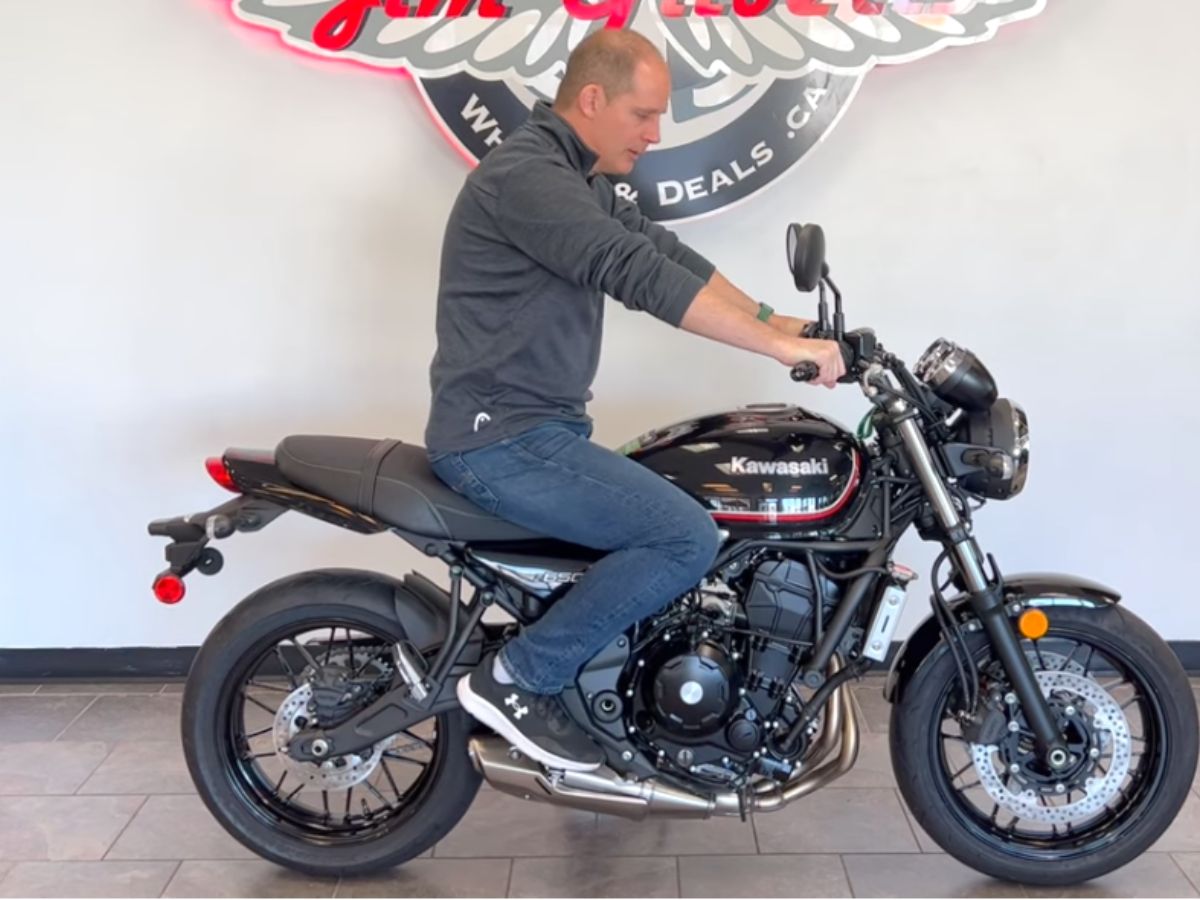 So it's just the kind of thing you're really gonna notice. This area is what makes people think hey is this an older bike or a modern bike because it really, they really do a good job of making it look uh, you know, like a retro bike. Now let's take a look at what it looks like with me on the bike. So in some ways I'm saving the best for last here. One of the biggest reasons I like this bike is not just for the styling but it's so comfortable and practical. Now again, I used to own the verses six 50, the verses six 50 was the comfortable bike in that six 50 lineup. Now obviously you have the cruiser, which is the uh, Kawasaki Vulcan S It's pretty comfortable as well, but it's not the the riding position that I'm familiar with. I love the position of the versys
Here's the thing with the verses over this. This has a noticeably lower seat height and without all the body work here and you know the little bit smaller tank and just the shape of the tank and everything else, this feels like a much more compact, much more sporty bike, which I really like. That's one thing I didn't love about the vers is you know, all that wind protection is great in the cold weather but it became hot in the hot weather and it's a lot of bike. It visually is a very large bike where visually this is a nice compact sporty feeling bike. And when I put my feet up here, you can see I've got the nice kind of tuck in. Uh, you know, the legs are at a comfortable angle. We're well enough, high enough off the ground that you can really get some good lean angle in the corners here. You can scrape pegs on this but you gotta really go work to do it, which is what this is about. Again, not a race bike but a fully road going sport bike overall sitting square like this, there is some adjustment in the bar. You could tilt it a little bit forward or back to make it perfect for you. And again because you could add wind protection, this is a bike where you can fully tour on the tank is nice and narrow in the legs. So even though on a modern ninja it has carve outs for your uh legs, this still feels like it's properly carved out, you can really kind of hug that tank. And again, that's what this is all about. Those retro sport bikes were just designed, you could hug the tank, that kind of thing anyways. And it works very well with the two cylinder Instead of the four cylinder, it actually feels a little bit more comfortable and more nimble sitting on this bike in this position than it does on even the Z900 Rs, which is a little bit wider tank.

So you really get the sense of a light overall bike because again all of that weight's down low and it's not that heavy of a bike. It's considerably lighter than something like the versus six 50 which shares the engine. But again, that weight down low, that weight where it's supposed to be, the comfortable seat really makes it a fun place to be. So let's talk about who this bike is for and really that's kind of my favorite part about this bike. This is probably one of the most versatile bikes in the lineup. A lot of people like that cruiser style because it looks like a classic motorcycle. This also looks like a classic motorcycle, but it puts you in more of a sport riding position, yet you're still very comfortable. So if you're looking for a versatile bike, something that can take extra people, something you could strap luggage on the back and do some small tours with, you could put a windshield on this and get the wind protection. This is really a do-it-all kind of bike, that 650 engine that they use in everything. The reason they use it in everything is because it is very good, it's good for efficiency, it's good for power, and it's a really good street powered bike. The lightweight of this bike means it handles well. It's more comfortable than a Ninja 50 or the Z650. And again, if you don't want the modern styling, this gives you an option. Now could this be used as a beginner bike? Normally I say that 650, like I said, it's a very easy to drive engine, but we don't always recommend that six 50 for a beginner. Something like the versus six 50 can be quite tall. Maybe not the best beginner bike, but this bike, again, it is something you could have as a bigger beginner bike and not, you know, need more power, not want a bigger type bike.

So I really like the way this is nimble and lightweight. It's unintimidating. It's able to do just about everything you could wanna do in motorcycling. And it's good for experienced riders cuz it's plenty of bike for experienced riders. It's good for newer riders cuz it's very easy to drive. It's why motorcycling took off when bikes that looked like these were the norm. This is just such a practical bike. It really is for almost everyone. You have to like the styling, you have to like sitting upright. And again, as is, you have to accept there is no wind protection. That might be a deal breaker for you. You can add that on. But obviously if you add a windshield on this, it's gonna change the look and make a decision for yourself with the abs brakes, with you know, everything that comes in this bike. It's a pretty good value.

And like I said, you can't really modify some of the other bikes to end up with what you have here as an overall package. It really does it all for you as an on-road bike. It's really good and it's one of my favorite bikes and it's again, the reason that I bought a bike. Very similar to this. I bought the Zed 900 Rs because this style really does it all for a lot of people. So if you own this bike, let me know in the comments what you think of it. If you are interested in this bike and maybe there's something that I didn't talk about or I wasn't really clear on, let me know when the comments below and make sure you subscribe because we're gonna continue to come back to this bike over and over again. If you wanna see it in person, there's like 20,000 square feet here of motorcycles. It's February right now, 2023. This is a 2023 model and there are all kinds of bikes in here and more coming every day. So if you wanna come see it in person, put your name on it, swing on by Jim Gilbert's Powersports here in Fredericton, New Brunswick. This is the number one volume Kawasaki dealer in the country. They do a great job with their customers. So there you go. We'll talk to you in the next one.