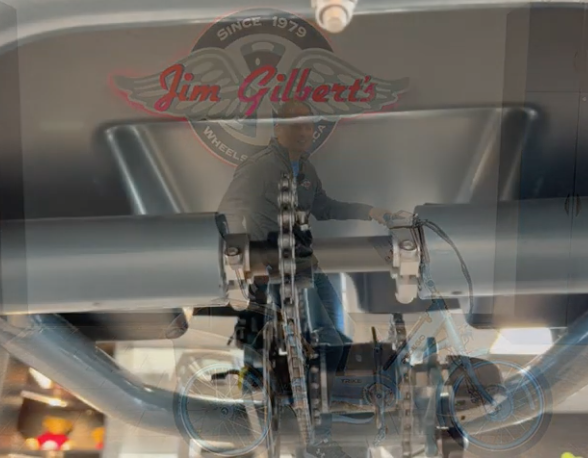 Now, there's two options to get both wheels driving. You could have a solid axle across, which would mean that each wheel turns at the same speed the entire time. That would be the lightest, most simple way to allow you to have dual rear wheels driving, but it wouldn't allow you to spin, and any turn at all, you'd be dragging the tire. You certainly couldn't spin. Now this one, the other option is to do like a car and create what's called a differential. That adds significant weight and complication, which is sort of a negative when you're pedaling this and biking it. You want less weight. So what they do is, they power just the right side wheel and the front wheel, and you'll never notice that it's not a two wheel drive bicycle on the rear, and that power at the front makes a difference too. So let's talk about how this bike propels itself.
:
So propelling this bike, moving it forward can be done a couple different ways. You can set it up with the power system off completely, and you can just pedal it and move it just by the pedals. That's the easiest, most basic way. And like I said, that goes through a chain here into an internally geared hub. Now the benefit of that is, there's no maintenance. So instead of having the chain rings that you see that can get really dirty and really kind of messed up, this is a bike where you can't see it, can't get to it. And frankly, the person who's buying this bike probably doesn't want to do maintenance on it. So you've got an internally geared three speed hub. The second gear is what we call direct drive. It's basically one turn. It's one turn of the wheel essentially, one turn of the axle, and then first gear and third gear are a lower and higher gear.
: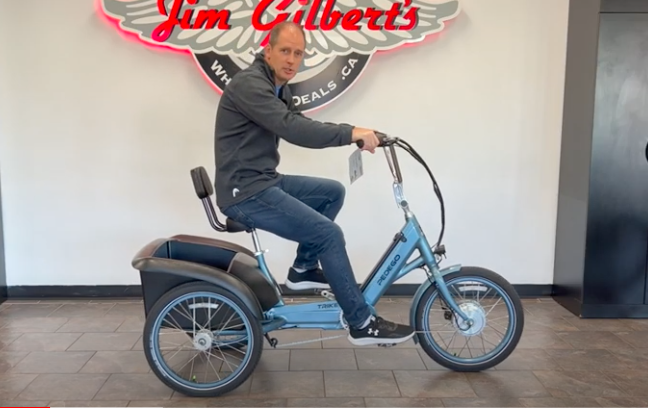 That's all you need in a bike like this, and you can just pedal it. Now, when you set up the pedal assist... And I'll show you how to do that a little bit later in the video here. As you pedal, you're going to have assistance through the electric motor. The electric motor on this bike is in the front. And it's kind of brilliant, because it gives you front and rear wheel drive. With all your weight back here, you're never going to lose traction. Even though it's really only pushing that one wheel, you can never really feel any difference. But then when you have the front wheel drive, you've got that traction front and rear. So just pedaling the bike, you can have pedal assistance, and there's two levels of pedal assistance. So when you pedal, after you started doing that first half turn, you can feel that electric motor kick in, and it's really lightweight and easy to pedal.
:
The one problem with trikes in general is, they can be heavier and less efficient to bike than a regular bicycle, and an E-bike eliminates all of that. So we'll show you how to work the pedal assist. And the third option you can do is, you can actually use the throttle on its own. You don't have to pedal at all, and you can just sit there, turn the throttle, and off it goes. Now on this tile floor, the wheel spins a little bit sometimes, but on the concrete, you don't have a problem. So let show you how that works from the control center, because it's super easy to use. One of the problems with E-bikes is, they can be intimidating, but this one's not, and I think that really works for the sort of target market of this vehicle. The only thing you need to do if you didn't want to do anything, you could get on, you could pedal and you could go. This is your grip shift shifter.
:
So you can see level two is sort of that main gear. It's kind of highlighted there. You can spin up or down for a higher or lower gear. It's super simple. But when you include the power assist, people can sometimes get intimidated ,and there's really no reason to be intimidated. You turn the power on like that, and there you go. That's everything you need. And you have PAS is your pedal assist. So again, same thing as your gearing, there's three levels here. Now it's actually only two levels of pedal assist. If it's in zero right now, you still have your speedometer, you can still have your battery readout, you have your trip meter here. So again, that tells you how fast you're going, that tells you how far you've gone. And then if you just leave it in zero, you can pedal the bike like a normal bike, and it's just a normal bike.
: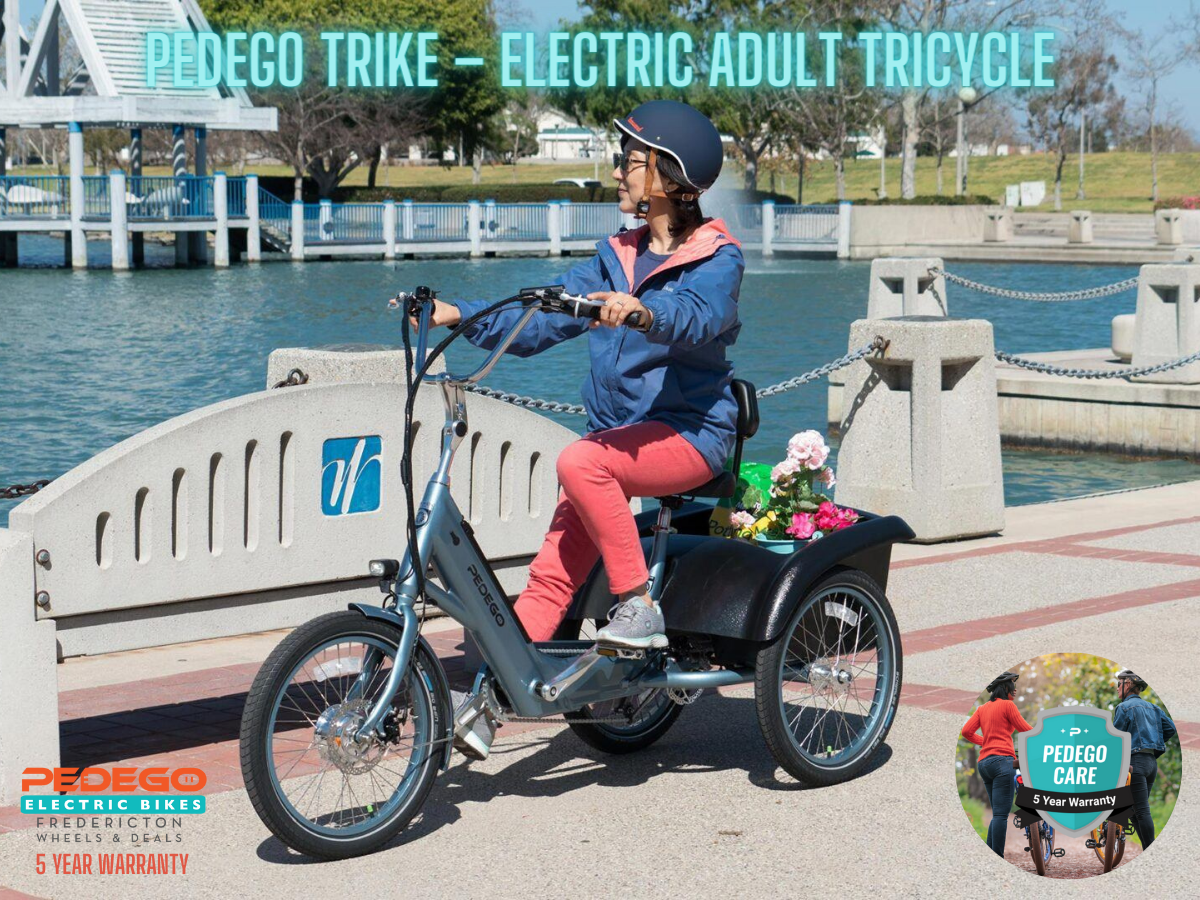 Once you go to pedal assist number one... So just tap that up. As you're pedaling, it will give you some assistance, and then you can go to pedal assist two, and it gives you even more assistance. Where it gets a little tricky is, pedal assist three actually doesn't assist your pedals. That is throttle only mode. So you can pedal on your own or give it throttle on your own, and basically you spin your right side handlebar, and it can power you. So most people are going to use it in one or two, but a lot of people are going to use it in three as well. And then there's a little graph up here that tells you how much power that bike is using. So we're going to kind of walk through some little details here and sort of make sense of it a little better for you. So what am I talking about when I say throttle or throttle only?
:
Well, a lot of E-bikes, they only assist you when you pedal. And that can be helpful, but sometimes if you're just going along casually on a level road, you don't need the assistance, but you reach a little bit of a hill, and on this bike right now... I'm just going to make sure I turn it off, so it doesn't go anywhere. If I spin this right here on my right side handlebar... All I have to do is spin that, there's off to full throttle, and that gives me the electric assist. So even if I was in pedal assist one and I needed a little bit extra assistance, I can spin this on to get me full pedal assist and back off, or at any time you can use it on its own if you have it in the right setting. So very simple to use, get extra power that way, or just use your pedals, whatever you want to do.
: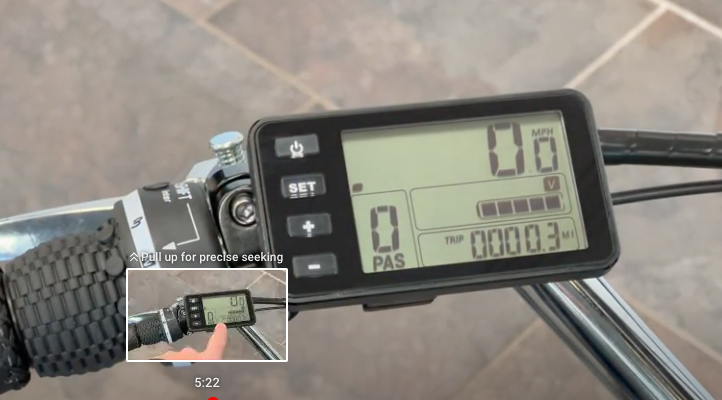 Now I should point out... We'll talk about top speed in a second, but when you're looking at brakes, you want to see disc brakes on an E-bike, and that's what you have. So this is a nice disc brake, very similar to a car style disc brake, and the same thing on the rear. There's a disc brake in the back there. So that's what you want for quality brakes. You're not dealing with trying to pinch this hub over here. You've got nice fat tires that give you a nice little ride. But one of the key pieces of these brakes is, when you press the brake lever, it disables the electric motor. And that's an important piece. Not every E-bike does that. So if you are still spinning, or your hand is stuck on the throttle, you're not paying attention to what you're doing, when you hit the brakes, no matter what's going on, it's going to cut power and allow you to stop.
: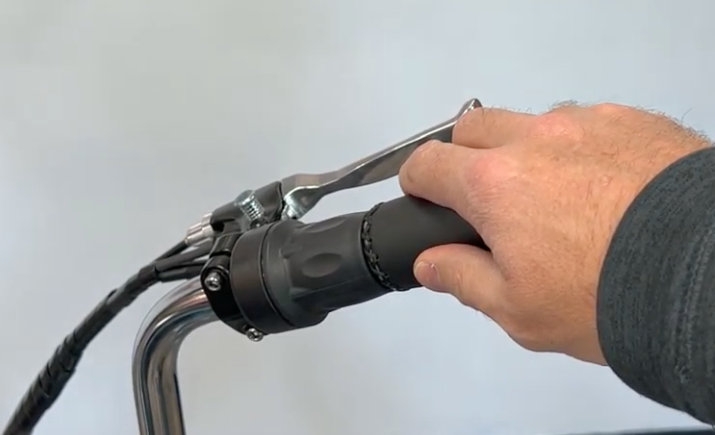 So that's a really important safety feature that this bike has. I'm going to show you another important safety feature with the brakes. So we're looking at the left side lever right here, and it's very simple. Simple pull disc brake, is very easy to control. They're actually, the brakes themselves are what they call mechanical disc brakes. So they're very easy to adjust as well. But a really important safety feature is, both brakes have the ability to have a parking brake. Now on a bike that doesn't have a kickstand and always has three wheels on the ground, a parking brake is important. But what I like is, a lot of E-bikes, or a lot of E-trikes, they will only lock the rear axle, which again keeps it from going up or down a hill.
: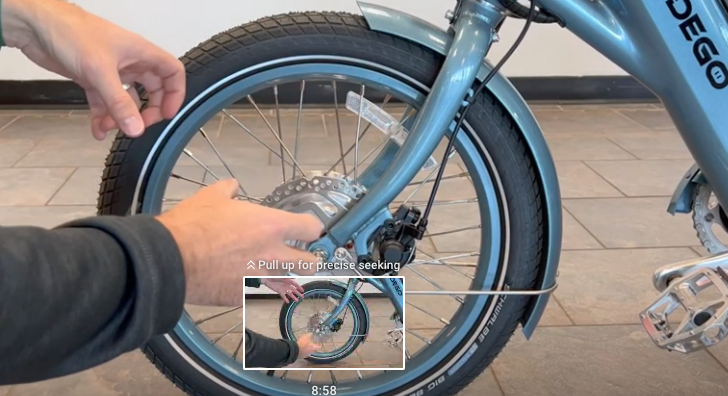 What I like about being able to lock the front and rear wheels... Because again, both brake levers have this parking brake, is if you're a person that has maybe some mobility issues or something like that, having that front wheel also locked means that when you're getting on this bike, you're not having that front wheel slip out from underneath you by turning and just rolling away, even with the rear wheels locked. So you have a really secure, stable platform to get on. And let me talk about getting on this bike and sitting on it, and some of the comfort features. So just like I just showed you the parking brakes, I've got both the rear wheels and the front wheels locked. And here's what I'm talking about with stability. If just the rear wheels were locked, I could kind of spin this bike when I'm getting on.
:
I grab the handlebar, it just as a natural way to hold on and climb over, but you can see it's not moving. If I unlock the front wheel, it can still kind of move a little bit, even though the rear wheels are locked, depending on kind of condition I'm on. But it's very stable. So approaching the bike, you can make sure those parking brakes are on, you can lean against the handlebar as you step across the very low step here. Now you've got two things in your favor. This is a little chain guard here. The chain guard is pretty common on bicycles, especially in this kind of class. But the other thing is, it keeps you from kicking that chain as well. It's just got a little bit extra protection. So when you're stepping over there, you're not going to get your pants dirty getting on and off the bike, and it's a very, very low step with good spacing here.
:
You want a little bit of wheel base length in here to get across. Once you're on, very simple, it's got the parking brake. Actually, we'll keep the parking brakes on there. You've got a comfortable seating position. And because it's a trike, you can kind of relax a little bit and it actually has a back rest. So if I sit back on the seat, I have a little bit of lumbar support, and I can totally relax, but you can see for someone like myself, when I'm way back here... Now the seat is height adjustable. The handlebars are a long ways away. But here's the amazing thing, if you're ever sharing this bike with someone, you've got a little lever here that you can pull out, and the entire steering can collapse and come closer, it can go farther, it can do everything you want, put it wherever you want, and you just center it up, which I'm going to make sure it's good, you lock it down there, it clicks into place, and it is as solid as can be.
: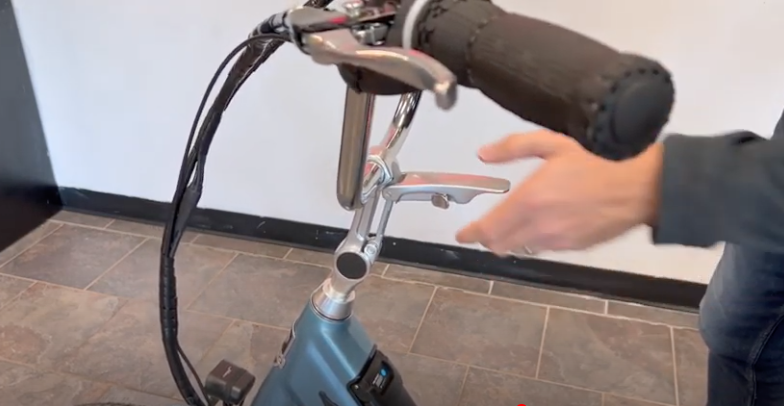 So it doesn't matter who you are, how big you are, how small you are, you're going to be able to find some way to get comfortable on this bike and make sure that the handlebars are easily within reach and where you want for comfort. And the best thing about that is, you can actually adjust it on your ride. So maybe you want to sit upright for a while, and then you kind of want to recline for a while, or you're going up a hill, and it may be a little too close for you, you can just move them away. Depending on how you're riding, you can adjust the comfort while you're riding on your ride very, very simply, which is a pretty cool thing to have.
:
It's Pedego's patented system here, and it works really well. I just want to show you how easy that is to do everything I just showed you there. You pinch this little button right here with your thumb, you pull out like that, and the entire thing comes loose. You can move it any which way. You can tilt the steering, you can do everything you want, put it back in, you clip it down here, and it clicks, and you are locked in place. It's a super simple system that's easy to adjust. Safety is also really important on a trike, and this little reflector back here is actually pretty cool.
:
As long as the bike is turned on, when you touch a brake lever, you can see that you have a brake light on it, which is super handy. But what if you're driving at night? You don't want to have just a reflector, you actually want to have a full lighting system. And the headlight and taillight light up here. And again, it doesn't film perfectly, but there's plenty of brightness in here to see that you have lights, and when you tap the brakes, no matter which one, left or right, the brake light also comes on. The headlight out front is also really well done. You have a light here, a reflector below it, and you can turn it on or off. A lot of E-bikes is... For instance, a Trek E-bike, many of them are required to leave those lights on in places like Canada, whereas this one can be turned on or off, and you can see it is a very bright light, and it turns with the steering wheel.
:
So that's if you're just spinning this throttle, pure electric power, and not pedaling. If you're pedaling, it will assist you up to 17.7 kilometers an hour, which on this bike feels plenty quick, or on this trike feels plenty quick. So one thing to keep in mind is, they limit the power just to help you with stability, and sort of as that target market. A lot of people will talk about various power in the motor and that kind of thing. In Canada, E-bikes are limited to 500 watt motors. That's kind of like a horsepower number. It doesn't reflect the torque in the drive unit. So some people will talk about bigger motors or smaller motors. In Canada, for a legal E-bike or legal trike on the roads, you're limited to a 500 watt motor, and this one is going to be no different. But the speed limiting factor makes this feel safe and feel stable at any time.
: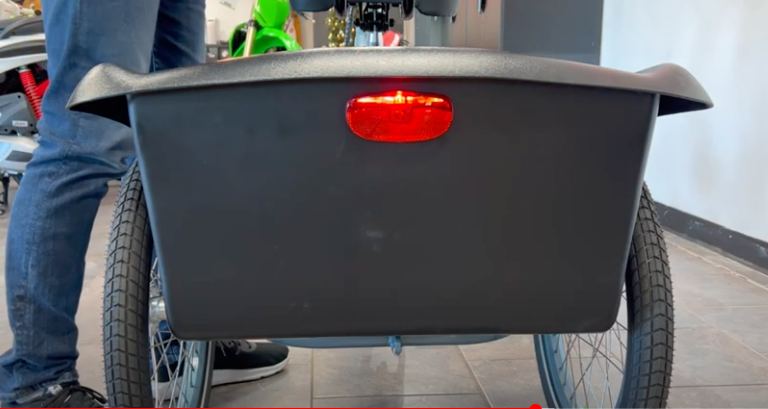 You could cover it up and keep it rain resistant and all kinds of things. But it's a super practical way to carry things between the axles right near you, and you could grab something if you're riding at the same time. So really practical, lightweight, and very spacious. So a lot of people have questions about the whole charging and discharging, and how does this work on a bike like this? Well, Pedego does this well as well. You can charge this battery right here through this little charge port right on the bike. So you never have to take the battery off the bike if you have power near where the bike is parked. But what if you don't have power near where the bike is parked? Well, this battery is removable. It has a little battery indicator here on the front side here in lights, and also in your display. So you can take that battery in.
:
Now that's handy for a lot of reasons. If it's really cold or really hot outside, you could take it in and charge it inside. And it also allows you to park the bike anywhere and still make sure you have a full charge when you need it. So I often finish my videos by talking about who is this vehicle, who is this bike, who is this trike for, but I think if you're watching this video, you'll have a sense if this is right for you or not. Now, the one way I'll end this video is, why this trike over other trikes? Well, I have to be honest, the ability to spin properly with a proper axle that's designed for that lightweight materials where you need them is really important. The safety features, the parking brakes on both parked levers, the way the lighting is integrated to the power system, works with a brake light, is all secure.
: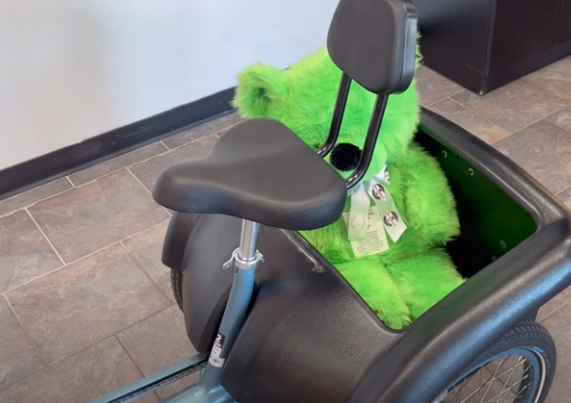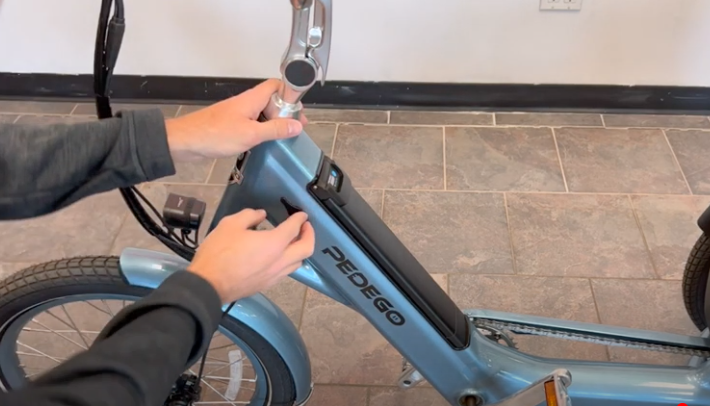 Full Helpful Financing available... and our specialty