:
So I'll be blunt, I think this is an overlooked and sometimes ignored machine for the fun crowd. I think it is certainly something that appeals to the work crowd, but has a lot of fun. And let's talk about the work aspect of it for a second. This thing can hold over 1600 pounds, which means a thousand of it. A thousand pounds can be in the bed and you still have over 600 pounds, which you can put in the cargo space. It tows 2000 pounds.
:
It's got a three cylinder inline engine that is quiet and you can communicate with your passengers, you can communicate and hear the world around you. It is a really good unit for work, but it's also great for play. You can see the styling here, they kind of attack some things interestingly. Now doesn't have a wint on this one you could put that on. And that's the one thing about these Mule, all of the Mule lineup really is a lot of these competitors you can kind of option them up.
:
They start looking kind of goofy, kind of silly. These ones you can option up, they still look super cool and it's got little features here that I think are super smart. It's just gently snowing right now. I'm not sure if you could see that on the camera. I did mention that earlier in the video. I want to show you the headlights here. We're going to go high beams.
:
You know this right here is a halogen headlight. I'm not sure how well they show on the camera, but the halogen light is high and low beam. And then you have a bright white LED. What I like about this is when you're in the cool weather like this, these halogen lights, they create a little bit of heat. I can feel a little bit of heat coming off there so you don't have snow and ice building up there.
: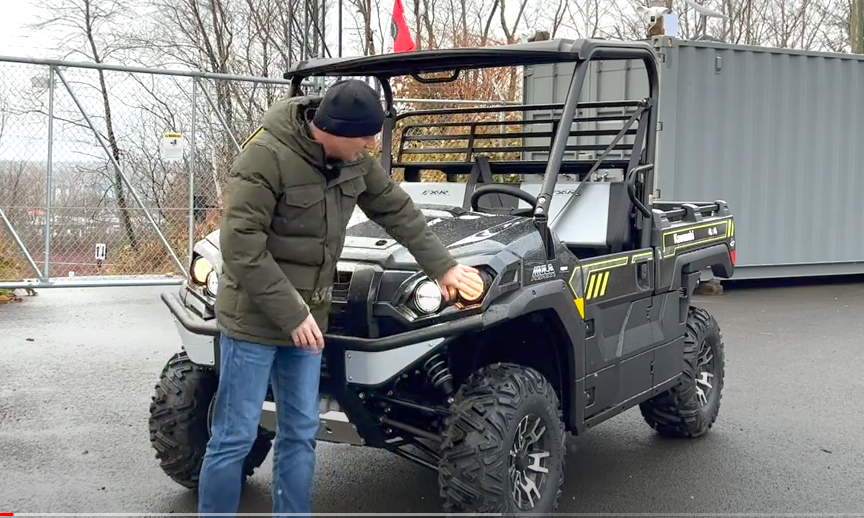 However, you've also got these white lights, which eh, not so much heat there, but the white LED is that closer to daylight color. So when you're out in the trails and you see something crossing your path, you can tell was that a raccoon or was that a skunk? Your brain will recognize things quicker with this white color because it's a closer to daylight color, it allows you to identify things quickly. So when you have both of them there, you get a nice mix of color.
:
But again, having a halogen or halogen and LED mix is actually pretty smart for a four seasoned vehicle, which this can be. You can close this in and get it really comfortable inside. And again, you'll have headlights that are going to melt that snow. So really super smart piece right there. So let's talk a little bit about what you see on the side here.
: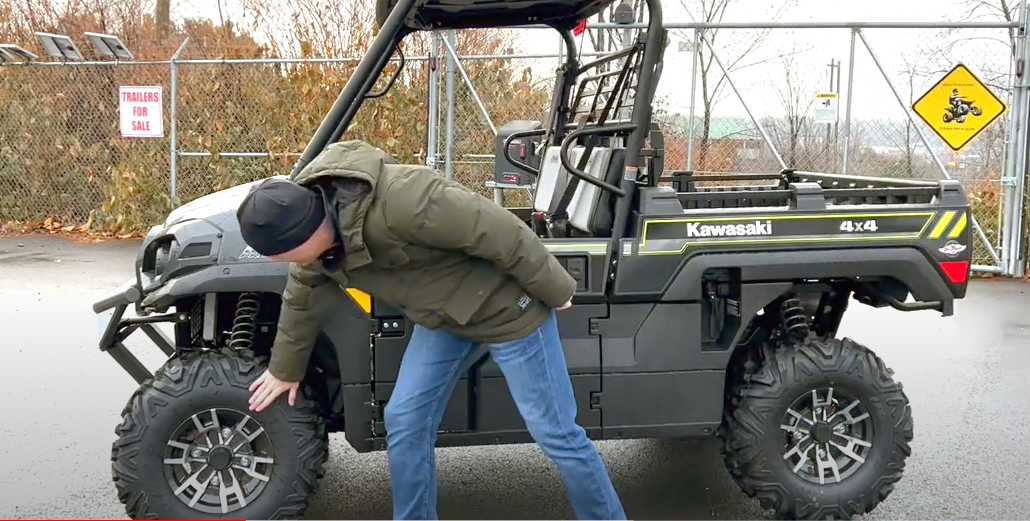 First of all, you have these 27 inch wheels. They are a little different front and rear. They're two inches wider on the rear. So you've got some extra capacity here to carry some of that weight. Like we said, 2000 pound towing capacity, thousand pounds in the bed and even after a thousand pounds in the bed, over 600 pounds in here still. And if you don't have a thousand pounds in the bed, again, 1600 plus pounds capacity. So really good capacity. Those wider tires give you great traction, but they also give you some of that extra capacity. Alongside here there's your dump bed, you can pull that lever and this whole bed can dump, which is pretty cool. Little taller up here, about 11 inches up to the top of the box here, but taller when you include these rails in here. And the rails are nice to have because you can accessorize things across.
:
You have tie downs the entire way across. You've got protection here for anything in the back that comes up high. It's not going to fall on you in the head like in your cargo area. And again, the doors here, which are quality doors, a lot of these doors are really flimsy and chinsy. These ones, they have a nice solid clunk to them. I don't know how that plays on the mic, but they have a nice solid feel even though they're still very fairly thin, which gives you that cargo capacity inside.
:
We're going to take a look at the cockpit area in a second, but let's take a look at the very back first. So in the back you've got that pickup truck style. You've got the Kawasaki lit across the back here. This is just a reflector. It looks like a light on your screen but it's not. The lights are in here. They work well. This one is sort of a tougher looking bumper there. It's a steel bumper. It says it's not a step, which is a little deceiving to me because although it is angled and it certainly feels like it should be strong enough to be a step. You've got some clearance out here to get your hitch in there. Everything's centralized. So mass is centralized and forward of the wheels. You've got a great departure angle in there. So you can really take this on the trails offroad, have some fun.
: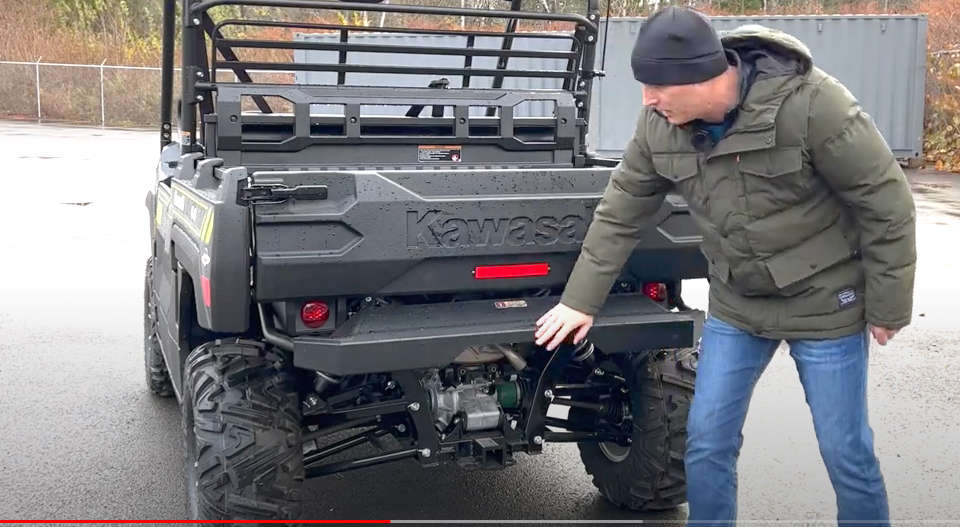 And you've got double wishbone suspension here. You've got disc brakes all around. So you've got a quality unit. The exhaust is way up high up here so you don't have that sort of steaming burning smell and you go through some of the wet areas and that kind of thing. But you've got some just good overall clearance.
:
And again, the practicality is in this bed. Let's just take a look at it for a second. Taking a look at the bed here, it's very wide. It's a little bit wider than it is long, but probably squares out when you drop the tailgate. I'll throw the specs on screen for the length, width and height of this bed. Diamond coated steel down here. So you've got really a lot of strength and like I said, a thousand pounds. It's actually a practical bed to do things, to move stuff around your yard, to take stuff out on a day trip, Whatever you want to do, you've got the ability to take it here. It's a quality bed. And we liked that the Mule SX before a little bit narrower unit. It felt like it was a usable bed but more around the yard. Whereas this one you can really get some work done as well.
: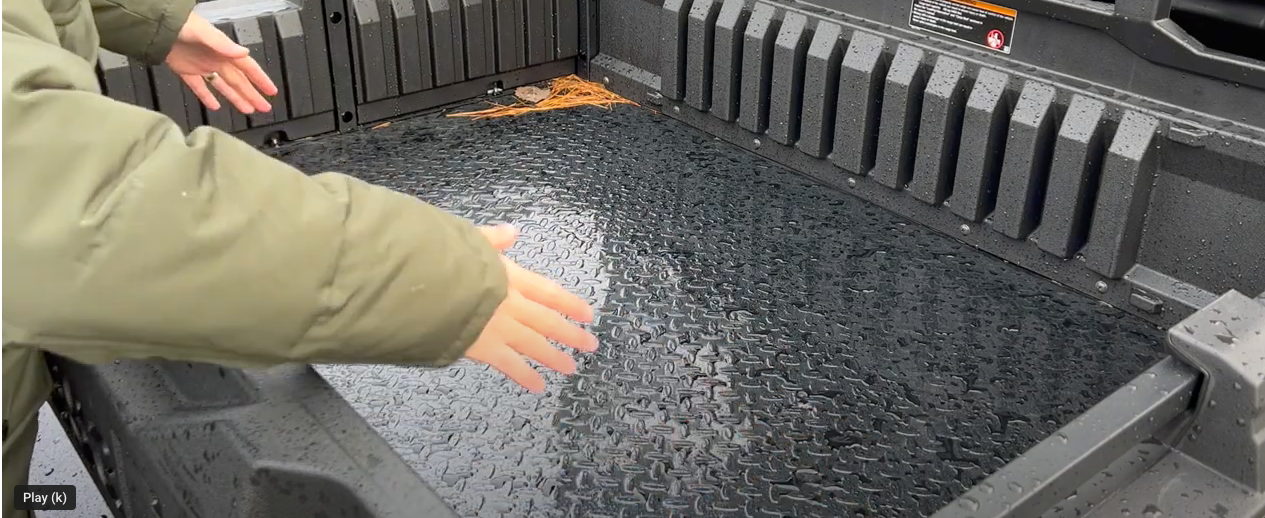 And I appreciate that. It's just, again, not too long because you want that short wheel base to get around to have the tight turning circle, but all the width and space that you need to do most everything.
Speaker 1:
Now let's jump in, Take a look inside and you've got a lot of things that I really like here. First of all, you've got a lot of space and there's models within the Kawasaki lineup that have the full bucket seats and I always figured those would be more comfortable. But you've got a nice square seating position with lots of room here, a fairly flat floor of just a slight step up in the middle there. And you have a three passenger bench here with shoulder belts on every seat, which is kind of nice to have. The passenger has a grab handle up here, I'm not sure if you can see it in there.
:
The center passenger has a grab handle up here. You've got bars on the side here. I'm not sure if you can see them in your shot that sort of keep your shoulders in so you can really kind of maneuver around, cup holders up front. Space to store your stuff here, space store your stuff here. A dash here, which we're going to show you in a little bit more space, a little glove box there.
: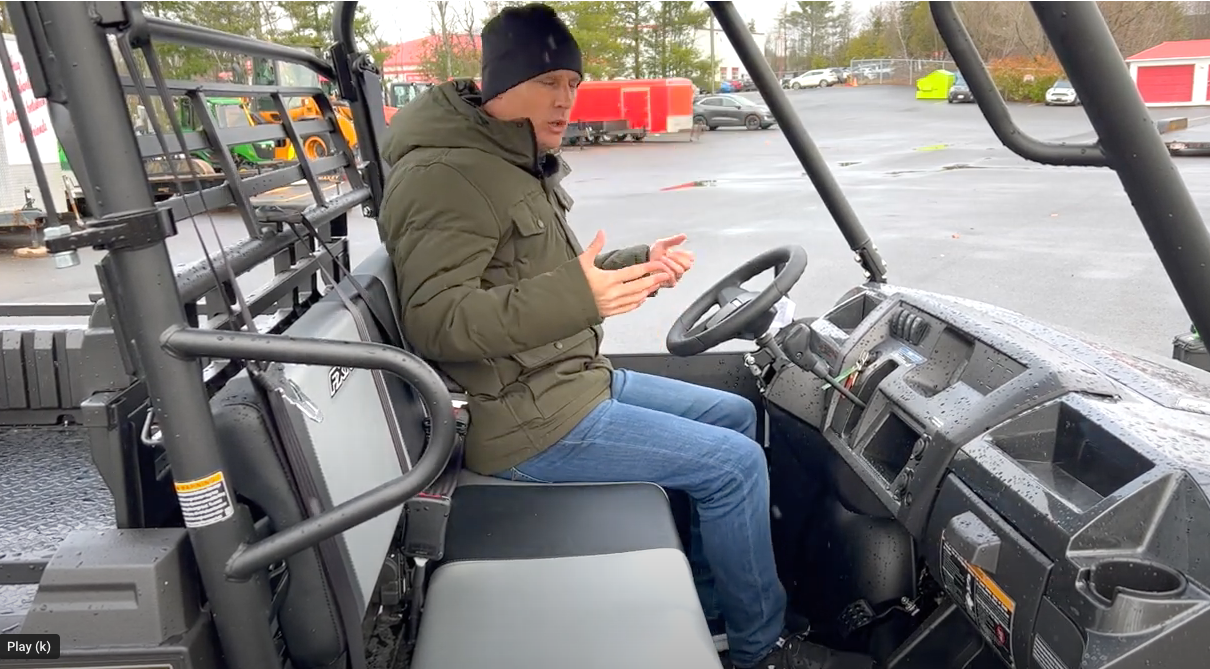 But the bigger thing is three people have all the space that they need up here. And again, the one thing about this one is that inline three cylinder engine really is quiet. It allows you to have the communication. So sometimes when you're out on the trails, by the time you're wearing a helmet and everything else, especially if you're wearing a full face helmet, you really can't hear the person next to you where this one, it tones down the engine, allows you to kind of get out into nature and experience nature.
:
And again, you can have that communication with someone. What I also like is with this relatively flat floor, big plastic area. If you're taking a dog along some of that, maybe they want to sit in the seat, but maybe they want to sit down there, you've got some space to take them along, keep them protected. And again, you can accessorize this up. So on a day like today where it's quite cold, you can close this in and make it comfortable.
:
All right, now that we're inside the cabin, I want to show you a couple little things. Left side here is your parking brake easily accessible and out of the way of your passengers, which is kind of handy. You've got a really nice sports steering wheel. Now I am in a wide angle kind of view here, so it kind of skews everything left and right, but you can sort of see a nice sort of sports steering wheel. It is tilt adjustable, so you can do that.
: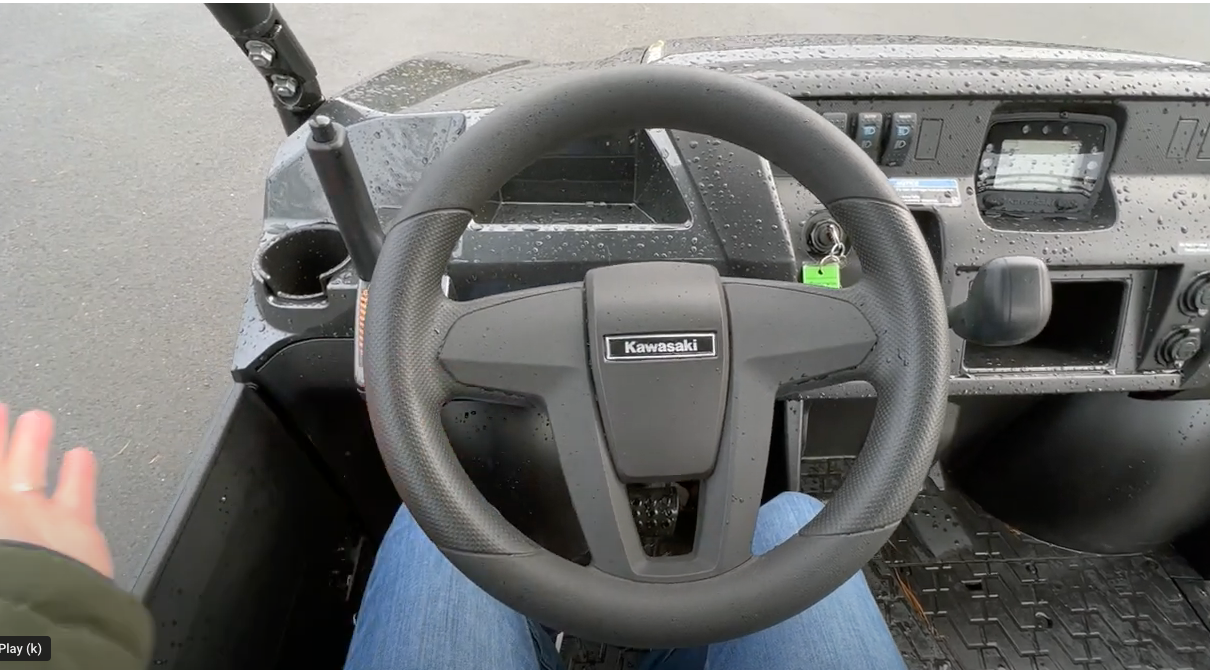 And then you've got the gear shift there. So low range, high range, neutral and reverse. Easy to reach from the driver and out of the way of your passenger. And then you've got of course the rear locking. Let's just start up actually, yeah, you know what, we will start it up sure. To show you how quiet it is. So I'm just talking normally you can hear it on my mic. Yeah, quite nice. So there's your locking rear differential right there or locking differential. You've got your four wheel drive and two wheel drive.
: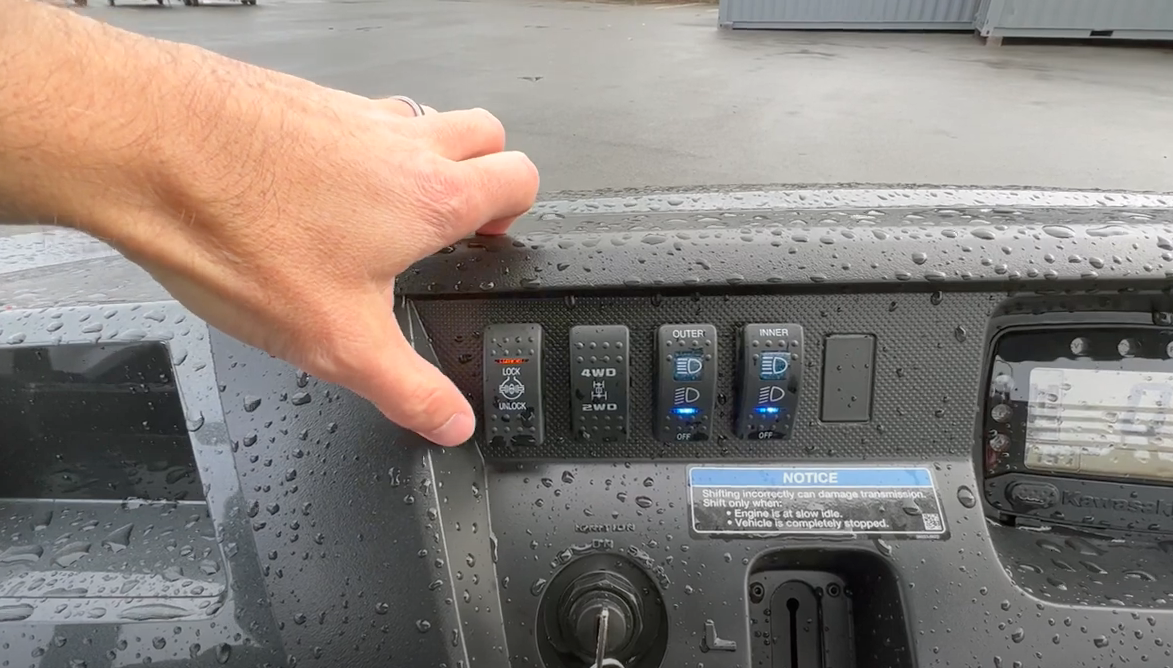 You've got the headlights. Remember I said the headlights, the outer headlights are your halogen ones. Just the regular lights are on. Then your high beams are on like that, blues indicates that high beams and then your inner headlights. Those are the LED ones. Again, regular lights, high beams there again. So you've got those dual lights. Places for extra accessories right there. Places for extra accessories over here. We've got some rain on here, rain, snow mix, whatever it is. What I like about the all-wheel drive thing, this is simple. Simple is really good to me. You've got some glare there that shows on the camera. I don't see it with my actual eyes. When you look at it with two eyes, the glare kind of dissipates when you look at it with one eye of the camera, it can be harder to film
: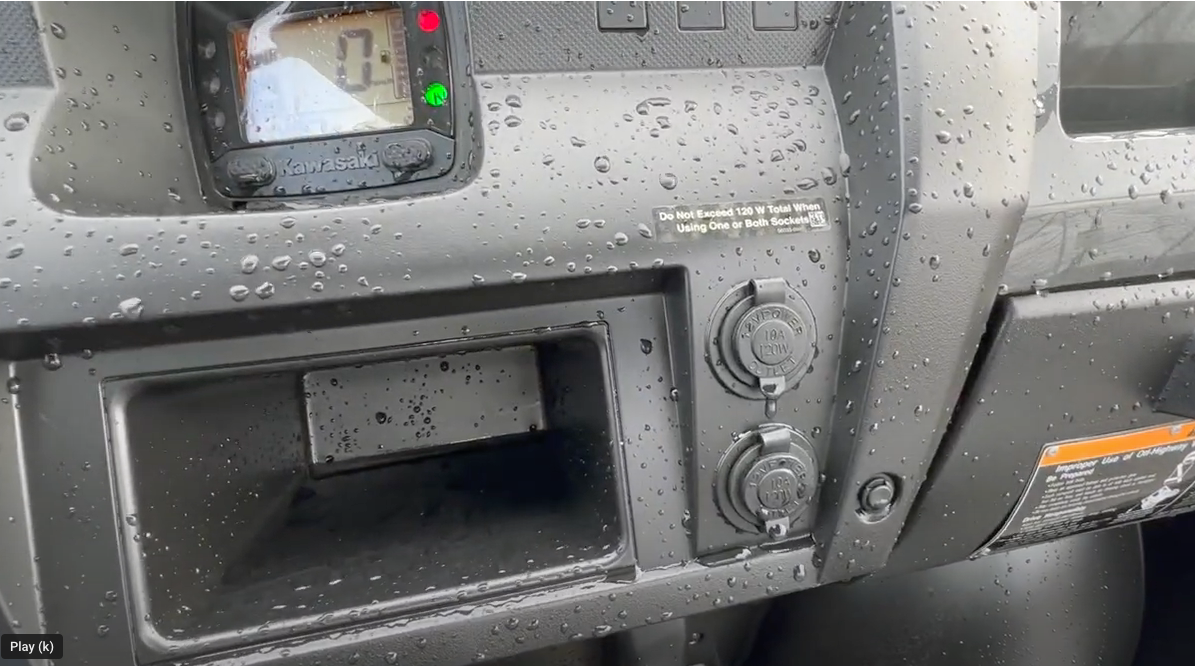 Fuel gauge right there. The basics down low. The two wheel drive, four wheel drive indicator. I really like this because even if I was to switch it into four wheel drive, let's just try it right now. I switched into four wheel drive, okay, it did show if it doesn't engage, this indicator doesn't actually change with the switch, it changes with the actual engagement. So sometimes you have to just roll forward half an inch or a little bit. So you know if you're stuck, if you've got two wheel drive or four wheel drive, it just makes a ton of sense.
:
Down here you've got accessory power, so 12 volt outlets there. And again, lots of storage space, lots of space here on the seat. And with the dual, two extra seats here as well. FXR sitting there on the seat there. Again, a really comfortable, impressive vehicle that's just not too fancy, but works really well for a lot of people.
:
So let's talk about who this is really for. I didn't think it would be something for me. I don't need to do a ton of work. I don't really need a work unit. But having the bed, having the capability, having the ability to tow 2000 pounds means I can tow my tent trailer around my yard with this, which is highly maneuverable compared to something like a pickup truck. It allows me to take my utility trailer, take all kinds of things around, no problem. It is actually still very compact in wheel base. So it goes down the trails I want to go down. And the one benefit with this is because it's not really designed for that high speed attack everything kind of attitude, it actually gives you a more comfortable compliant ride in my opinion than some of the more sport oriented vehicles in the lineup, which makes this kind of perfect for a do it all vehicle.
:
Now again, it is wider. If you need something narrower an
ATV type size, you can get the Mule Pro SX
. But this FXR, EPS stands for Electric Power Steering. We've already covered 4x4. This model is really a do it all vehicle for a lot of people. It comes with this sunshade up top. So you've got a little bit of protection on the hot, hot days. And again, like I said, you can close it in, you can do all kinds of accessories for this. I got to admit, it's a vehicle that really impressed me far more than I thought. And now I kind of leaning towards something that's uber practical like this over something that is designed for more fun but probably more fun than I'm going to need.
:
This one is comfortable, practical, and just super utilitarian with a whole lot of important details thought out and it looks pretty cool. So if you want to know more about this vehicle, let me know when the comments hit the subscribe button because we can come back to it. We can go over it again and again and we're going to have all kinds of vehicles, everything in the lineup. We're going to get on video over the course of the next little while to make sure that you have this and other ones to compare it to. And if there's a comparison you want to see, let me know.
:
Full Helpful Financing available... and our specialty