:
Let's get going with the review. So as I mentioned earlier, both of these bikes are styled like the adventure bikes that are filling the class now. They are a really fast growing class and the Versys is a little bit of an outlier in that adventure class. And that's because the Versys is not really an offroad vehicle in any way. And we're going to go through some of the differences that offroad and onroad, especially some of the things that the other videos aren't showing you. I'm going to make sure that we show you some of those differences in here. So stay with us for that. But let's first talk about the engine in these bikes because they're both 650 CC motorcycles or roughly 650 CC motorcycles, but what they do is a very different way of doing things.
: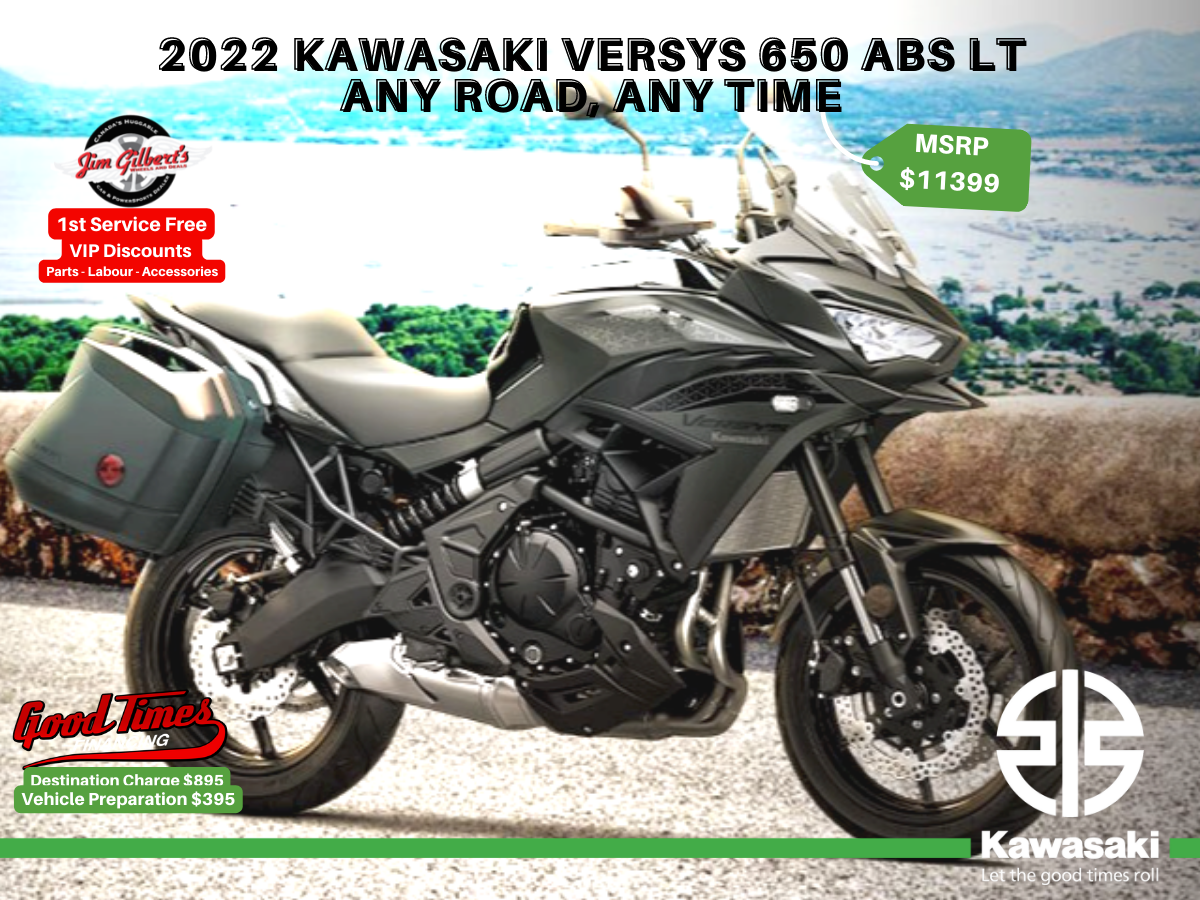 The Versys also because it has those smaller cylinders that move a shorter distance is much more capable of higher revs. The Versys has much higher horsepower, but horsepower doesn't tell the whole story. Something like a sports car and a bus can have similar horsepower, but the torque is different and the KLR is really, really torque rich down low. So you really feel that power. Now that being said, the Versys is a much faster bike. It's going to be much more like a sports car kind of feel. And that's really what this is, is more of a sport bike in an adventure style where this is truly more of a on offroad adventure style traditional adventure bike. So let's start looking at a few of the obvious differences between these and some of the less obvious differences.
: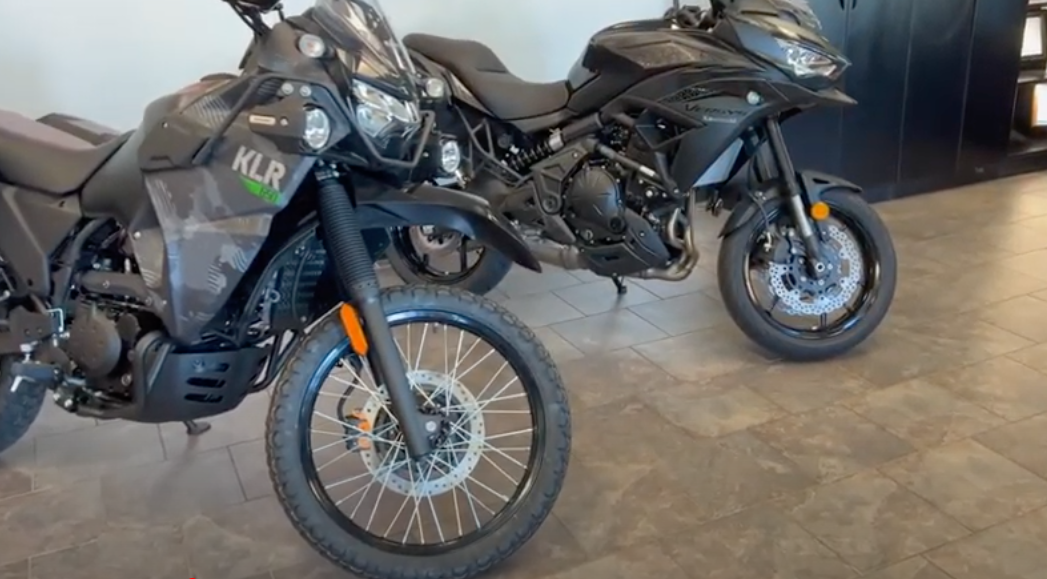 First of all, obviously the KLR has that 21 inch front wheel with the off-road tires and spoked wheels. Now spoke wheels are important because a lot of people think you could just throw an off-road style tire on the Versys and end up with some off-road capability, but the spokes in itself do give a little bit more of the ability to deal with rougher terrain. So that's why most dirt bikes, if we look over here, I got dirt bikes and bicycles over here, they do have spoked wheels and that's for a reason. When you go off road, you want those spoked wheels. So spoke wheels matter, size matters, tread matters. And over here, very similar. If I told you this was a sport bike, you would believe me. Now there is one difference. They're using these pedal style rotors on the Versys. They've actually moved away from that in some of the Kawasaki lines, something like the Ninja 1000.
:
Now it doesn't have that pedal style edge on there, so we used to say that was sort of dissipate heat. And the reality is it's probably a little bit of style. We have the drilled rotors here and the biggest difference is this is a double disc here on the Versys. So again, a motorcycle capable of more high speed needs a little bit more breaking power, here you have a single disc there. So both drilled rotors, both able to deal with heat, but you do have a different breaking system. Now one other thing I want to point out in the front here is the Versys has the style of the adventure bike but not the protection. So you can see right down in there is your oil filter. There is no protection from gravel down there on this kind of bike. On the road that's not going to make any difference to you at all. And there are accessories you can get from various companies that can close that in and protect it.
: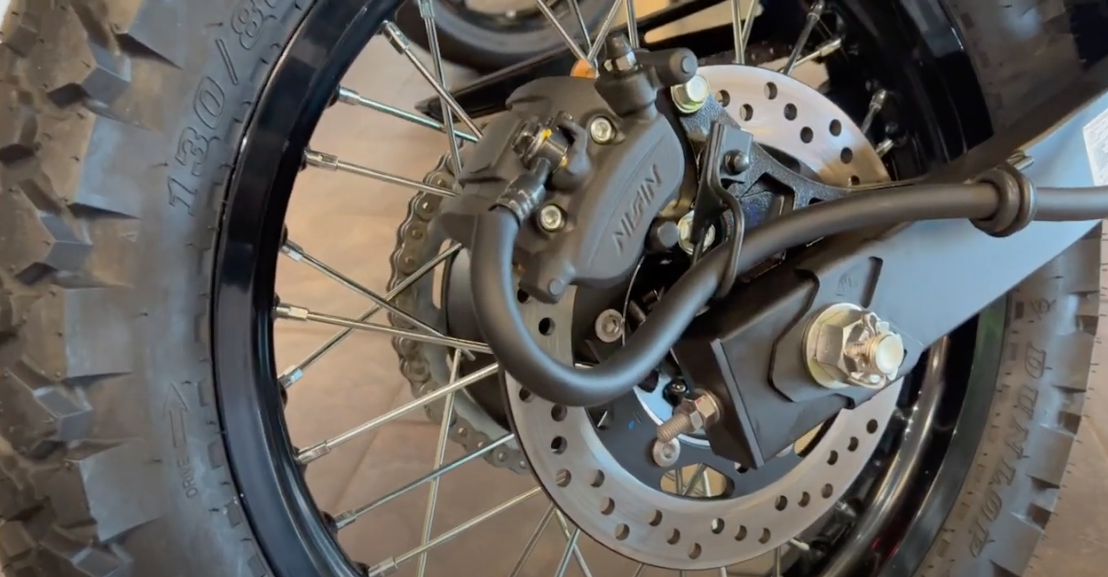 But you do have to remember that your oil filter is exposed to gravel and rough roads. And if you're going off road on the KLR, you do have a little bit extra protection down there from this plastic piece. Now bars like this, those crash bars, they can be put onto the Versys as an accessory, but that's the thing, the Versys is a little bit more expensive and I think there's good value for that little bit higher price here, but it depends on where you place that value. If you want something like a light bar, I had a light bar like this on the Versys 650 that I own, I can show you a picture of that vehicle right here with those lights. But this one here on the adventure, KLR adventure comes with that as a standard feature. And on the Versys you're going to have to add that separately.
:
Go into the rear break here. Let's just tuck into the Versys down low. And you can see same thing, pedal style gear and that real sport style tire. In fact it's called the Sport Max Tire. It's a Dunlop tire. So again, very much a sport bike type feel on this bike compared to the adventure bike style of the KLR. We'll show you the same view on the KLR. You've got, again, that aggressive tire, again, 17 inch wheel here, 17 there. But totally different style tread there. And the brakes over here, same thing. Both of these bikes are available with ABS. This one that I'm filming today, the KLR does not have that. The other dirt bikey style thing is you have a higher up exhaust here, whereas the Versys keeps it very low and kind of short, sort of nice for styling but also keeps clear of all the bags and everything else, keeps that heat away from everything.
:
So let's talk about the bags on these bikes because they are quite different. Now the KLR, they're both keyed to the vehicle. On the KLR you could spin this and there's a little button back here where when you pull that out they lift up like this. These are about 21 liters of storage. So they are smaller and will not fit a full size helmet. Plenty of space in here for what you need, that are all removable, which is also simple and you can click it on nice and tight, very secure. When these are on or off, you still have a lot of areas here including a little tie downs in other areas where you can put things on the rear rack. The rear rack is level with the seat. You can put a whole bunch of stuff across the rear seat as well. So even though the bags are smaller, it's probably easier to secure more gear to the KLR.
: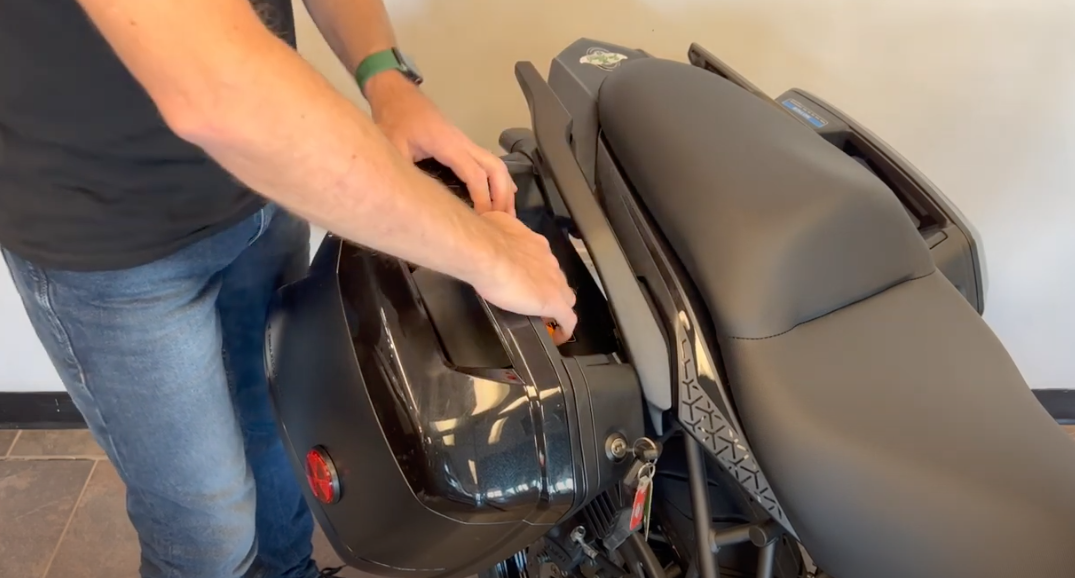 If it only open from the top, nothing's likely to fall out no matter what shovels around. So more space, but you have to be aware of how you're packing in this one. Then you can get bags that fit inside here to help you keep things organized as well, if that's something you want to do. I really like these. I think more space is always good, but the other ones, again, a little bit more durable. And again, depending on your riding scenario, this one has a body color painted area here. So you can scratch these up a little bit more. Whereas the KLR has more of the traditional just matte black plastic. Over here you can see the seat rises from these rails here and has a bit of a curve to it, designed for a passenger, not really thinking about luggage type things. So you can strap things down to here, but these handholds are really just that. They're more designed for handholds than they are for a flat luggage surface across the whole area.
:
And you don't have a rear rack on this. You can get accessories to do that if you wanted to on this bike. And like I said, in a bike that I've had in the past, it just screws into here and here and you can get that, but it doesn't come standard with that.
Speaker 1:
Now let's take a look at the dash of both bikes because again, there's a real strong difference here. So first of all, turn on the key. You've got a traditional style gauge cluster here only everything's digital. So what's different about the KLR is it does not have a tachometer. Now again, because of the way the engine works, you don't have to rev this out for max power. So while to me it's something that I've thought about, it might bother me. Actually riding this bike, I don't think it's as big of a deal.
:
Now this adventure model comes with everything you see here, standard. You have this large rubberized, and I say very rubberized, it's a very squishy type rubberized piece that holds a USB port in a weatherproof area. You can see the shape of that. One thing I don't love about this is it's a little harder to get on, so you don't want to do that while you're riding, but it does serve a good purpose of being durable, being weather resistant, it's all good stuff there. Now switching over to here, we'll show you on the far side. We'll move the handlebars here a little bit. You can see this over here, that's our accessory lighting that's on this bike. Showing you that for a reason as we go over to the Versys. And then there's a 12 volt port right over here. Everything on this bike comes with this adventure model. You're not paying more to get those types of settings.
: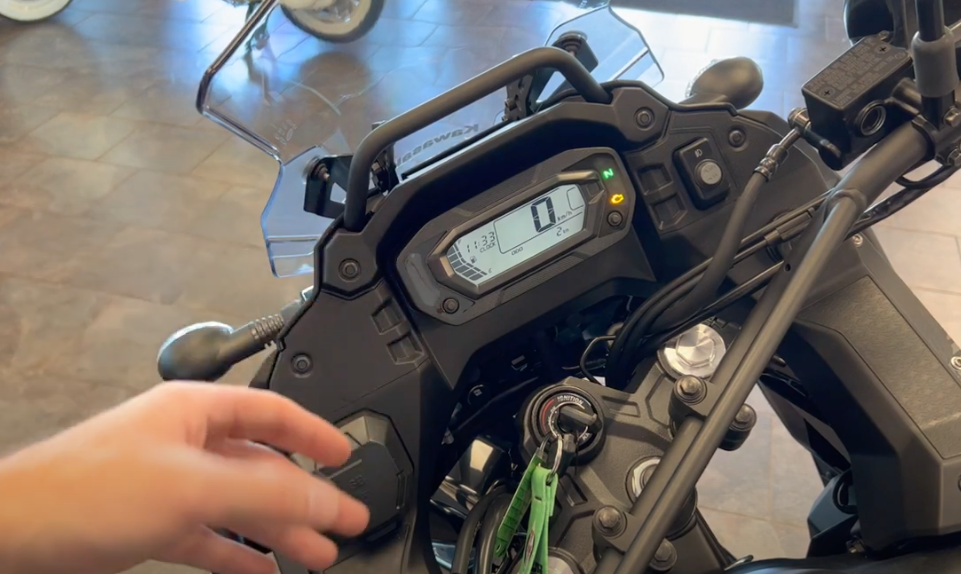 While we've got the handlebar out here, we'll just quickly show you headlights here. There's a flash to pass right over here and then there's signal lights right there and the horn. So no extra controls, basic type stuff, but all works really well. Taking a look at the Versys 650, you can see a lot of similarities, but it's just not in. These are accessories you can add. So you have a 12 volt port that you could add here, doesn't come standard. You have that light switch thing, which you can add here again. A lot of those, if you like the lighting on the other bike, you can get it here. The switch could go there. On the far side over here you can see that's where that USB type port would go and again, that can be added as an accessory as well.
:
So even though this bike comes with or it costs a little bit more, it doesn't come with some of those things. So if the value in a bike for you is some of those things, then maybe that's something to consider. Now for me, this TFT display is just fantastic. So you do have tack here, and again, this matters more because this is a bike that gets a lot of its power higher up in the revs as opposed to lower in the revs. So you want the tachometer there. The digital display is customizable. There's a lot of things you can do. You can change it from a dark background to a lighter background. Where we're filming today, you're seeing a little extra glare, but there's really no glare to worry about in real life. It's very bright and very clear.
: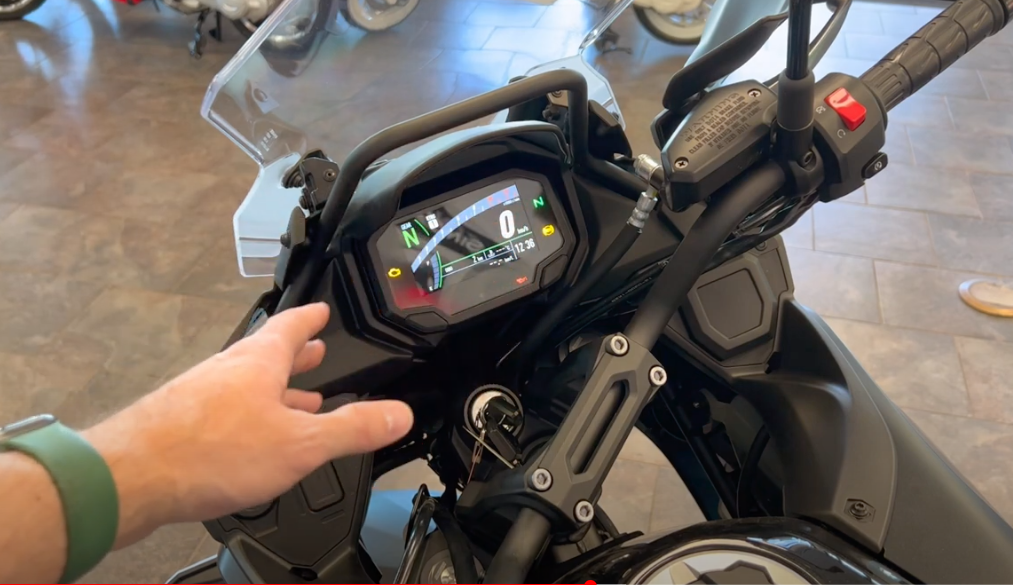 And there are all kinds of functions here that you can switch, including Kawasaki traction control, which the KLR does not have. So that's something to keep in mind as well. A couple extra road roadworthy safety features. Now to be fair, KLR has a little bit less power, so maybe you don't need that traction control as much, but it's just nice to have. You also have a gear indicator because you have this TFT display and you have a six speed transmission here on the Versys where you have a five speed transmission on the KLR.
:
The controls are similar on both bikes. Again, flash to pass over here is a trigger. High beam, low beam signal lights horn. This one does have four-way flashers and those are connected to LED signals front and rear where you have the incandescent lights front and rear on the KLR. This control here is the control you need to control that TFT display. And both bikes come with some version of hand protection here.
:
They're actually a little bit different on each bike, but that gives you protection from road debris, a little bit warmer when it's cool weather and it gives you just extra wind protection as well. The difference with the Versys is both levers are reach adjustable. They have this little reach adjustable in here, which you don't get on the KLR. So now let's talk about the riding position of both these bikes. Both of these bikes are all day comfortable, but they approach that in a different way. Hopping on the KLR, both these bikes are tall bikes. I should mention that they're very, very similar in weight as well. That's about three pounds lighter without the bags according to Kawasaki's website on the Versys then this. But again, they're both basically the same weight. This one has a 23 liter fuel tank. That one has a 21 liter fuel tank, which you just need to know that both of those are large fuel tanks.
:
Sitting on this bike the biggest thing you're going to notice is it is a fairly tall bike. On the KLR, if this bike is too tall for you and you like it, there is a KLRS. The S stands for shorter. There's a shorter option of this bike. So if you like everything about this bike but you want it in a shorter version, you can get that from the factory with no modifications on this bike. Now as it is, I'm going to put the kickstand up. I am almost flat footing just a hair off the ground on both sides here. So as a approximately a six footer, this is a comfortable bike, but it is a taller bike.
: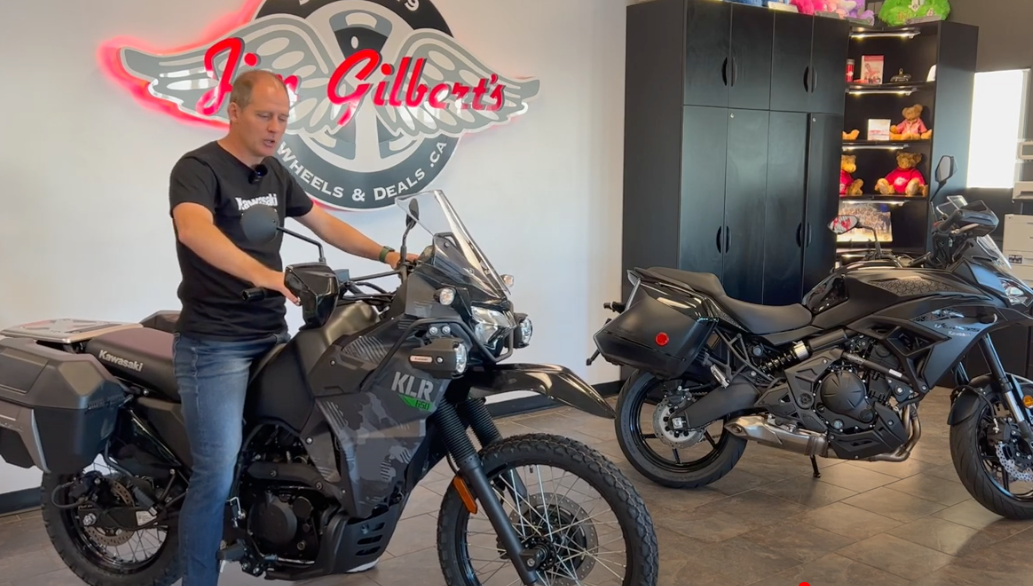 And again, the biggest thing you notice is those really, really wide bars. You've got good wind protection here that's going to keep the wind off of your chest, allow you to have some less strain on a long ride so you don't have to hold your body up as much. And this windshield is slightly adjustable with tools. It can move up a little bit. I believe it's 80 millimeters or so. But you do need tools to adjust it. And it's the same thing with the Versys, adjustable windshield with tools. And the tools are included right here in the back so it's not a big deal. You could adjust it on the fly. You just can't adjust it while you're riding. Now let's go take a look at the Versys.
:
Have you ever made a mistake at work? Well, that was me today. Apparently I didn't hit record as I talked about the Versys, but that's okay. I've owned this bike and I know what I said about it. So when you hop on the Versys the biggest difference is instead of having the really wide handle bars, they're a little bit narrower. They're not sport bike narrow. So it's a very upright, sport bike style feel to the bike, but they are narrower than the very, very wide KLR. The other difference is when you're sitting on the bike, it is a slight bit lower for me. Now I'm not sure what the specs say, but I was able to pretty much actually quite comfortably flat foot on the Versys which I wasn't quite able to do on the KLR. The wind still windshield is still adjustable on the Versys. It does feel to me to be a little bit narrower than the KLR. I could be wrong in that. That was just my perception sitting on there.
:
But overall, you're still very square on the bike. You're still very comfortable. But again, narrow handlebars and probably just a smidge closer to the ground for me. Now again, like I said, when they measure these seat heights, I'm not sure where they rank because sometimes it's the way it angles towards the tank where you have a little bit different position there. Both are all day comfortable, both sit fairly square. The Versys to me is a little bit more to my preference with the comfortable spread to your arms. The KLR is quite large and that's the real biggest difference. We'll jump back to the video now.
:
So let's talk about which ride or each of these bikes are for, and which one might be best for you. Obviously if you plan on going off road, the KLR is the way to go. Now that doesn't mean you can't cross short gravelly sections with this bike, but again, it's got the exposed oil filter there. It's really meant to stay on road. So if your riding involves heading down trails or gravel roads, this is going to be your bike. Now, if you just want to go on a longer adventure and have the option of heading down those roads, that's where things get a little bit more tricky. This bike does cost a little bit more and you don't get accessory lights here. You don't get some of these accessory reports without adding them on as accessories.
:
Now, however, you do get a more powerful engine, more horsepower. You do have certainly a more sporty ride. The TFT display to me is incredible. Not only just because it has attacked, but it has a whole bunch of information there. It connects with the Ride Ology app, which we'll talk about it in another video. So you do have some value here. So some of that technology you're getting what you pay for. The LED signal lights, the four-way flashers, some on road things that may make a difference to you. But at the end of the day, if you want to adventure, the KLR is a bike that can really do everything. It's highway capable, it can go down those dirt and gravel roads, but it can just tour. If you never ever go off road, I don't think you'll be disappointed with something like this.
: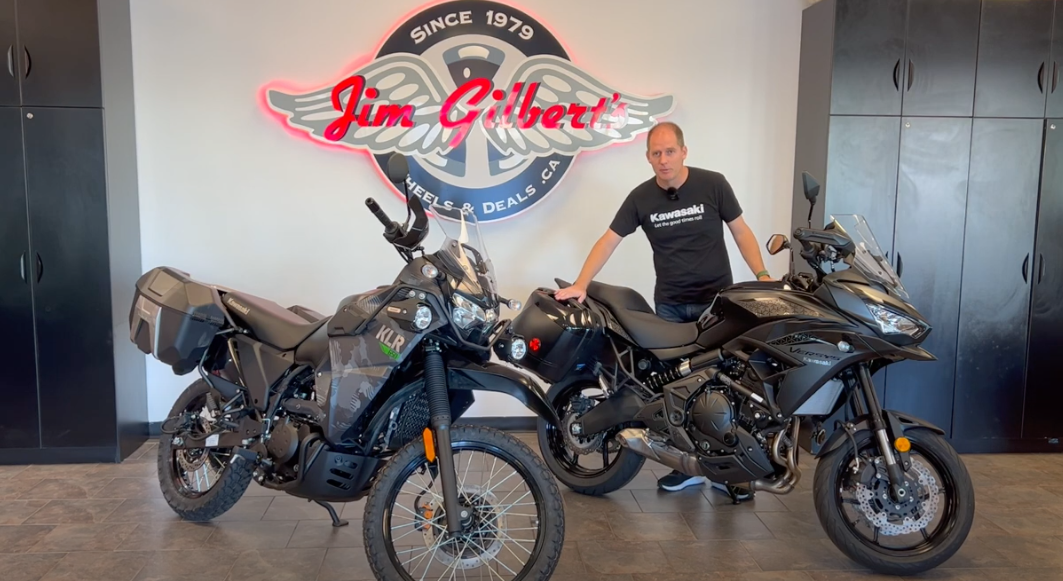 Thanks everybody for watching.