:
So let's talk about what we have here. This bike, legendary. We'll talk about that a lot throughout this video, but that doesn't mean anything to you. What this bike is is it started out as a dual sport bike, that's what they call it. It turned into what they now are calling an adventure class bike. And we know adventure class, you've got really, really expensive, really heavy bikes that really can't take you anywhere this thing can't take you, can't do anything for you that this can't do for you, and it's just become this class of comfort, touring, off-road ability type bikes, and this one does it just as well as almost any of them.
But like I said earlier, it doesn't do everything perfectly. For instance, this is a really tall seating position. Now I should mention for 2023, there is a new, lower seating position. So I'm about six feet tall, you can see roughly where I sit. We're going to get closer views of this later. There is a KLR S, which is a shorter bike, so it allows more people to ride this bike. But for example, you can sit here and say, "Okay, I want a tall seating position, and I want it to be really great on the road, and the 650cc class is around where I want."
: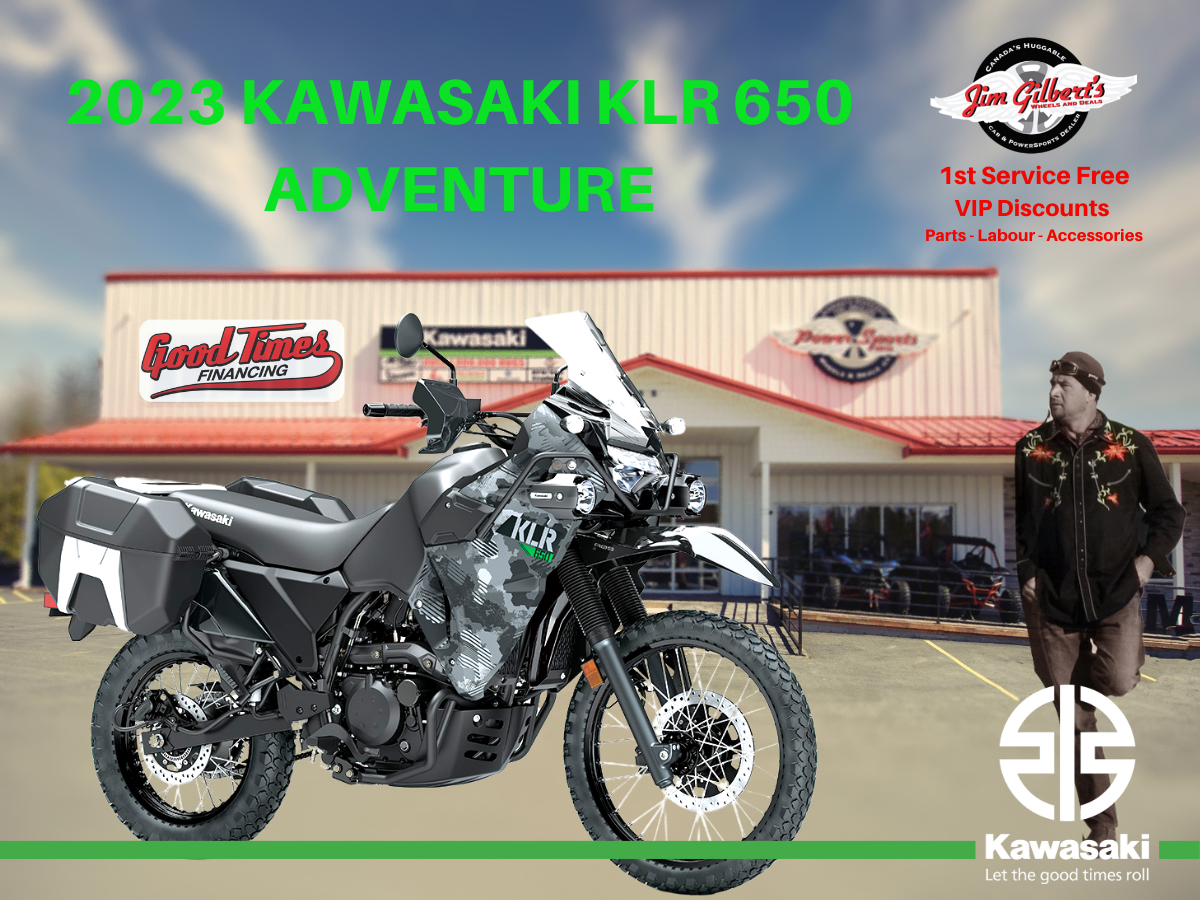 There's all kinds of bikes in Kawasaki's lineup that do individual pieces better than this. But as a package, this is the one bike that really does everything well. And there's specific things in the redesign that happened in 2022 that make this very good and some specific things that are just part of this bike that I think some people forget to point out that also make this bike really good. And that's why I'm excited to tell you about it. Let's dig in.
:
All right, so I mentioned this bike was redesigned for 2022. This is a 2023 model. For 2023 there is a new, shorter version. It's a lower height. We're going to review that in the future as well, so subscribe if you want to know more about that. But let's talk about some of the basic redesigns without getting too technical.
Basically the frame, the suspension, the geometry of this was changed. Front rake angle, the rear swing arm, all kinds of things, the way the frame sits. Basically what they did with it is they made it a little bit more stable at high speed, which was good. This was a very good off-roady bike, but once you got on the highway speeds maybe a little less stable than it could have been, so they sort of sorted that out.
:
So you've got a 650cc single, so this is different than the 650cc in something like the Versys 650. I've reviewed a lot of those 650 bikes that had that parallel twin bike. This one's a single, they call it a thumper. Thumpers, single cc bikes like this, tend to have a lot of torque and a little bit less horsepower. So the Versys 650, as an example, would be a bike with more horsepower, more sporting nature than this. this One? A lot of torque and a lot of torque down low, and they've tuned that to change.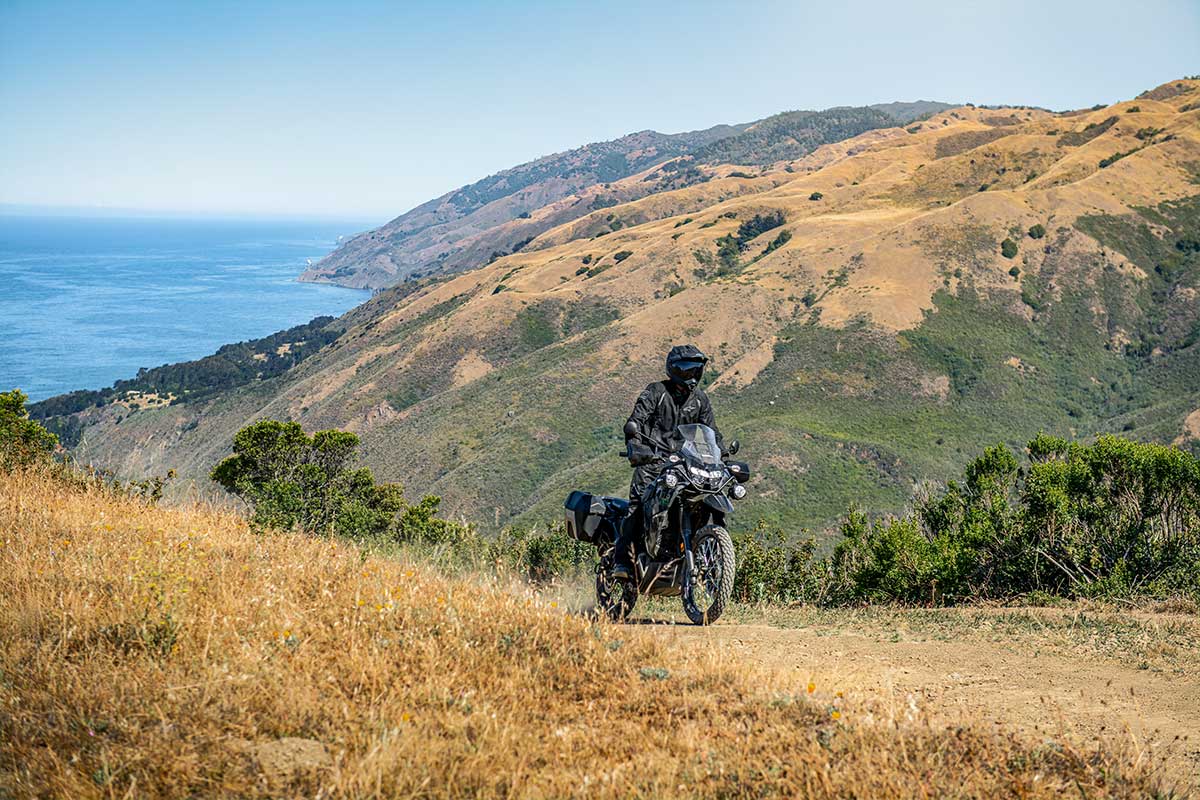 The other big change in here is fuel injection, and they talk about all sorts of things, a little bit more midrange power, a little bit of all kinds of things. But fuel injection is important on this type of bike, because like I said, this bike is more about the stories you can tell because of where you can go than the bike itself. And fuel injection allows you to live the life that this bike should live.
:
If you're out like today, it's a November day, it's actually a warm November day. It started this morning at about three degrees. It's going to go up to 19 degrees. I live in Canada, so it's Celsius, but that's an example of where carburetted versions aren't always great. Harder to start in the cold, runs differently in the warm. So this thing will start in the cold with fuel injection, it's going to give you a little bit better fuel efficiency with the fuel injection, and it kind of works no matter where you go.
Peter:
Because when you're on this bike, you're going to take some detours. If you head up a mountain, high altitude. Carburettors can change there as well. So fuel injection sorts out that, and makes this super reliable bike anyways more reliable on a day to day thing, because that's starting, you don't have to have the choke or anything else going on. It's just going to push the button, the thing will start up. So that's a good piece, to have that fuel injection.
:
We're going to take a closer look at some of the controls, every piece of this bike as we can in detail, just to go over some things. But the new body work is just something I want to point out. It's hard to show on camera, especially with the lighting and the shadowing the way it is today, but the body work is impressive on this bike. It looks more like an adventure bike than an out of date-ish bike, like the previous design started to look. It's very comfortable to ride, it's very good for long trips. But let's talk about some of the specifics that make it good for the type of riding you can do.
Starting out front here, you have a number of things that make this bike pretty good, but this bike is intentionally not the best. In theory there are other adventure bikes. I think some of them even have power raising windscreens. I guess in theory that could be the best, but simplicity is the key here. It keeps the cost down, it makes it affordable, and it gives you more money for the fuel you're going to put in it and the trips you're going to take with it. So I think it makes some sense there. Like I said, intentionally keeping things to a minimum on here.
: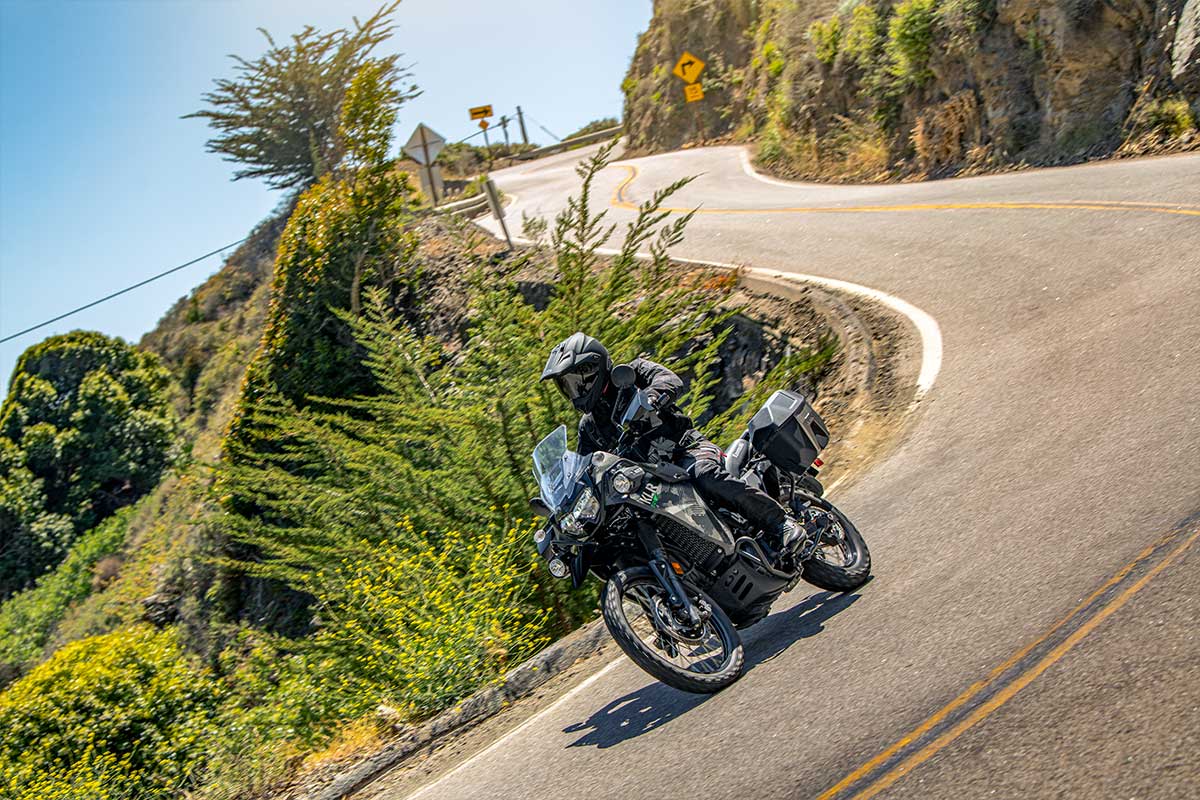 Now this is an adjustable windscreen here. We got an ATV come down here. This is an adjustable windscreen here, but it's not a quick adjust. So you're going to take your Allen key, take the four screws out, you're going to take another four screws out, and you can raise it up one level. So it's a two position windshield. You do have to take an Allen key. Now there is a place to take the Allen key with you. There's a tool holder spot on this bike, but it's not a quick adjust windshield. You can raise it or lower it to put it in position, and basically the point of this is to keep the wind off your chest to keep you from tiring on a longer ride, which makes some sense.
The signal lights here are incandescent, not LED, and a lot of people think, "Oh, well you got full LED lighting across," which we'll show you, one second. "Why are these incandescent?" Well, simply put, if you were to fall, drop this bike or something like that, these are cheaper to replace. They're on little rubber mounts, so they shouldn't break for you, but if they do, cheap to replace, which is good.
:
Now where you do want high quality lighting, again, very durable if you were to drop. You've got a crash bar here. But you want this LED lighting here. Let just show you it on. Again, it's not on the perfect angle to show the lights, but you do have what they call fog lights. I refer to them more as driving lights. You can aim them out a little bit wider. You can aim them up or down from your headlight depending on where you want or what you want to do with them. And I think that's really handy as you're going down less than desirable roads.
Forgetting just two-lane pave roads. If you're heading down gravel roads, you want to be able to see the undulations, you want to see where it's gravel and where it's solid, those kinds of things. And these lights really give you extra light that way. They also give you some extra visibility in poor weather, so people can really pick you out instead of just a single headlight here. Headlight is LED as well. You have the high beam down there as well. Again, you're not on the perfect angle to see everything, but a nice good bright headlight.
:
Now, a lot of people, when they go off-road, they don't want ABS. It is an off-road tuned ABS. The bike I'm looking at today does not have ABS, but it's a 300 millimeter, so 30 centimeter disk there. I think that's roughly the same size as something like some of the 650 bikes as well. This one's a single caliber instead of a dual caliber. Now, part of that is because you're probably not driving this one as crazy fast as some of those more sport oriented bikes. But yeah, it just is one less thing, and I think just from a maintenance point of view, one less thing to maintain.
:
So large wheel, off-road tread that is very comfortable on the road as well, works very good, very confidence inspiring. And then little things here. You've got these rubber... I forgot even what they're called, just shields for the shocks. Now on a modern Kawasaki bike though, usually have the plastic here or the aluminum here, have a piece come up for the last inch or so just as a shield in front, which keeps the bugs from forming where the shocks are normally compressing. And that helps keep the seals from breaking because of stuff.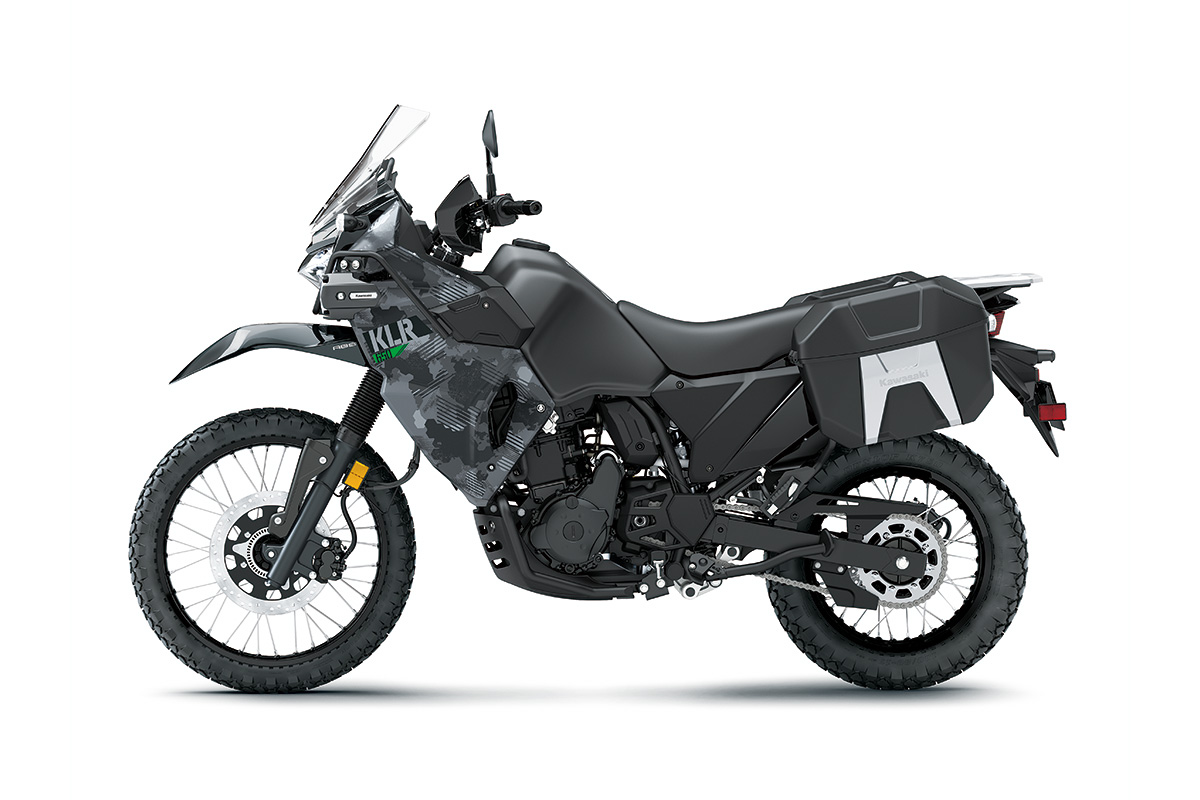 But here again, not worried about style, we're worried about function. So you've got a full protection for your shock. So anything coming up in the hit there is going to keep those shock seals protected a little bit better. You've got a little crash pad down here. This one happens to be a hard plastic, so it's just going to keep some of the debris from really coming up and damaging when you're shooting rocks and gravel up, you don't have to worry about them hitting anything important there. And then you've got a crash bar around here as well to go along with the one up top. So lot of function there to be able to go off-road, whether you want on-road or off-road.
:
Moving away to the dash area, before we get to the digital dash, which we'll show you in a second, I want to show you how they lay everything out here. First of all, you've got this little frame up here. You can mount things to that if you wanted to. You can put a GPS up there, you can put a GPS down on the handlebar here as well. So different things like that. And we speak of GPSes partly because the generator on this bike has been improved with the redesign to allow you to have more powered accessories. Now, this is interesting to all of us. This is a rubber seal over a USB port with another rubber seal in there.
It to me looks like overkill. I would have preferred if they put a little hinge on this, because as you can see, I'm trying to get it exactly on. It actually is much easier than it looks right now. I'm going to leave it. I've been able to do it really quickly. But that's kind of my issue with this, is not a seal you're going to be able to put on really quickly while you're riding that works out perfectly. And you can see I still didn't get it quite right. It is easier to do than I'm making it look, but this is the problem when I talk and do something on video in one take. But this is real world stuff.
:
So you have this huge USB cover here, rubber cover there, which you can run things like a GPS. Then you have a 12 volt port over here, which is just a typical rubber port, which you can run things like heated clothing, right? You could get a 12 volt powered heated vest or something like that, or heated pants or something like that. So you can run that kind of thing, or something else of course. Over here are those driving lights, fog lights that you've got up here, and you've got room over here to put other accessories on here if you want it. So again, nice plastic shielding, gives you space. And like I said, that upgraded generator allows you to run other accessories.
Now let's take a look at the digital dash. Going to turn the key to the on position. You can see it come to life. Simple, simple, simple is the key here. Again, no TFT display like you would have on other bikes. This is about reliability, this is about simplicity, and it's honestly the only thing that really bothers me about the bike. That USB cover was kind of an odd thing to have an overly rubbery, tough to put on, which by the way, I put on in two seconds when I got between takes here. But this is the only thing that intrigues me. I feel like they had an opportunity to put a tachometer in here, which is not there, and to put a gear position indicator. There's even a spot where you could put the gear position indicator, but again, they're talking about value with this bike.
:
Now to be fair, you don't really need a tack on a bike like this, because unlike the sport bikes that really reach max power high up in the revs, this one the torque curve is down low, so you don't have to rev this bike out, and you can really feel when you need to shift quite easily. However, I feel like this bike, even though it's a taller bike, is good for a new rider, as long as you can handle the height. And again, now with that shorter version, these are very good bikes for a new rider, because they really can allow you to explore what kind of riding you want to get into with something like this.
And I feel like a gear position indicator and a tack would have been good, but again, this is not a bike you need a tack. You're going to shift by feel very easily, which I know sounds confusing if you've never had a bike without a tack. I've driven one in the past, my very first bike didn't have attack. Very simple to do. You get very used to it. But yeah, just one thing that's missing. And then very simple controls down here. Odometer... Whoops, let's go this side. Odometer, trip A, trip B, and that's it. Back to your odometer. So simple, reliable, basic controls.
: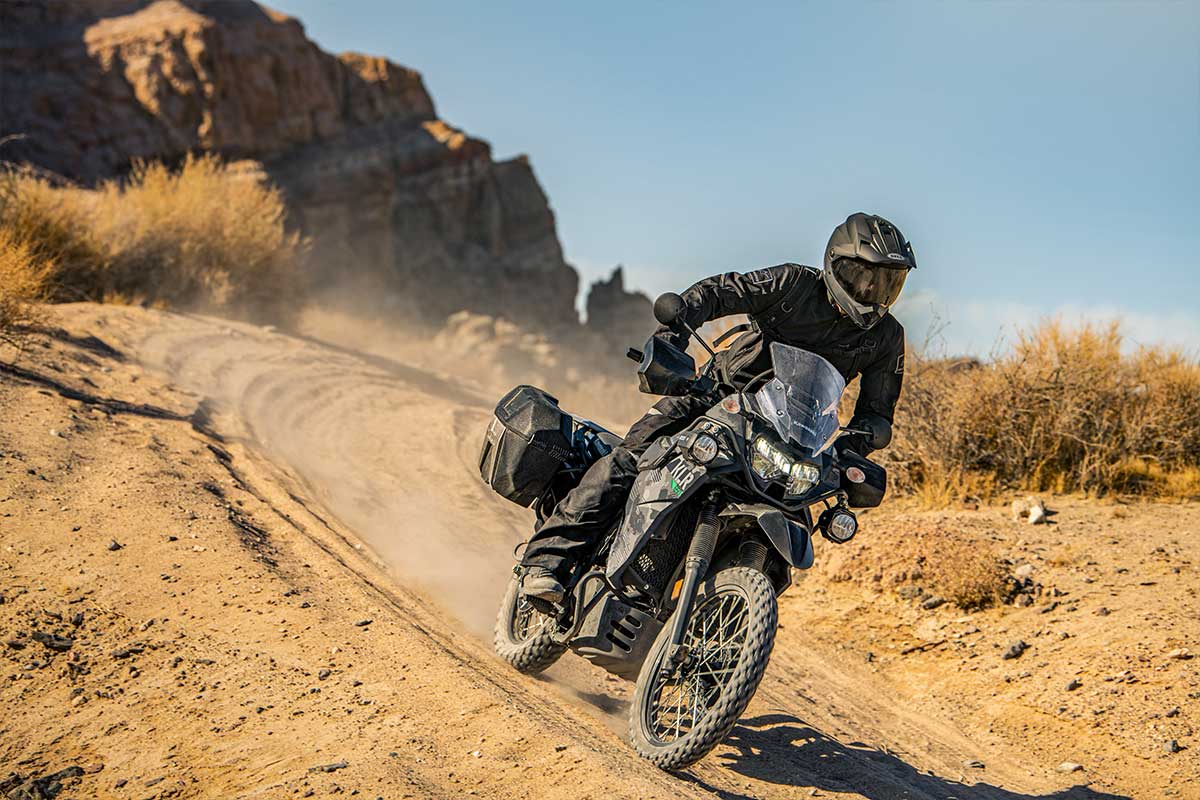 Before we move on to luggage, I just want to show you what comes here. You've got these hand guards here, which are really, really good. If you're following someone down a gravel road, gravel can shoot up, and that can really ruin your weekend. So having something like this not just keeps you warmer, but it also does really protect you on poor road surfaces. You don't have a slip-assist clutch, so you have a traditional feeling clutch, a real natural feel. It's got some stiffness to it, but it's not at all heavy. And then you have typical Kawasaki controls. High beam, low beam signal lights, horn there. And you've got a little trigger down here for the flash to pass, turns your high beam on for just a second.
Peter:
Round mirrors set out here pretty good. Not the big stylized mirrors, just simple. And again, if you were to ever drop this bike, simple and cheap, easy to replace. One thing that you may find is missing here, it does not have heated grips, which a lot of touring bikes, you may want. Which again, there's room to add the control right here, and you can add that as a Kawasaki accessory, which would give you that full, complete, fully equipped touring bike.
:
Speaking of a complete touring bike, there's a lot to show you here. Let's start with the basics. First of all, big oversized large aluminum type carrier. It's got holes in here, like four holes there, four holes here, so again, two and two. It's got the Allen keys there. There's lots of ways to attach just about anything you could want on here. You can get a big, fairly square top box as an accessory, but there is a little spot in here, which I think is pretty cool. That's your little toolkit, and it just hides in there with the lock, which I think is great. It's just a simple, simple place to keep your stuff. And like I said, if you want to move the windshield, you can keep your Allen key in there. So that's in that little locked container. Same key over here. You can use to open these baskets here.
So you can see they are fairly square, something the Versys 650 and the sport bike-y style boxes, you can fit a full face helmet in those, something on the Versys 650, on the Ninja 1000, the Versys 1000. They have a little bit more space in them to hold a full face helmet, but these are fairly square. You can easily hold a weekend's worth of stuff in each box. They are easy to just get into. The key is on top there, easy to pull in and pull out. But that's not the whole luggage story. Let me show you a few little tweaks that people don't show you.
:
All right, this is an awkward thing to film, so I'm going to try to get my hands in behind so you can see. There is a little tooth right there, and there's another tooth right there, where hopefully you can see them there. Those are the traditional things that you used to see on older bikes that would allow you to tie down other things onto the bike. Now we're going to zoom out a little bit here for a second here as we go the wrong way. There we go zooming out.
You've got these bars down here where those teeth are on. You've got extra bars up here. There are a whole bunch of places to tie down things, whether it's a net, whether it's in a strap or some other thing. And that's the way people used to tour. You don't have to buy expensive luggage to take everything you need. If you're strapping your tent down, it could fit across the flat seat, which is level with the back rack area. You can tie them down through those little teeth in there and in there on both sides, or just to the overall frame and structure here that is all there. So you can really take a whole bunch of luggage without having to buy expensive luggage, which just fits with what this Kawasaki KLR is.
:
So now let's talk about what it's like to ride this bike and to own this bike, to have this bike. First of all, the one thing people are super concerned about is the height. Well, I'm about six feet tall. There we go, kick stand up. About six feet tall, and if I stretch and sit awkwardly, I could put both heels on the ground. But reality is, my heels are just a hair off the ground at six feet tall. This is a tall bike. If you want a shorter version. Kawasaki recognizes that this may be a little taller than is comfortable for some people. They make that KLR S, which we will review in the future, a little bit shorter version of the exact same bike with the exact same features.
So to me, this is a bike that could really work for a beginner if you can handle the height. Now along with that height is a little bit of top heaviness, and it really comes down to what's sitting in front of me. It is, I believe, a 23 liter fuel tank. I'll correct myself on the screen if I'm wrong, but a very large fuel tank. So when you fill it with gas, you're putting a lot of weight up high.
:
That suits what this bike is. When you take the off the beaten trail kind of route, you may not be near gas stations, and that really works. So who is this bike for, who's going to use it? Well, the reality is, this bike is about far more than the bike itself. It's about the stories you can tell. If you dream of going on adventures, of taking the back roads and then taking off to this dirt road and the gravel road, and then taking off to the trail, this is a bike that can do that. If you dream of going a long, long, long ways purely on interstate, there are better bikes in the lineup.
Peter: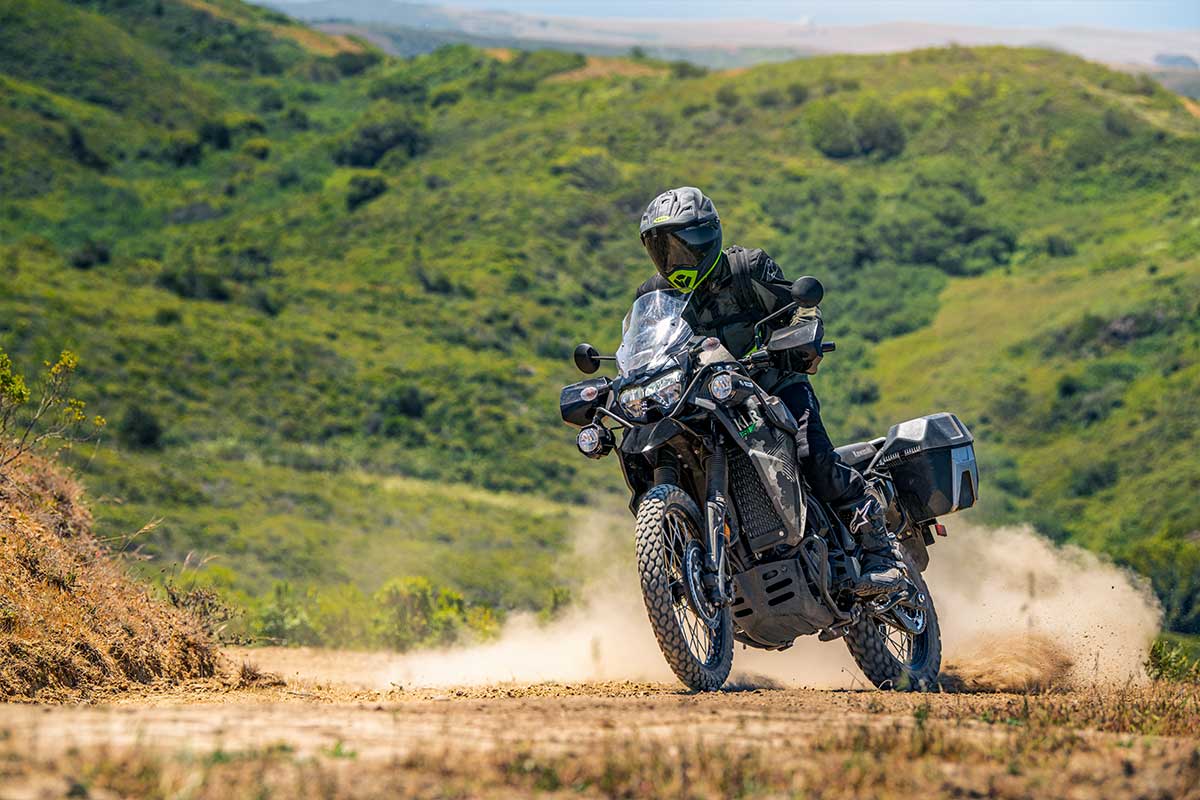 This is a bike that does everything really, really well. If you're a beginner and you can handle the height, it's not going to overpower you, but it's going to allow you to explore every type of riding. Maybe this isn't your forever bike. For me it certainly could be. But if it's not your forever bike, it'll allow you to discover the types of riding that you enjoy the most. If you're only on the street after a few years of riding this, maybe you look at something like a Versys 650. If you want something a little sportier, you can move to a sportier [inaudible 00:18:50] things, but you're going to sacrifice some touring capabilities. You're going to sacrifice potentially this really comfortable seating position, this really square, upright seating position.
So there's so many things that this bike can do, and it's not trying to be something it's not. It's a value priced bike, so you can buy that GPS that you really want, you can buy the fuel that you really want, you can have the extra time to take the extra money to do the things you want to do, to stay a couple nights in a hotel or go camping or whatever you want to do, because you've got good value here. It doesn't try to be anything it's not, it's legendary for a reason, it does everything you want it to do.
:
The only thing that bothers me about it, again, is that lack of attack, and that's an intellectual thing more than an experiential thing. The thing with this single cylinder thumper engine is all of that torque is down low. It's not like some of the bikes that I'm more familiar in riding, where you rev it out to near red line to get maximum horsepower. This one has the maximum power that you need, that torque that you need, down low in the mid range, low in the revs to the mid range, which is where you're using it. It's very easy to drive. You don't need tack on this style of bike, it's just something I would have liked to have.
Full Helpful Financing available... and our specialty