:One of the things that makes the Brute Force 300 so much fun is its compact size. Now, a lot of people see this next to the 750 and say, "Oh, this is like a child's version."
:

But no, there's are children's versions of ATVs that isn't this. This is a full-sized ATV in a more compact class and that does a whole bunch of things for you. I'm a six-footer, I fit on this just fine. It's very comfortable for me. It's a perfect single-person type unit, not a two-person vehicle in any way, but it's really good.
: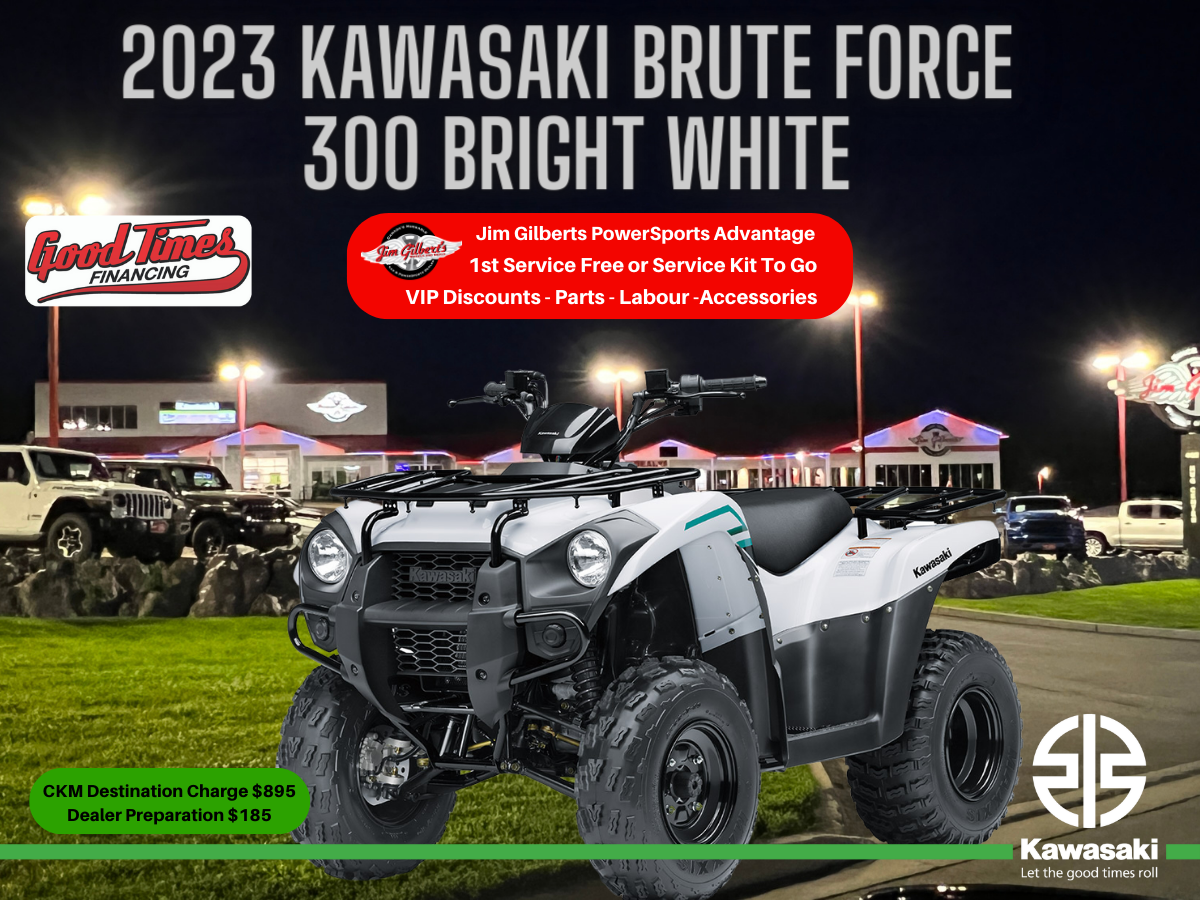 The biggest thing is it brings us back to the time when this class of vehicle, ATVs in general, started to gain their popularity. Right now they don't make a lot of things like this anymore. What I mean is that you could really use your body weight to maneuver around and have some fun with this. So you could see I can easily shake this side to side. I've easily got control, I can move it, lift it up front and back. I can really make a difference on where the weight is on this vehicle and that makes a more engaged riding experience. And to be blunt, this is more fun than a bigger unit.
:
The other thing with this is it is not a four by four. It is a rear-wheel drive unit. You could see when you take a look at the wheels in a second, there's a larger rear-wheel footprint and a narrower front-wheel footprint so they are different kinds of wheels. They give you sort of a square wheel and a rounded wheel. Rounded wheel are good for steering, square wheel gives you that grip. We're going to take a look at the back and talk about some things that really give you that extra grip.
:
But overall, this thing's all about fun. It's simple. There's not a whole lot of complication. We're going to show you the controls, but it makes it really easy for anybody to ride.
: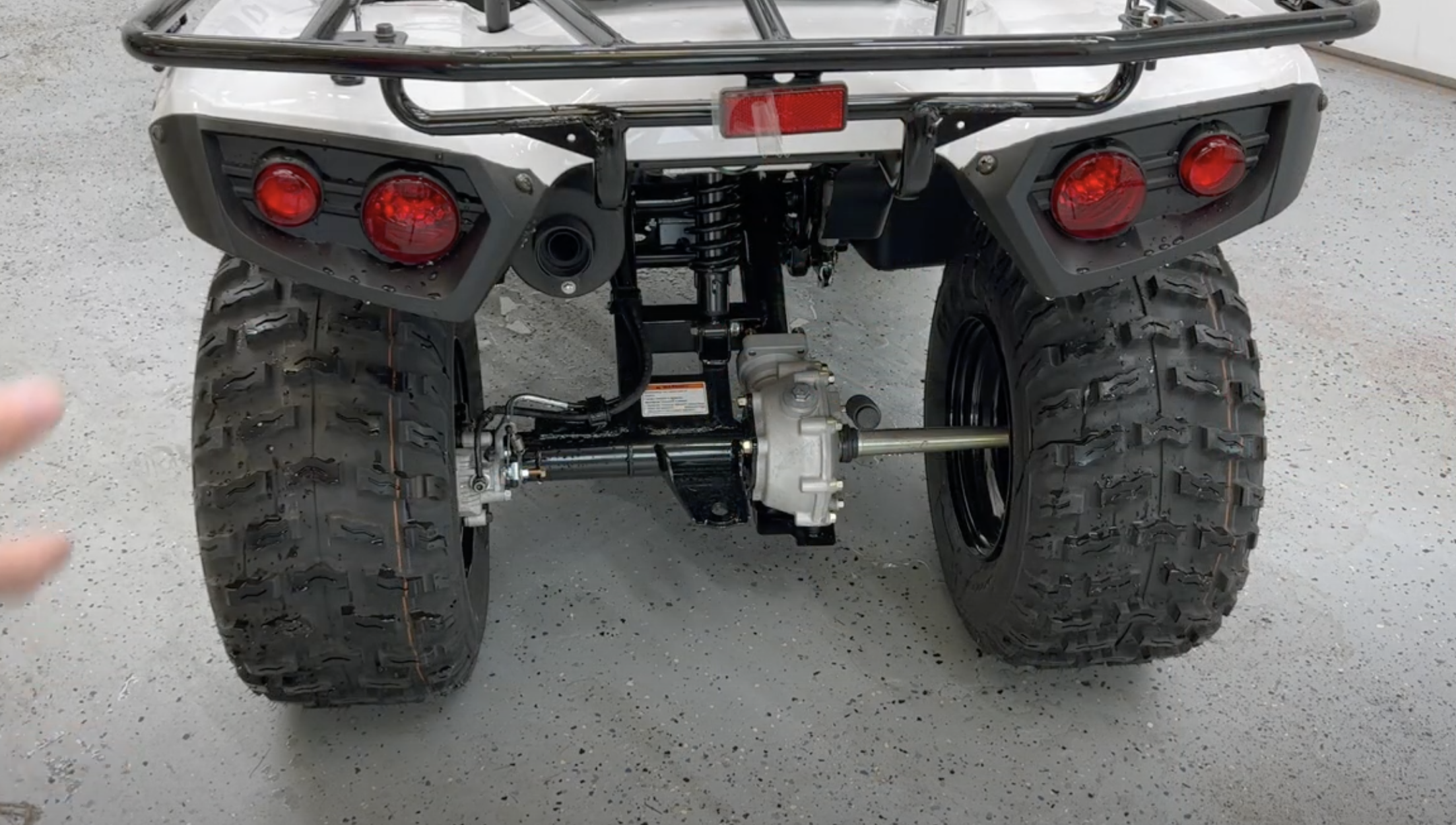 Let's start by taking a look at the back end and show you a couple of unique things out there. Taking a look at the rear of this vehicle kind of brings you back to, like I said, when ATVs first gaining their popularity. You've got a single axle here, no independent suspension or anything like that, but what that means is your rear differential is always locked. That gives you great all-wheel drive type traction, even though it's just a rear-wheel drive vehicle.
:
The other thing you're going to notice is a lot of space in here. First of all, departure angle is absolutely crazy. It's very good. But with having that space in a single shock in the middle, all of the weight is way forward, which means it's all centralized. That centralized weight makes it easier for, again, you to use your body weight to maneuver this thing around and to really gain control and have some fun.
:
You'll also notice it has a trailer hitch capability there. You can take a small trailer around your yard to do some yard work. You can use this to do the work that you need to do. Solid breaks in there, simple stuff to have. The exhaust is set up high so when you really go off-road in the trails, if you get to wet areas, everything else is sort of set up and out of the way. But just nice and simple. We'll turn it on for a second.
: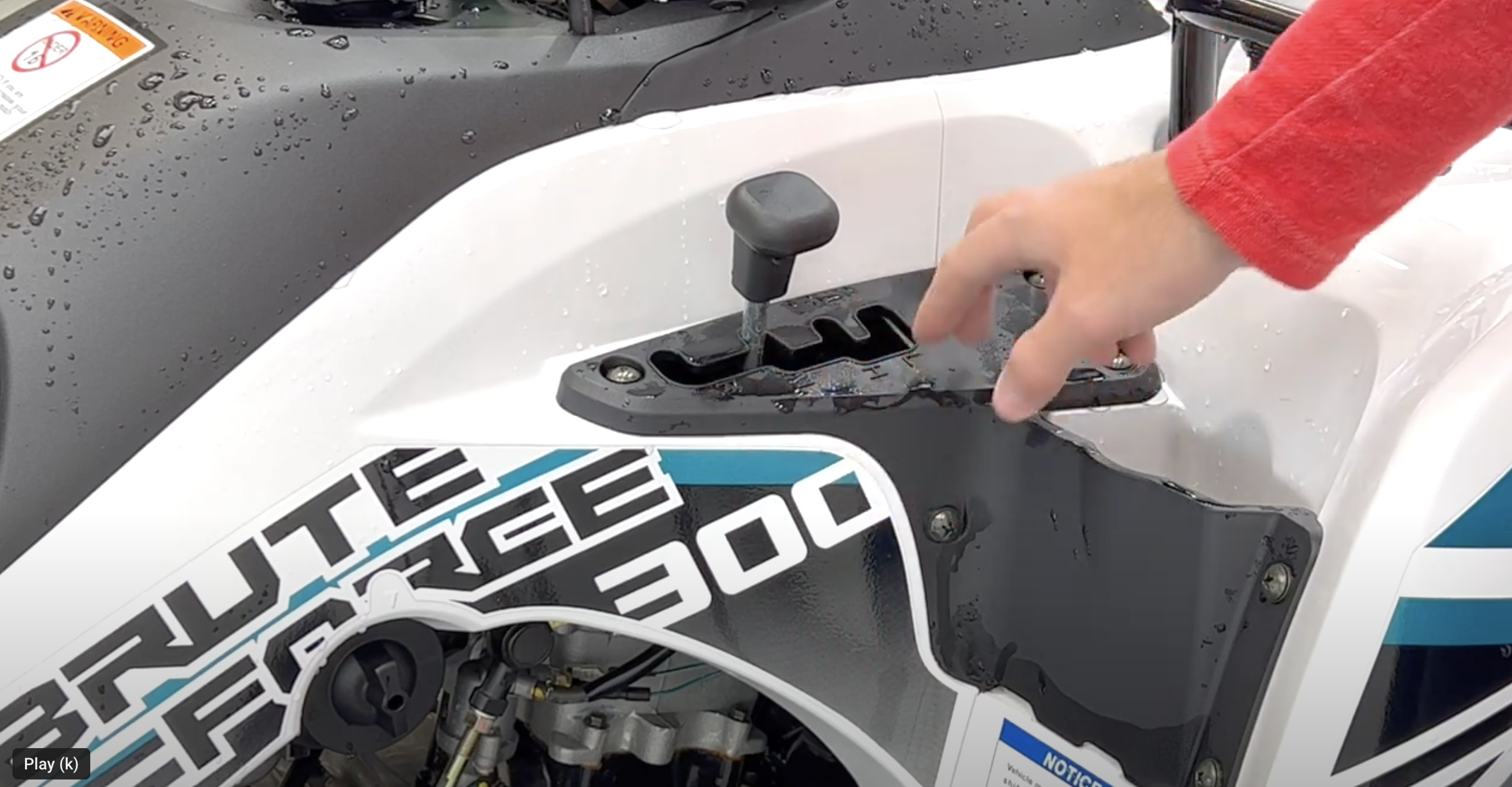 The lights on the far outside, they are red, but they're going to look a little more yellowy to you. Hit the brakes here and you could see you've got just attractive modern lights that work quite well.Even though this is a rear-wheel drive vehicle, you're still getting a lot of this little sort of all-wheel drive things that you'd expect, low range, high range, neutral and reverse. So having that low range gearing really allows you to kind of take it further, go further off-road. This is a very, very capable vehicle.
:
One other thing I want to point out is you have a little bit of a nice space in here to store a beverage or store other things. Obviously, things can go wet. I don't know if you can see, but there's some leaves coming out there. There is some snow in this vehicle. It still has some draining here. So if something was to get wet in here, it'll still drain up the bottom. Just nice little practical storage area.
:
There's another storage area that I want to show you right now. This storage area out front is just really practical in my mind. It's super simple to get to, just pull two tabs. You can see we've got our owner's manual and other things in here.
: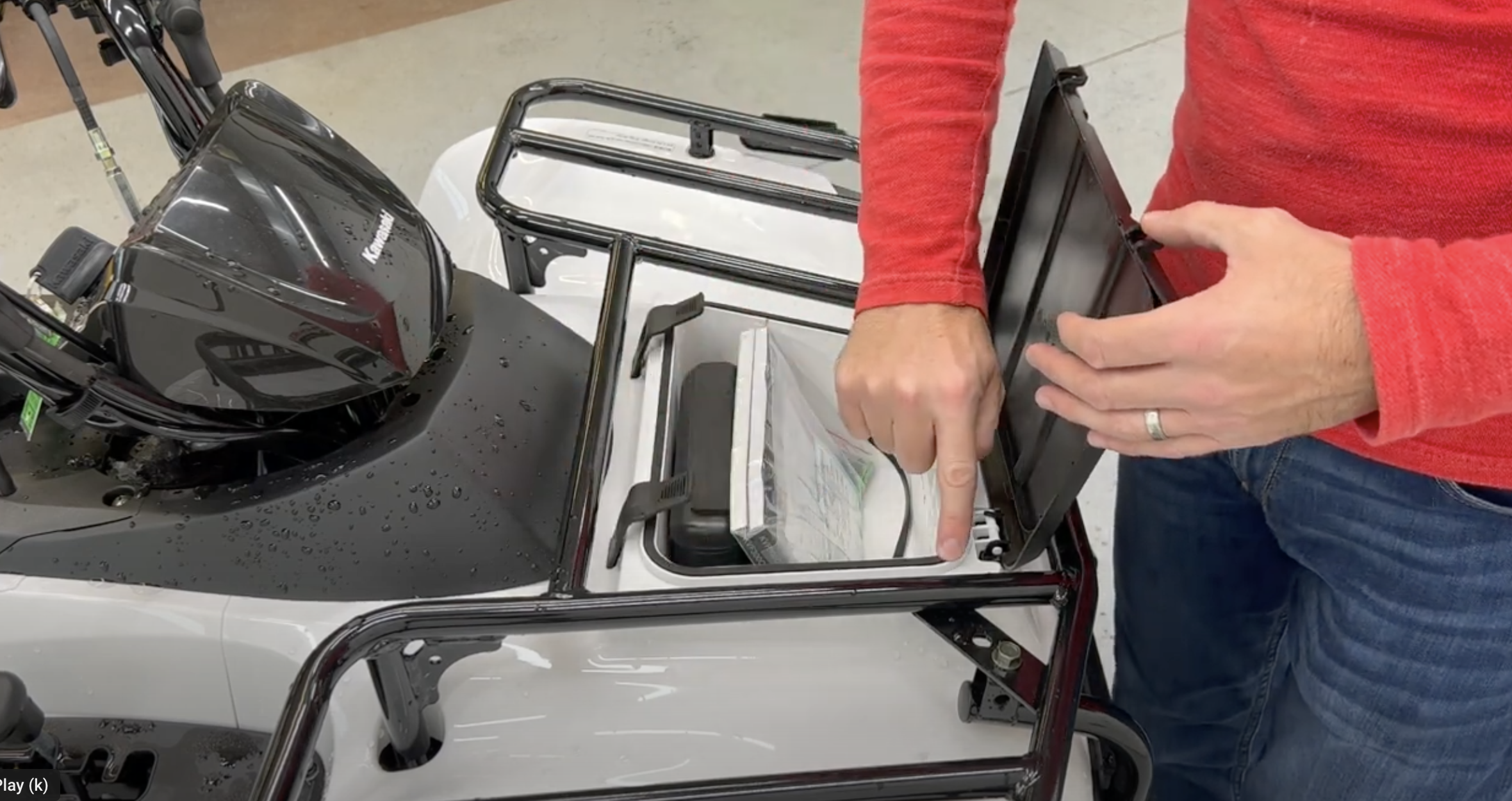 There's a couple drips of water in here. That's from my fingers dripping in here when I was in here a little earlier. But this is relatively waterproof, certainly weather-resistant, weatherproof because of this gasket along here. This is a soft gasket meets up with the inner side here so the overall design is to keep the rain and the weather out.I don't know if you swamp it if it's going to be perfect, but it's certainly something we can put your snacks in. Put those things in that you need to keep safe and nice and sort of sealed in here. It works really well. Again, you can see here closing it is super simple. Just pull those tabs out and rubber tabs. Simple, simple. Nothing fancy to really break or anything. Just simple rubber tabs.
:
Let's talk about the racks on this bike. The racks front and rear, this is not going to be your main cargo-carrying heavy-duty type unit. It's rated to hold 44 pounds up here, 66 pounds on the rack on the rear. But there's still a lot of practicality. You can add accessories here, all kinds of hard cases and other types of things.
:
But I think with a unit like this, they kind of recognize this is a value priced unit so they give you some value priced options. You'll notice little tabs on here. Let me just see if you can see them on your, yeah, of course, you can. Little tabs here. They are all the way around front and back of the front rack and the rear rack. That means you can just get something as simple as a bungee net or something like that. You can clip around these type things and carry what you need without having to go to the expensive system of getting fancy luggage here. You can just kind of take what you need, front and rear, and I think that works perfectly.
: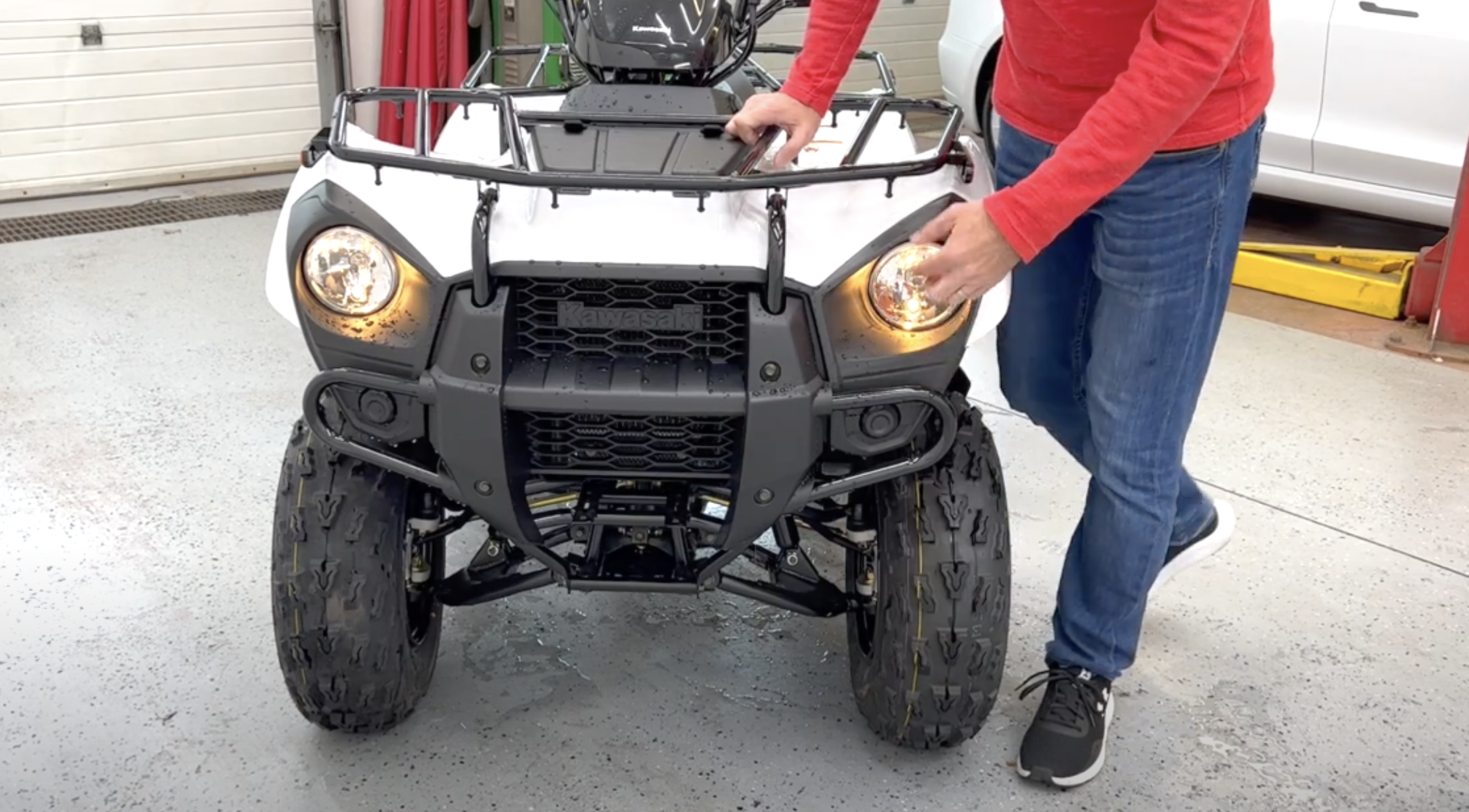 I want to show you the front angle here. If I don't start it up, but just turn it to on, the headlights have a little light down here, sort of as like a daytime running light if your headlight was to go out kind of thing. The actual headlight is not on so we can't show you really how bright they are.
:
But they are halogen lights and the nice thing about that is a day like today where it's snowing like crazy outside right now, this allows you to have some extra heat compared to an LED light that gives you the ability to melt that snow that could build up here if you're driving out. Again, they're good lights that give you good, nice, bright spread when the vehicle's on. I'm not going to start it up because we are inside right now, but good modern-looking headlights that still have that heat from the halogen-type style.
:
The other thing that sort of is hard to show on camera that I really like is this is just a nice-looking unit when you come up against it. It really doesn't show on camera because this white paint with sort of this black plastic doesn't film well. But there's some details in here, the Kawasaki logo, the detailing in here, the crash bar on the front that kind of comes into the rack. You've got some quality stuff.
:
I'm pretty sure you can put a winch in here. I've never seen one and, to be honest, I'm not sure that you would need one. Because, as you can see, you can really maneuver this around just with a couple guys so you don't have to worry that you're going to be so stuck you can't move it around. It's lightweight enough that sometimes you can just shift the weight enough to get yourself unstuck anyways. There are attachment points if someone else had to winch you out or if you had to winch yourself out.
:
We mentioned those wheels up front are narrow and rounded. That makes the steering nice and light and easy. Even though there's no power steering on this vehicle, it's not hard to steer and the rear wheels are sort of wider and square.
:
Let's take a look at the side here and we work our way to the controls. Overall, I really appreciate the style of this vehicle. It's not something that's like crazy race style, but it still has some aggressive kind of speed kind of lines to it to me. It's kind of up-to-date. It doesn't look dated, even though some of the things are more like they used to be.
:
We've got pull start here. It is an electric start as well. We're going to show the controls a second. There is a little 12-volt port right up here so you've got a little power point right there. Whether you've got heated gear or other accessories that you want to power through that, you can do that.
:
Obviously down here, it's not just a plastic foot peg. You've got a good steel foot peg in amongst the plastic foot wells. Lots of drainage, lots of grip in there so really useful practical stuff for the way you're going to be riding this.
: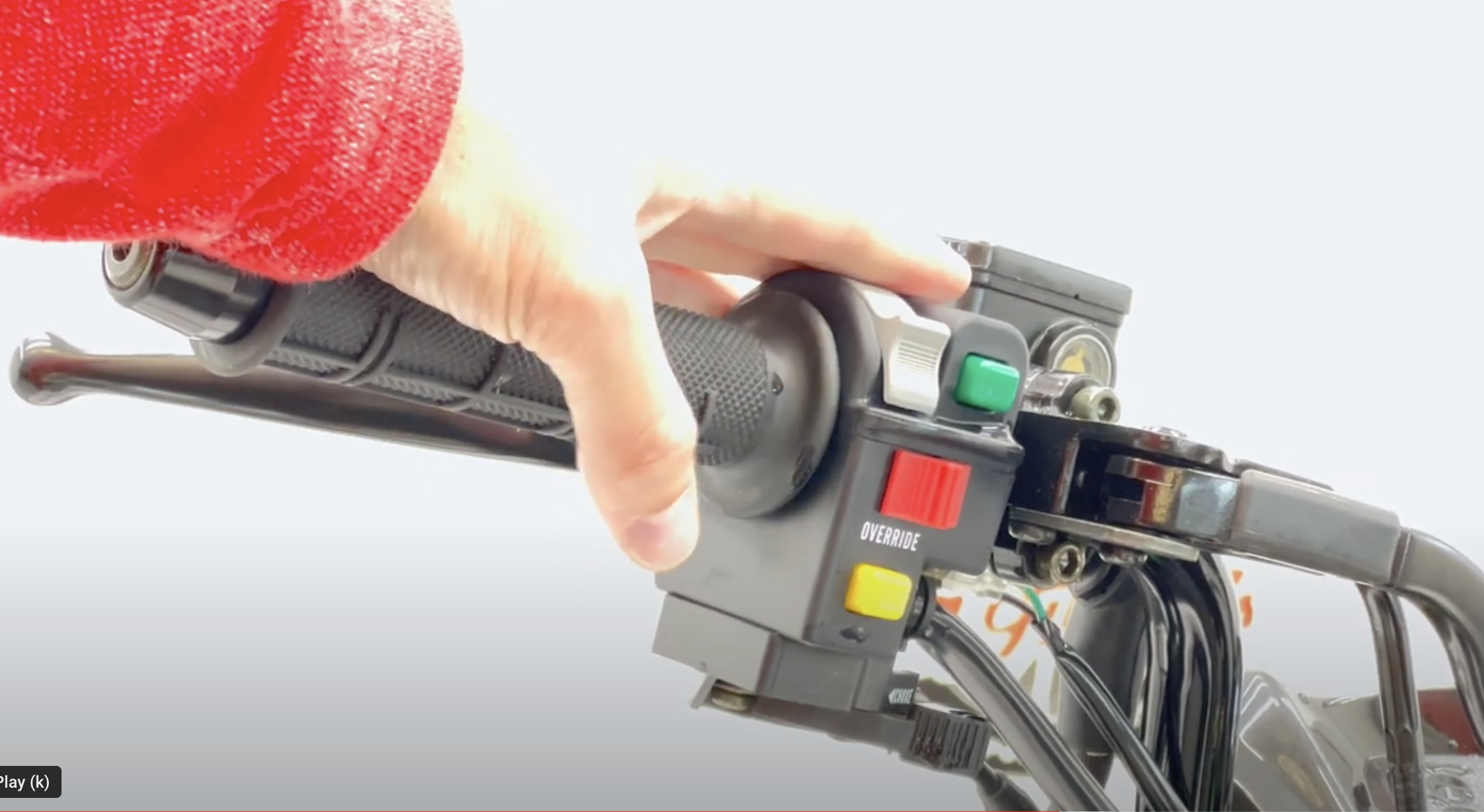 Let's take a look at some of the controls now. All right, a little bit of an awkward angle to film here, but you can see you've got your regular daytime running lights and then you've got headlights and high beams right there on that gray switch. The controls in this all feel high quality. Electric start, of course, is right here with a kill switch there.
:
There's an override button here for when you throw this in reverse. It kind of has a reduced power in reverse. Hold that button down and it'll allow you to have that full power. If you get stuck, you can really kind of back it out.
:
There is a choke down here as well, so that, of course, it's a carbureted unit. That's why I talk about some of those more old fashioned type things, simplistic type things, sort of how a lot of us learned to ride was on this kind of a unit so you do still have a choke there.
:
What I really like is this parking brake lever. When it's on, it kind of blocks your access to the controls. I mean you could get there if you had to, but it's kind of hard to do. So it's really clear when it's on, really clear when it's off for that parking brake. Super simple stuff.
:
Let's take one look at the dash here, which is also simple but gives you the information you need. The dash is pretty simple. The key itself moves with this dash when you turn the handlebars. So we'll turn it to the on position there. You've got neutral light, reverse light.
: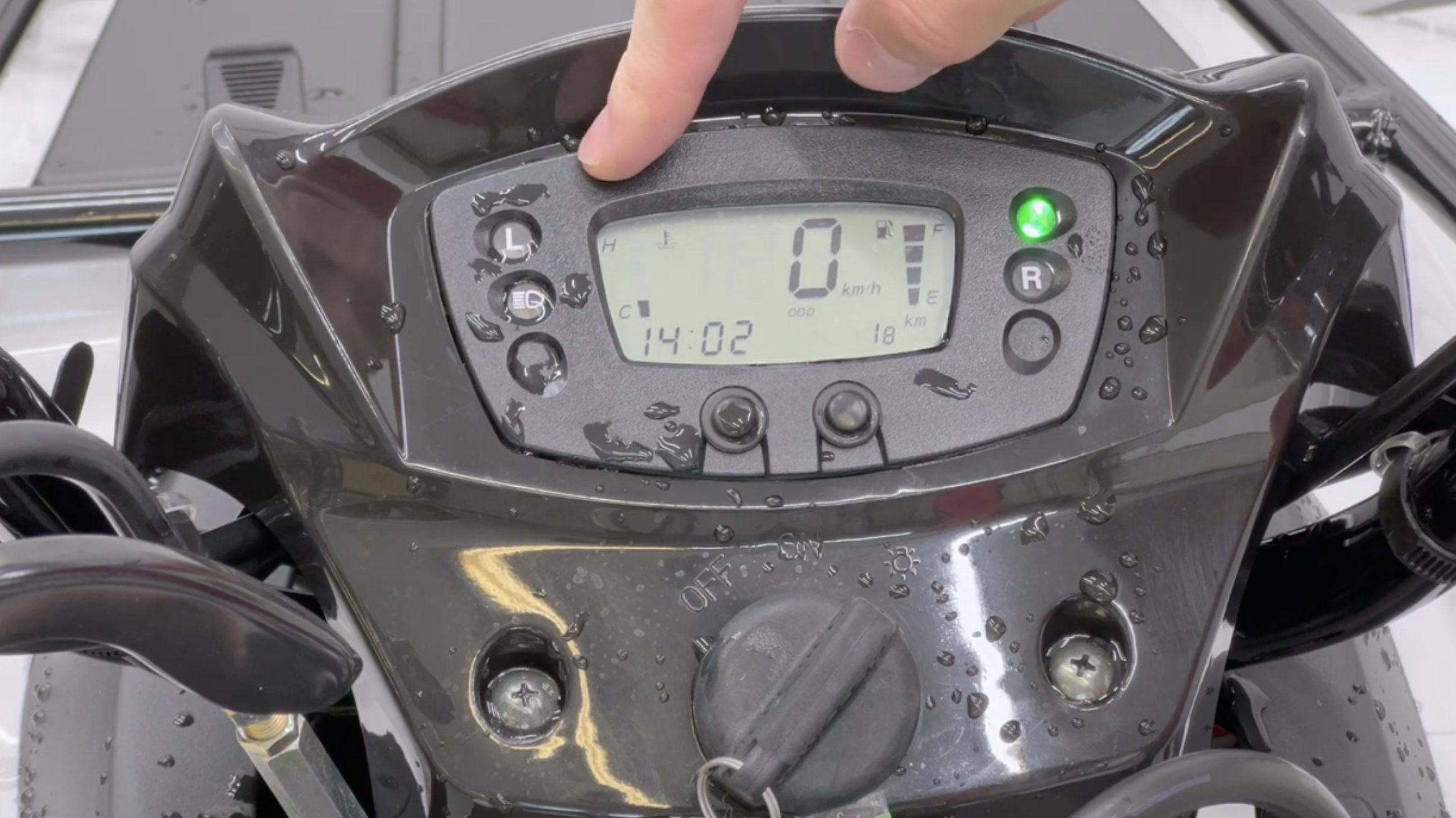 I don't know if you saw what you turned on there, but you have temperature gauge over here, fuel gauge over there and when it turned on, it had a triple-digit speedometer. Now I don't know if this thing will go a hundred kilometers an hour, but I will tell you it's not underpowered, 300 cc single engine in this. It's plenty to move a fairly lightweight vehicle. Just basic controls, clock in there as well. What you need, nothing you don't. I don't know if I point out, headlight [inaudible 00:09:47] light there, low range gearing light right there. Again, all the stuff you need, nothing you don't, makes it super simple to ride.
:
One of the most important things I like to talk about is who is this for? Who is it aimed at? Well, if you are a hardcore mudder and need to go off-road the entire time, this probably isn't for you and I'm talking off-road, getting stuck in the mud kind of thing. But if you're a trail rider, use it around your property, someone who wants to get fairly off-road, not afraid to get a little bit stuck with the big guys and get yourself unstuck, this thing is amazing. Again, that lighter weight, the ability to kind of control that whole unit side to side, up and down, to move your body weight around and have some control makes it a more engaging ride.
:
It's a great first ATV. It's also a great secondary ATV. If you already have another ATV sitting in your fleet and you want to add something that anybody can ride that's super simple, there's not a whole lot of complicated control that you're trying to figure out while you're riding, you just get in and go, this thing is absolutely great. Like I said, it brings back that fun that sometimes these larger units that are so advanced kind of lose. This thing, there's simplicity to it, there's character to it and there's fun to it.
: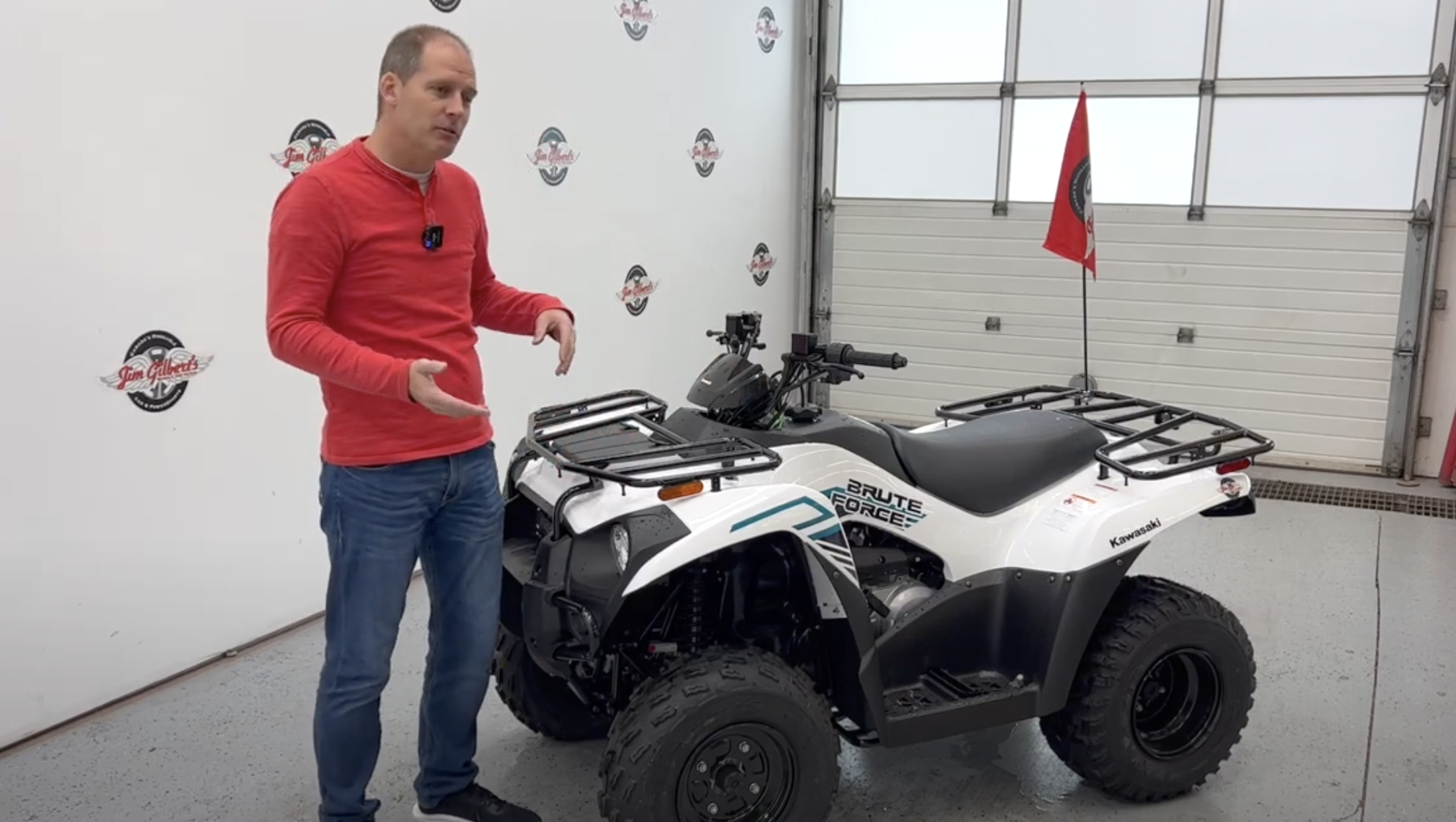 So there's my quick overview of the Brute Force 300. If there's a question that I didn't answer for you that you want to know about this or you want to know about this compared to other models in the Kawasaki lineup, let me know in the comments below. Make sure you hit that Subscribe button because I'll be able to come back to not just your comments, but I'll be able to answer them in future videos.
:
I want to point out Jim Gilbert's Wheels and Deals, Jim Gilbert's PowerSports, where I'm filming today. They are the ones that give me access to this. But if you're looking to buy a unit like this, they're absolutely incredible. They are the number one volume Kawasaki dealer in the country and they also have what's called Kawasaki Way out there, which is a private off-road test track. So you can sit there on this unit, take it out, see what it's like on those trails, see what it's like in the off-road environment that you're going to ride it in. That's because this dealer is absolutely focused on customer service. They're giving me access to make sure I can answer your questions before you even show up here, even if you're never going to show up here, that's why they do it for you. Also if you come here, it's absolutely amazing. They're known as Canada's Huggable Car Dealer and they're that way for a reason. They really focus on you.
Peter:
So there you go. There's your review. Thanks everybody for watching.
Full Helpful Financing available... and our specialty