Well, I always talk about bikes. If you were to compare them to cars, this one to me is kind of like a muscle car sort of. That's sort of how it would sit in the lineup. But again, the difference between this and some muscle cars is this one can really handle. So you're talking about track-focused muscle cars, more than straight line, just noise, and sound. But the reason I compare it to a muscle car is because it really is noise and sound as well. It's a lot of power and straight line. It's got a factory-tuned exhaust. So when they talk about this tuned exhaust sound, they actually sound-tune it. They make sure it's melodic, make sure it hits notes rather than just having the sound come out of the engine and come out the pipe, and it is what it is, they literally tune that exhaust. So it sounds great when you're going through the rev range, we'll show you a little bit of a clip later.
:
It's hard to film that exactly when you're just sitting still, but we'll get you some clip of that later. But really, this bike kind of suits a whole lot of people because it is a manageable larger bike. It's got plenty of power and the technology keeps you in line, but also allows you to have a whole lot of fun. So let's take a closer look and show you this bike in detail. So in this class, what makes a great bike? Well, it starts with the engine. You've got a four-cylinder inline engine here, which means it's a high revving, good power engine and you can keep control of that with both your right hand and the throttle, but also with some of the electronic things. You've got traction control on this bike, which has three levels and off. We'll show you that again when we get to the TFT display.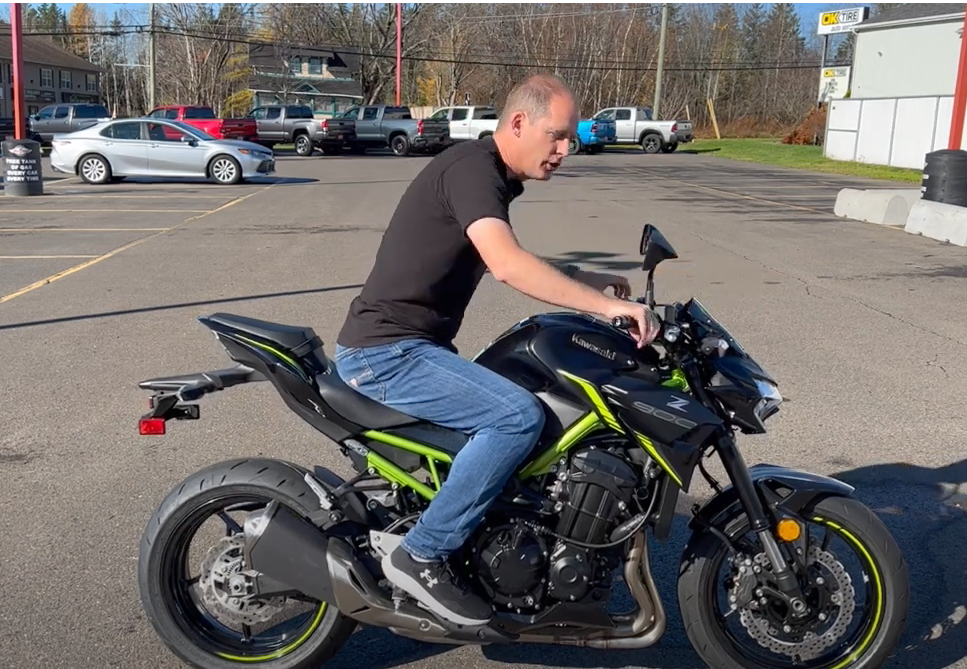 You can also do a low-power mode and a high-power mode, which is essentially like putting an ECU chip in here. You can sort of choose your power mode to keep you safer in rain or in town, that kind of thing, and to allow you to really explore it when you really want to. So this means power, tuned well for sound, we talked about that. What about these over here? Well, let's talk about the brakes out here. First of all, you've got brakes out front. If you get the higher trim level, you can change these out for Brembo brakes. What's interesting to me is these still have the pedal-style rotors here. So it's a dual rotor and they have sort of this... Like I said, pedal style comes in and out right there. We used to talk about that being there to dissipate heat.
: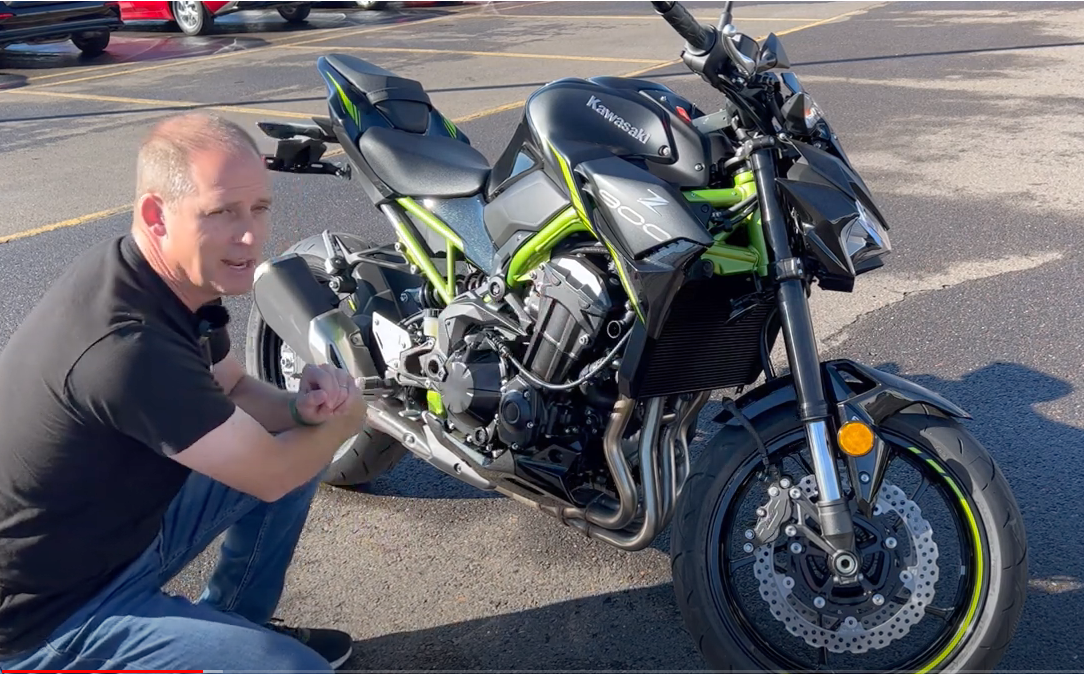 And this bike is all about a balance of power and handling. So again, when I say it's that muscle car, it really is that track focus that more fun to drive muscle car than just straight-line performance, and something like this with that weight low and good travel is sort of showing you that commitment there. Coming around on the back end here, you've got a 180 by 55 ZR17. This is a sport bike tire, so you can really get over in the corners here. Have good angles here. You can obviously use this in town. You can obviously use this for cruising, but it's going to be really capable and that's kind of what you want. One thing I think is interesting here is this is a really smooth area. So even without a fender eliminator or anything like that, you've got a really clean, clean look through here.
Again, just some styling that looks up-to-date and modern, which contrasts that Z900RS, which is that retro sport, which has a whole different look in the general area here. But again, sport bike throughout, ABS breaks in the rear there as well, big pedal-style calipers. So you've got just some big clunky kind of pieces that look muscular, which I kind of like. So muscles are great, but you got to have some brains as well. And this bike totally does. Turn it on, you got the TFT display. Now again, you can invert the colors here. So I've got the black background or the white. Personally, I think the black background, just from a styling perspective and even from a legibility perspective is just the color I prefer. But if you want white versus black, so the speedometers in black and the background's in white, you can invert that.
:
Now you've got a lot of cool things here and I'm going to try to show you them as best I can while standing sort of around the bike and the camera here. Hopefully, the... Yeah, you can still see it in the sunshine. So again, that's kind of the point. Filming a screen is very, very, very difficult to show accurately. But even sitting here in this really bright sunny day, I fully let it in. You can see the shadow coming over fully in the sunshine. You can see it's very legible. So you've got some basic stuff down here. Kilometers per liter is just your fuel mileage. You've got your range. We're looking at the bottom here, average speed, total time. The battery's just a little bit low right now because I've had it sitting on for a tiny bit. And then kilometers per liter.
Peter:
And you can customize some of those things by just clicking this. You can see I've clicked over... I'll show you how I do this in a second. But the F is blinking, so we can go down to a low-power mode. So this custom rider mode can be a low-power mode. You can select that and we can go over to the traction control. We can go to level three, which is full heavy-duty traction control. It really keeps you safe. And then you can work your way down as well to two-to-one. And when you turn it off, you've got an orange light there saying traction control off. So we're going to put it just back where it was, keep it in two. We're going to go back over to the low power mode there and we're going to put it to a full power mode and kind of keep it like that.
:
But you've got a lot of good things here that you can really customize to make this both fun and safe and just the overall design of this display. There are larger displays out there, but I don't think you need that. It's nice to have a compact gauge cluster and you'll notice that your tachometer is the thing that you really want large, it stretches from the far edge right to the far edge. So it really gives you a large tachometer, a large speedometer. Those are the things you're checking on a regular basis. Your gear indicator, same thing, nice and large. So I know there's some people who've criticized, "Oh, this one has a larger display," but if it's a larger display that doesn't display things as clearly, it's just not better. And this one, the Kawasaki one does a really good job of really clearly showing you what you need to know at a glance.
: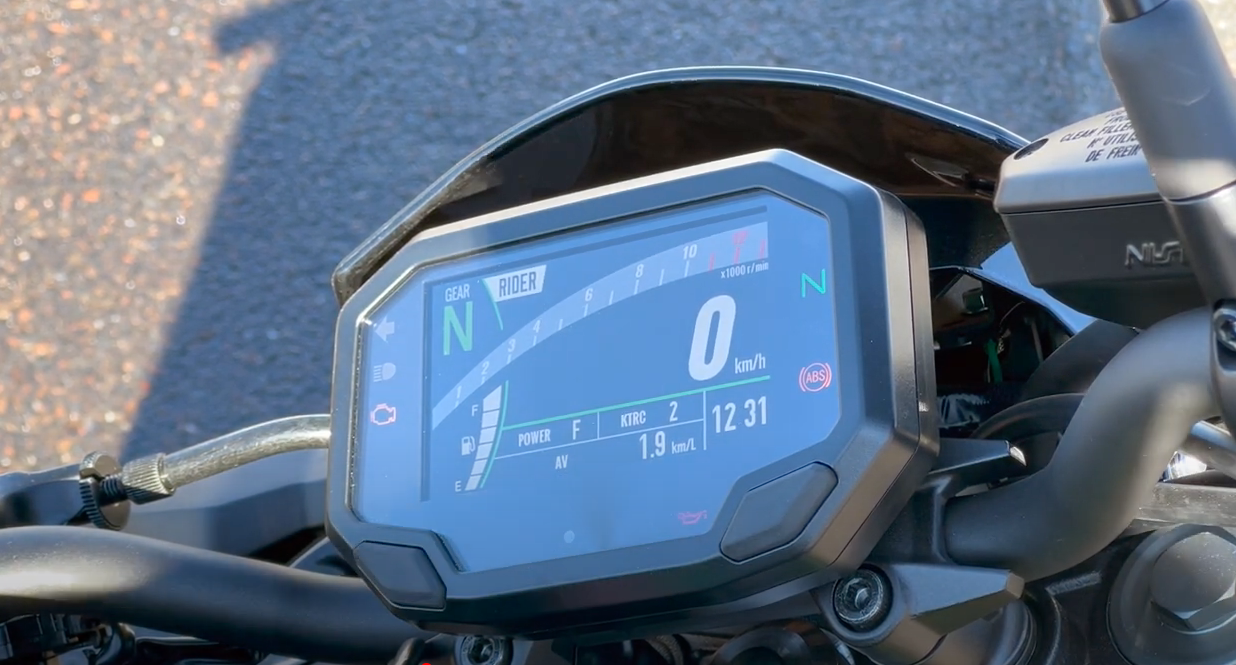 And that's what I really like about this display. Let's show you how you operate some of that display. All right, all your controls are really simple and this is... I think it's just really well done here. You've got your typical high beam and low beam. There is a trigger switch over here where I'm pulling on my finger. That trigger switch allows you to just flash to pass your high beam light so you can just trigger it just to flash people to get their attention. I really kind of like that sometimes if somebody's not paying attention, you can just really quickly flash it on and off, on and off, on and off and you know can get people's attention when they're not seeing you. So simple there, keep it on, leave it off or flash it there. Signal lights of course, there, horn right here, and your four-way flashers right there.
Peter:
This is the control I was working to cycle through. Both the average fuel efficiency, the range, those kind of things on the bottom that I first showed you. And the rider modes holding this down, up or down. When you hold it, you'll switch rider modes. When you just tap it, you'll switch some of the other information in there. So really simple to use controls in there. Other side is just a start switch and a kill switch. But I do want to show you a couple of things on the clutch and brake levers as well. All right, so we're on the same handlebar here and this is your clutch lever. We're going to talk about that in a second. There's your flash-to-pass that we were talking about. The clutch lever is adjustable and so is the brake lever on... So both sides are adjustable here and you have five different settings to bring it closer or farther away from you, which is really, really nice to make sure that no matter what size your hands are, you've got it exactly where you need it.
: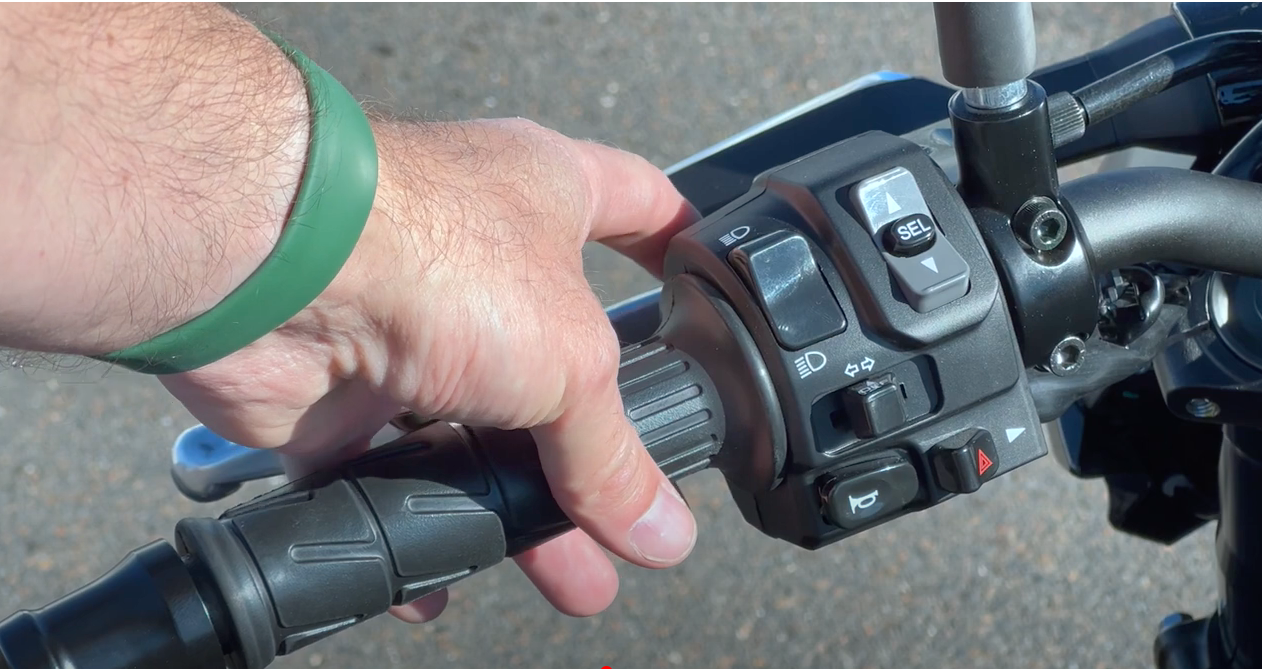 Now the other piece of sort of brains and brawn in here is this is an assist and slipper clutch. Assist basically means it's a lighter clutch pull than it could be otherwise. So it's not as light as say the Ninja 400, but it's still lighter than some other bikes that don't have that assistance. So that's kind of nice to have, especially if you're in and out of traffic doing your doing thing there. Now what's also nice is the slipper clutch. The slipper clutch has nothing to do with the lever. If you mess up your downshift and you've gone too quickly, what happens is oftentimes your rear wheel can lose traction. Well, the slipper clutch allows the clutch to still slip even if you've let it go. And it allows your wheel to do its best to remain in traction. So you can drive this bike aggressively and if you mess up, it'll have some protection to help take care of you to keep that rear wheel from sliding with that assist clutch as well, or with the slipper clutch as well as the assist in here.
Peter:
All right, turn the bike to the on position right now and you can see what the headlights, you have these little LED sort of marker lights. Just kind of nice to have, they kind of give you a little extra character. You don't always notice them in a lot of the other reviews, so I want to make sure I point them out as I start the bike up here. You're going to see the headlight come on. Now again, you hear a little bit of character, but I'm wearing the mic the... So we'll get you some actual sound in a second. You've got your high be or your regular headlights here, bright white lights. Now the benefit with bright white headlights is more than just the style and the look, although they do look cool, the bigger benefit with them is they give you a more daylight color.
: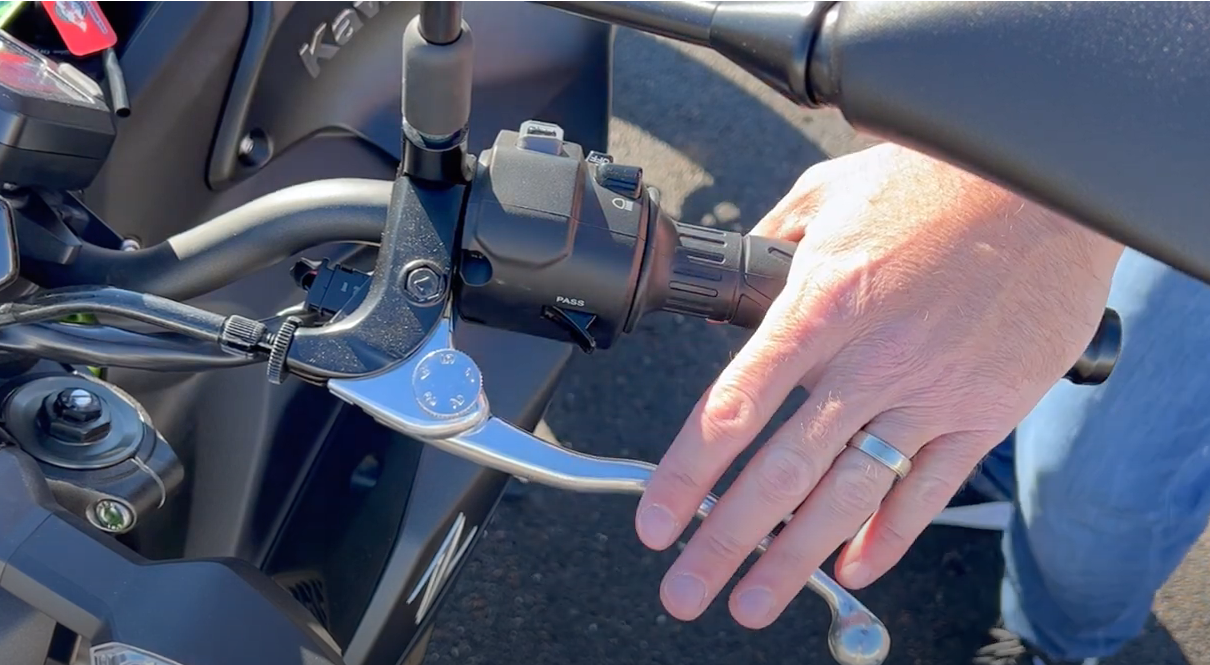 That daylight color allows you to recognize what you're seeing at night better because it's the same as what you're familiar in seeing that width, the same kind of color. So you can recognize things a little quicker. So it's both style and function. There again, that flash to pass there, maybe you can see, maybe you can't, the high beam coming on there down in the bottom. So upper side is low beam both sides and high beam is down low. While we're talking about sound, let's work away around of that and show you that. All right? Right. So standing over the bike right now, it is a louder bike than some others in the lineup, but it's not obnoxiously loud, it just has a nice sound. Now I'm going to try to take my mic off here and rev it up a little bit. It's not going to be perfect, but we'll see what we can do here to show you the sound. So down here, kind of hear, you can kind of hear that idle there a little bit. Let's try it again and we'll rev it up a little bit.
Peter:
So again, kind of hard to hear when you are just idling here, but as you're revving it through the range, it's got the more musical note. And that's one thing that's hard to pick up with the microphone because it really overpowers the microphone. But that musical note is what sounds good to your ear. It's like you can always tell when something's off key. This is right on key. It sounds great as it's working its way through the rev range. Let's turn it off and talk about seating position and comfort and usability, seating comfort. A rider position is a real piece of this bike. You could get a sport bike and you could have all kinds of fun, but if it's a true sport bike, a super sport bike, you're probably going to be in a really uncomfortable position for some types of riding. A lot of people like that sport bike ride. For me, maybe I'm old, I love the bikes, but I don't want to ride them all day.
:
This is all-day comfort. So you get some benefits and some cons with this. When you tuck on this bike, if you get into a tuck position, you still have a very natural tuck position, so it feels very good to be in a tuck. But because your mirrors are mounted up here on the handlebars as opposed to out on the faring, your eyes are sort of out of that mirror view. That's the one negative with tucking on a naked bike from Kawasaki is that your mirrors are here. Other than that, they're actually perfect. They're well clear. I don't even see my elbows in here. I can see behind me and there are large mirrors. And again, being closer to you gives you a little bit wider angle view. So that's really good. Here you've got a little tiny, tiny little windscreen right here. If you wanted wind protection on this bike because this is there, you could swap this out.
: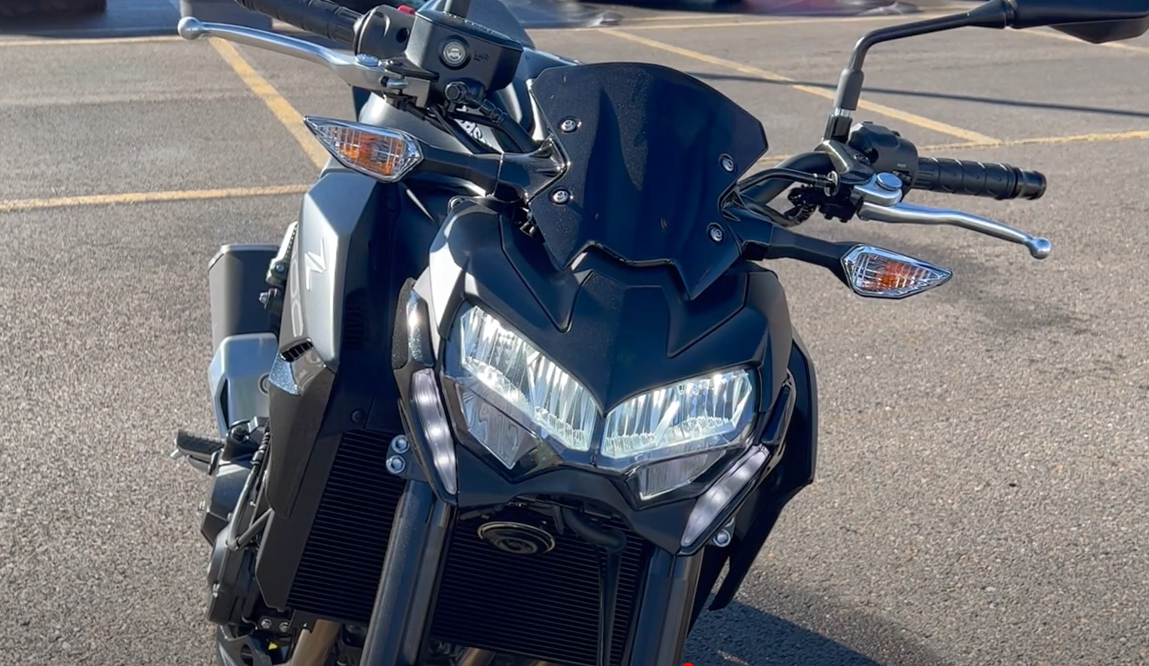 So even if you're shorter, you got room. It's got a nice narrowness to the front. And then again, a large feeling tank, it's got to sort of cover those four that in-line four engine. But a narrow riding position, it feels muscular and large, but you've got a little bit wider bars that give you some control over that. Your forward lean is not enough that you have weight on your hand. So you sitting still, there's some weight here, but as soon as you start riding, that wind's going to be pushing you back a little bit. It's a very comfortable, very neutral kind of riding position, which makes it good for a lot of things. If you want to go out on the highway, you've got the power, you can do that. If you want to drive around town for a 900 cc bike, this is a very nimble maneuverable bike to go through town, country, roads, that kind of thing.
Peter:
And you're in a seated position, which gives you good visibility in front of you. So it really makes a lot of sense. And again, that styling is aggressive, but also practical. If you want to swap out a screen, it's four screws to swap out a screen for a longer trip if you want just some of that clean, easy to clean kind of look, but still have that aggressive look. It's got that as well. So I think they do a lot of things really well with the overall seated position and just the overall feel of this bike. So before we talk about who this bike is for, let's talk about one little piece of this TFT display that I think a lot of people leave out. And I'm also going to leave out and it involves the ride ology app. Now I've worked with automotive industry, I've worked with automotive manufacturers on their apps and most of them kind of suck.
:
Now, who is this bike for? Well, it's probably not a beginner bike. It's got a lot of power. Even that low-power mode, you still got a lot of power. That being said, it's not hard to ride. It's easy to maneuver around on its own. It's nice and compact, although it's heavy as in the sense that it's a four-cylinder engine, not a little two cylinders or a lightweight bike, it doesn't feel heavy to move around. It's very easy to maneuver. The wide bars give you good control whether you're driving through the city, country roads, whatever it is. If you're going to tour on this bike, it's probably not made for that, but you could certainly do long trips. The rear seat here pops off. You could put some tail bag type mount into there. You can take a passenger of course, as you want. Again, I wouldn't take a passenger for day-long tours or anything like that, but certainly, a couple of hours out, no big deal.
: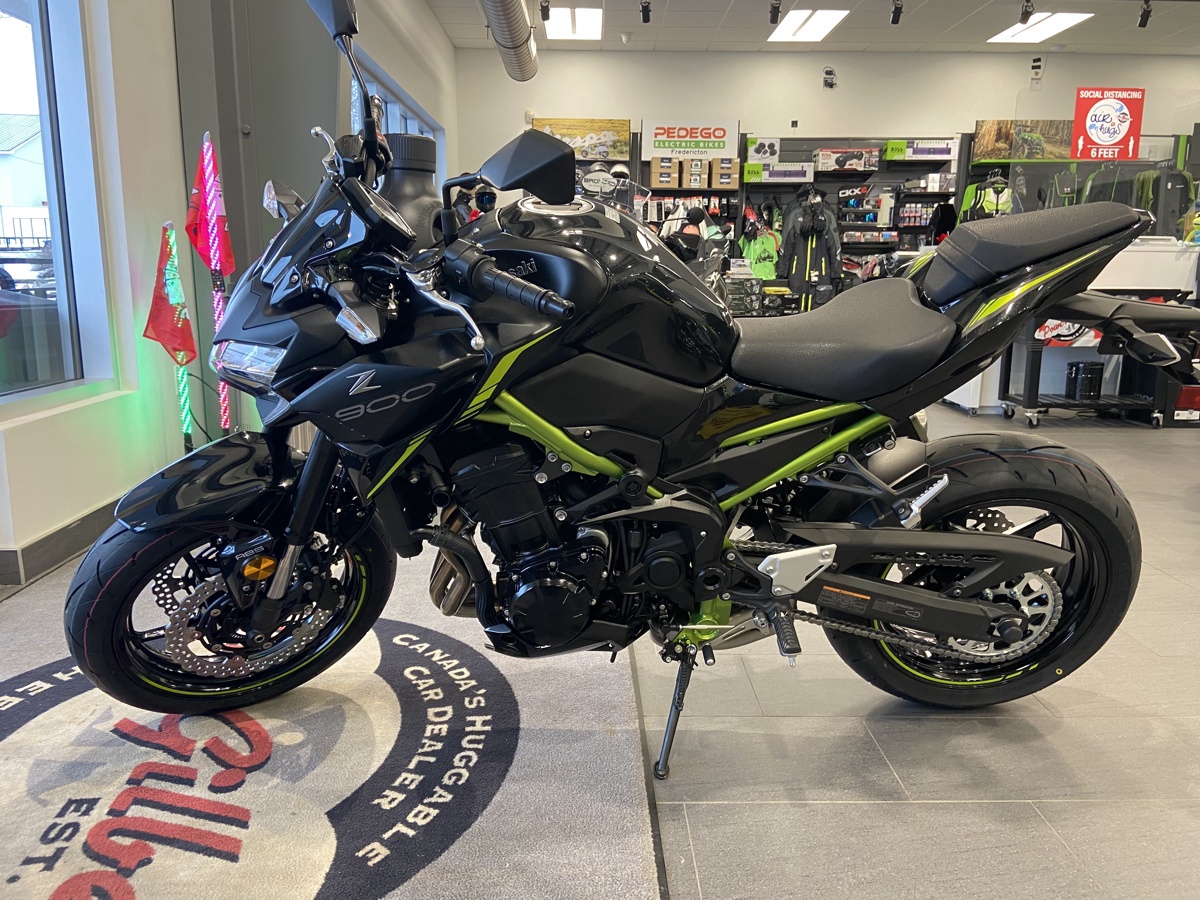 And again, you could put a tank bag on here, you could use it as a touring machine when you need to. But really what it's great for is those afternoon rides, those weekend rides, those all day kind of comfort rides. Doesn't matter what kind of road you go in, you want to stop through some small towns and stop and pick up a couple... Maybe stop and get a coffee, grab some pizza, that kind of thing, you can do that. You can drive through the towns like that. It's great for the open road. You can get out on the highway. Like I said, if you want to get a different screen, you can literally just swap that out before you go for a ride, if you can do a lot of highway riding, but it's very nimble and maneuverable for the size of the engine while having a ton of power. You want to do a wheelie? You can get the wheel up on this, you want to keep it in control, you can get the traction control to make sure that you don't accidentally do those kind of things.
:
Thanks, everybody for watching.
Full Helpful Financing available... and our specialty