:
Let's talk about some of those style bits and we'll talk about some of what makes the
Justin Beaver's scooters
really unique. All right, let's just start with the really quick overview of the 50cc compared to the 50cc because this is exactly this with some style touch. And the point of style is that Vespas are about making it your own. This is how this particular
Vespa
comes from the factory, but there are all kinds of paint colors, all kinds of accessories, all kinds of details that you can get from Vespa to make it your own. It's not like it's just available in three colors or three different styles.
: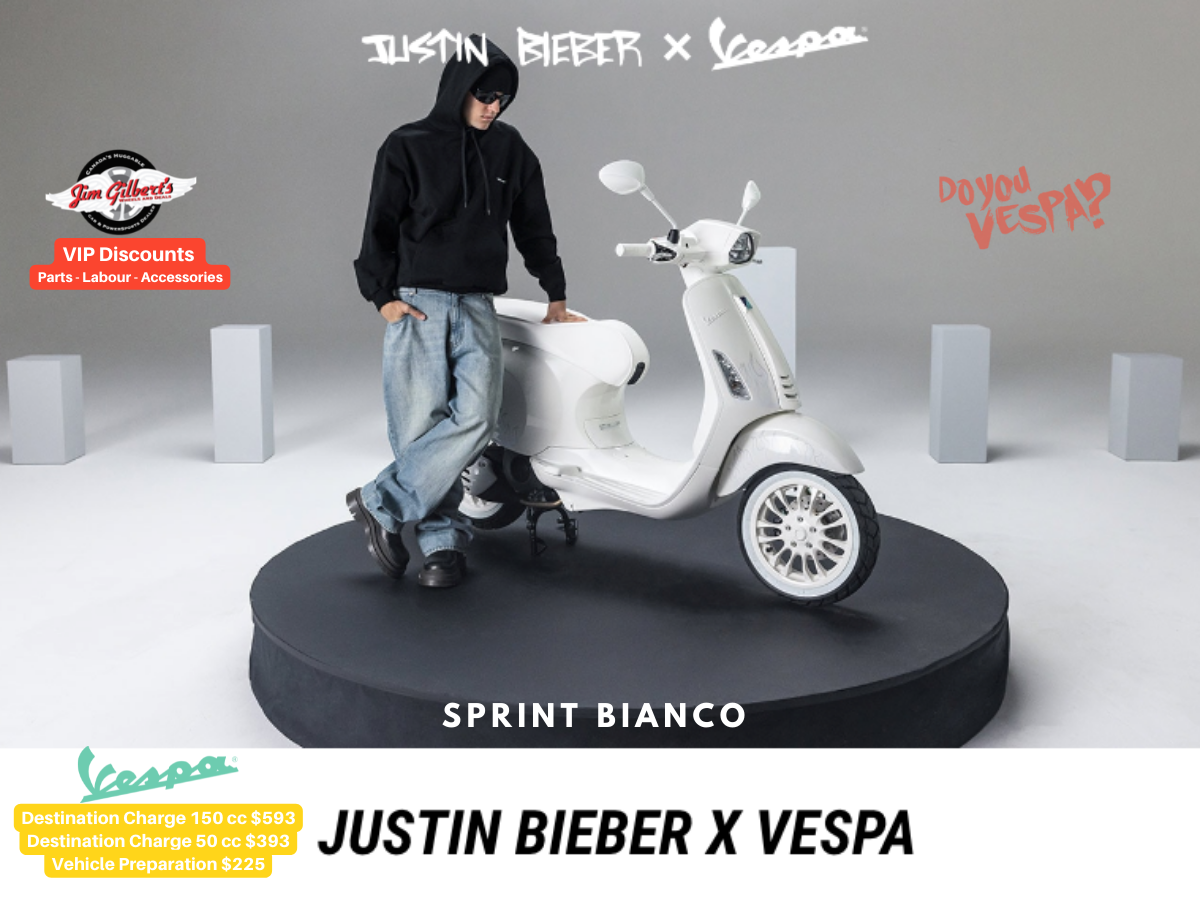 So let's start with the wheels. Justin Bieber went with the white wheels, the stock wheels or the black wheels. This has that white and black storm trooper look to it where Bieber went with extra details. Now he added on the flames. Of course, that's done by Vespas. We'll show you the flames up closer to the white flames. You may not be able to see them great, but again, you could do this to your Vespa, you can make it yours, you can make it unique. It's a style piece that's timeless.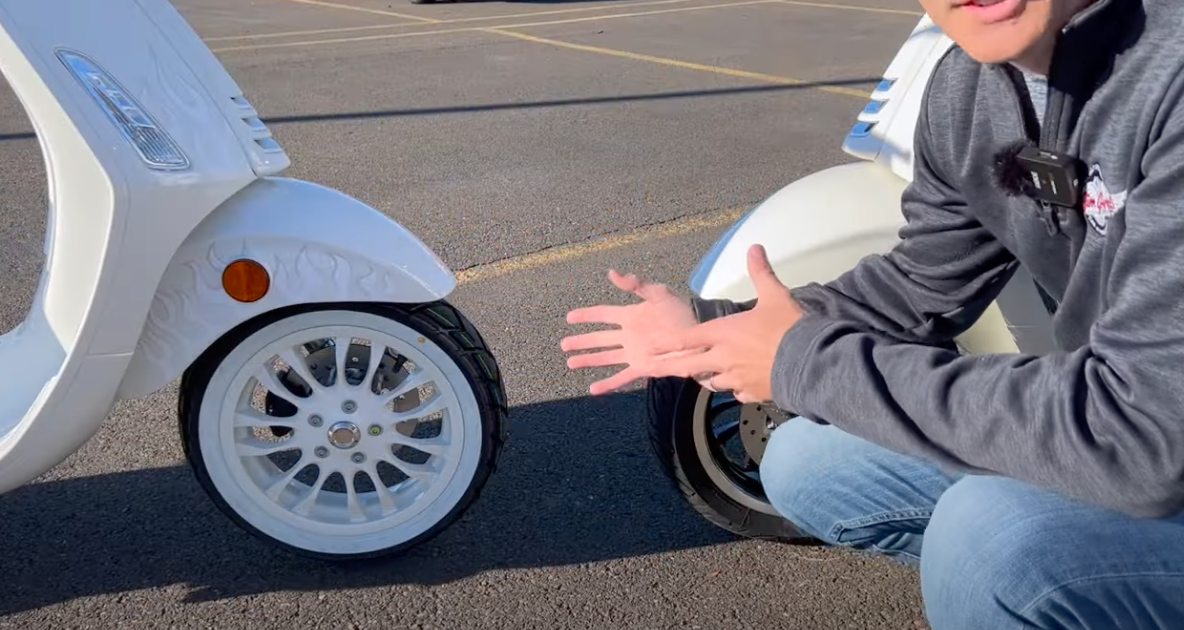 So coming over here again, little bit of a black lip up here, black details, you've got some chrome in there. Justin doesn't want chrome on his, does keep some black, but most of everything is white painted over. Let's look at some of the details. We're going to look at some of the pieces that make it a great scooter as well as some of the style pieces that Justin Bieber decided to add to this. All right, let's start down here with a style piece and a function piece. Again, this is the regular sprint. This is the Justin Bieber sprint.
:
You can tell by those white monochromatic type flames. Now of course you've got the white wheel here. This one's got the black wheel, but this one is facing the opposite direction. You'll notice something unique about Vespa is the suspension, the swing arm, everything is on the other side. So instead of having a motorcycle where you've got the two forks coming down, you showed the wheel here. And what Bieber does with the wheel is instead of going with a black wheel with a chrome rim and a black side wall, he goes with a white rim with white side wall, no chrome at all.
: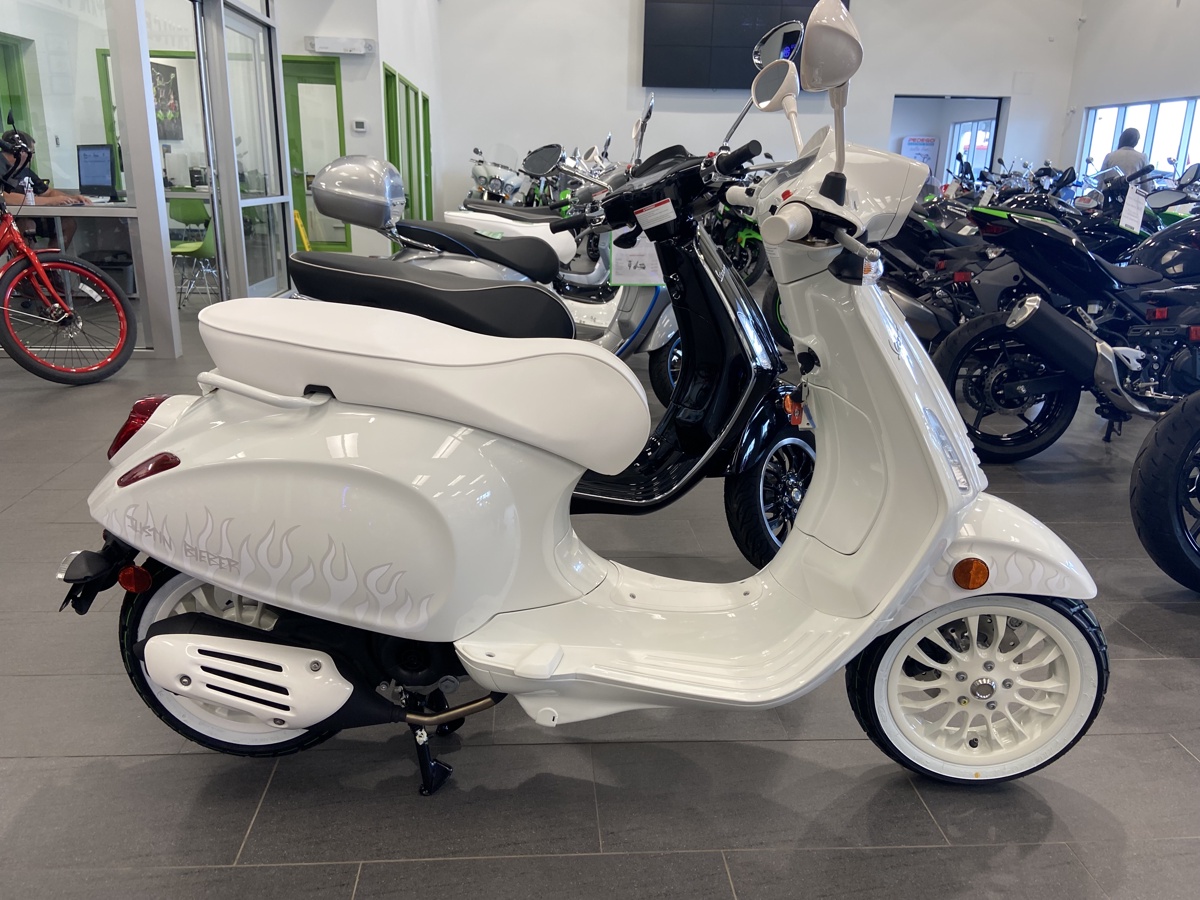 And again, it shows off so well because you've got the brakes and everything else on the other side. Now let's talk about the brakes and everything on this side here. On the 150cc, you have ABS brakes. On this one, you don't, you do have a disc break down here. So just like an automotive break, you have a spring here and a shock inside. And this fancy design, if you notice it looks different than your mountain bike-type forks or a lot of motorcycle-type forks. This is an anti-dive-type design. That means when you hit the brakes, it doesn't just dive down.
:
Another difference between these two tires and wheels, when you look at the standard Vespa here and you look at the Justin Bieber one, you can see an entirely different tread, a little bit more aggressive style tread here, which stands out. Don't worry about these green and red lines. They wear off in time. That's a new tire thing, but you have a different tread on both these as well. So it's not just the style, it's a different style of tread as well.
:
All right, I want to show you the Vespa sprint here, the non-Bieber version. You've got the chrome down here, the black foot pads here and black across there. Let's check out what Justin Bieber's done. Down here you can see again white foot treads down here, white across there, white in here. You've got the white passenger pegs down here, which is where your passengers can put their feet. Even the little plug down here is all white, so everything is whited out, made to look clean. There are some black details.
: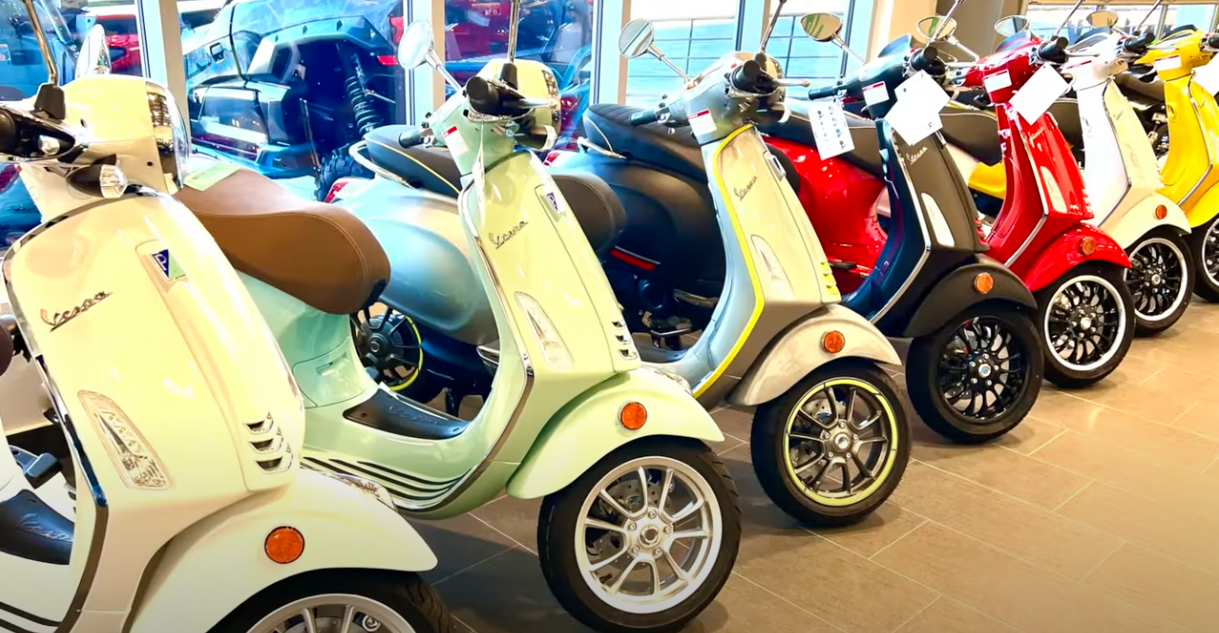 Obviously, the key is still there and there's actually a hook right here. I don't know if you can see that in your shot light right now. Let me just double check. Yeah, you can't see this, so let me just show you what that's all about. So the hook right here is between your legs on the seats. This is a nice little rubbery type pad. And what happens is when you pull this out, you can stick a grocery bag and stick some sort of bag, some sort of something that can hang on there and you can push it in to hold that lever or to hold that bag end in there.
Peter:
But you'll have that cargo between your legs. There's lots more cargo space to show you. We're going to get to that in a second as soon as we're done with the design of this bike. But this is a really practical piece that just pops out, pops back in, helps you hold a little cargo outside of the scooter, but between your legs and keeping it dry, clean away from all the elements. On the backside of the scooter here, a lot of little details for Vespa nerds like myself, you've got those flame-type markings down here.
: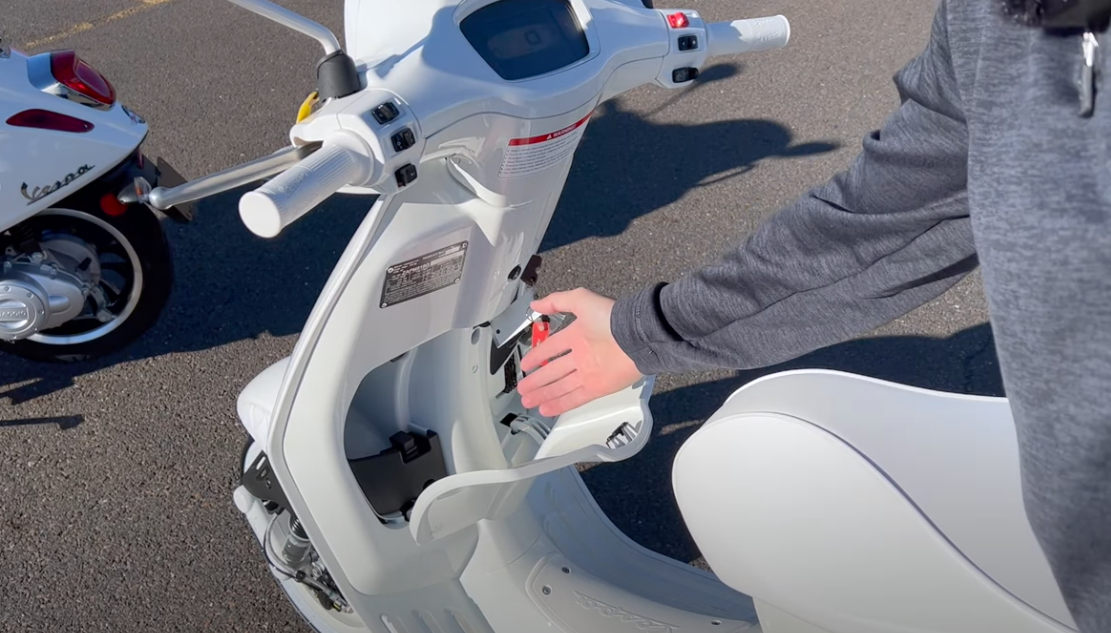 You've got the white grab handle down here instead of no grab handle or the chrome grab handle. And all the seat is white including the white piping. So everything's whited out even around the LED stop lamp here is all white. The only thing black down here is the exhaust underneath that cover, the signals, and the license plate, and mud flap-type thing. So you've got a lot more monochromatic look that makes it look unique.
Peter:
Taking a look at the front end, you're going to see exactly what you expect. More white, more flames. You do have LED lights down here and an LED headlight even on this 50cc model, which is nice to know. It is a bright white headlight. And if you switch on the high beam there, you have high beam, low beam white, and I don't know if you can see them there, but there are three LED lights. They don't always film well at all, but you've got some lighting down here. Gives you some presence on the road, especially at night.
:
And again, that white LED light, not only is it cool because it adds that white color that you can expect, and again this is standard-type stuff, but it also those white lights give you a more natural daylight-type color to the light. So when you're driving at night, you can really recognize what you're seeing. You'll also notice that the mirrors up here, usually chrome on the standard scooter are also white out as well. These are wide angle mirrors, so you're going to see objects of mirror are closer than they appear.
: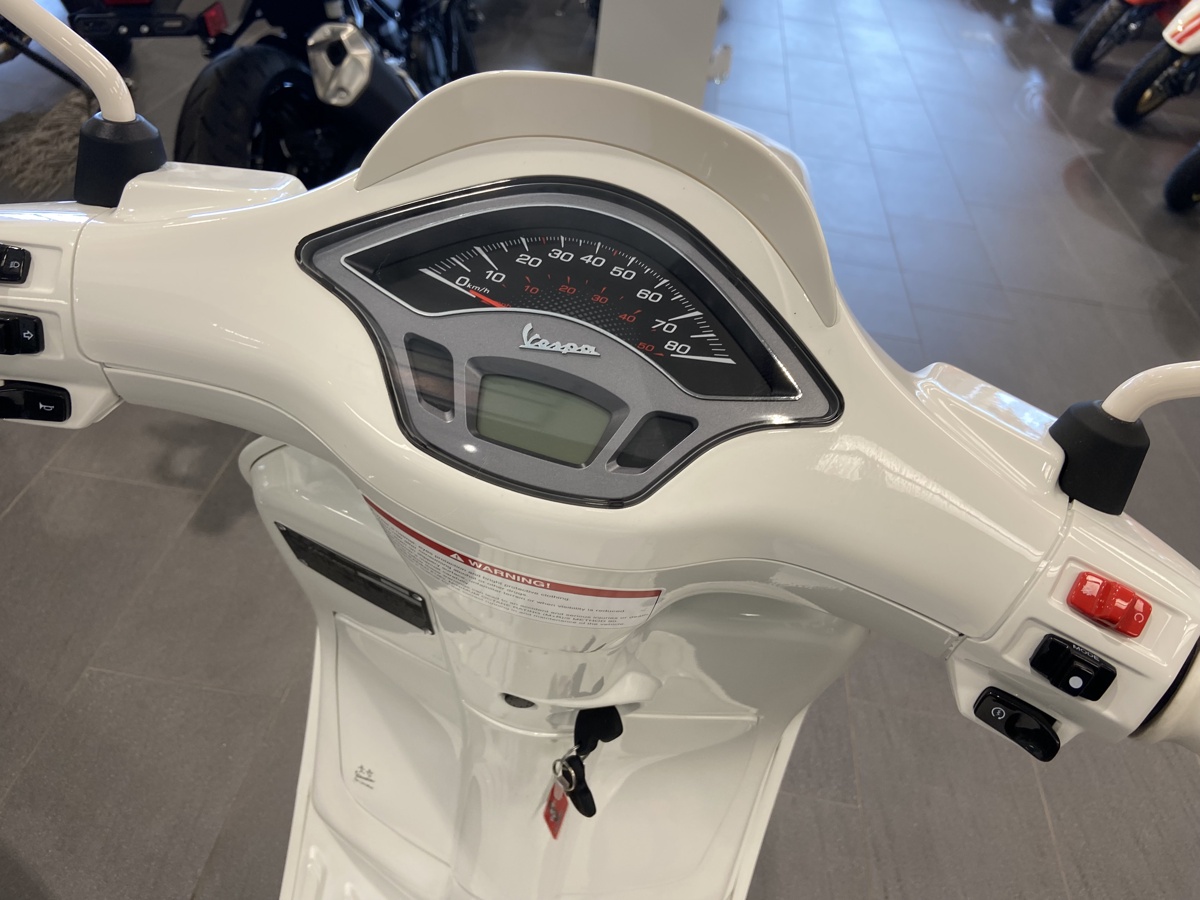 Now we're going to show you the dash here before we jump over to the 150cc, because there's a big change between this one and that one. All right, looking at the overall dash here, I want to point out the white grip. You don't get these on any other Vespa that I've seen. They're always black, sometimes they're brown or tan or other colors. But white grips are unique to this as well.
:
Your controls over here are black. Those are standard switch gear probably because they're safety related. They didn't go through rebranding those, but your headlights here, headlights are always on. If you flick it this way, that's your high beams and signal lights there, turn left and right and that way is to cancel. And you've got a horn down there, which is nice and loud, right side you have a kill switch, which literally does that just turns off the engine and you have a little selection switch to switch through the few functions here. Trip A, trip B, total kilometers. And that's about it down here.
:
So we're going to turn the high beam off down here. Over here you'll see 80 kilometers per hour. Now Justin Bieber, like myself is a Canadian, so he's perfectly familiar with 80 kilometers. When you see the 80 kilometer an hour, Justin Bieber scooter with a dash like this, you know that you're dealing with a 50cc model. Now I'm going to show you the 150 right now, because it steps things up in a pretty cool way. All right, now we're looking at the 150cc and boy are things stepped up here. You have the full digital dash. Now I don't have it running right now, which is why your ABS light is flashing.
:
And again, I should point out this has ABS brakes. That's going to keep you from locking up your wheels. And that's one of the things you want to try to avoid when you're driving, when you're driving a little faster, again, the 50cc, not as fast, this one's a little quicker. And again, if you're driving a little quicker, you jam on those brakes, especially in poor conditions. You want to make sure that front wheel especially doesn't lock up and it keeps you some control.
:
So you have ABS brakes included there. Oil light on again just because it's not running, but you've got all functions in here. You've got the ability to connect your cellphone to this. You can see it's 15 degrees Celsius outside, although it feels much cooler, I'll be honest with you. And you can also cycle through a number of settings in here, but you have that full digital dash, that full modern up-to-date look, which I think is pretty cool. And even just turning the vehicle on or off, it looks pretty cool. It closes down like that, shows the Vespa logo and clears out.
:
So very cool modern technology look. So earlier in the video, we mentioned that you have some storage space in this. We talked about the handle off the steep there, but there's a couple little cool plates down here. You're going to turn the vehicle to on, you're going to press in your key and you open up a large space here to hold your phone, hold your wallet, hold all kinds of little things. Again, not massive, but it's probably the piece you're going to use every single day.
:
That however, is not what we were super impressed with. What we're super impressed with is over here, and I'll move the camera around so you can see what we've got underneath the seat. Underneath the seat, you've got storage area and that looks a lot like a helmet shape, and that's because it is. It'll fit a nice Vespa helmet in here. It's usually not a full face helmet.
: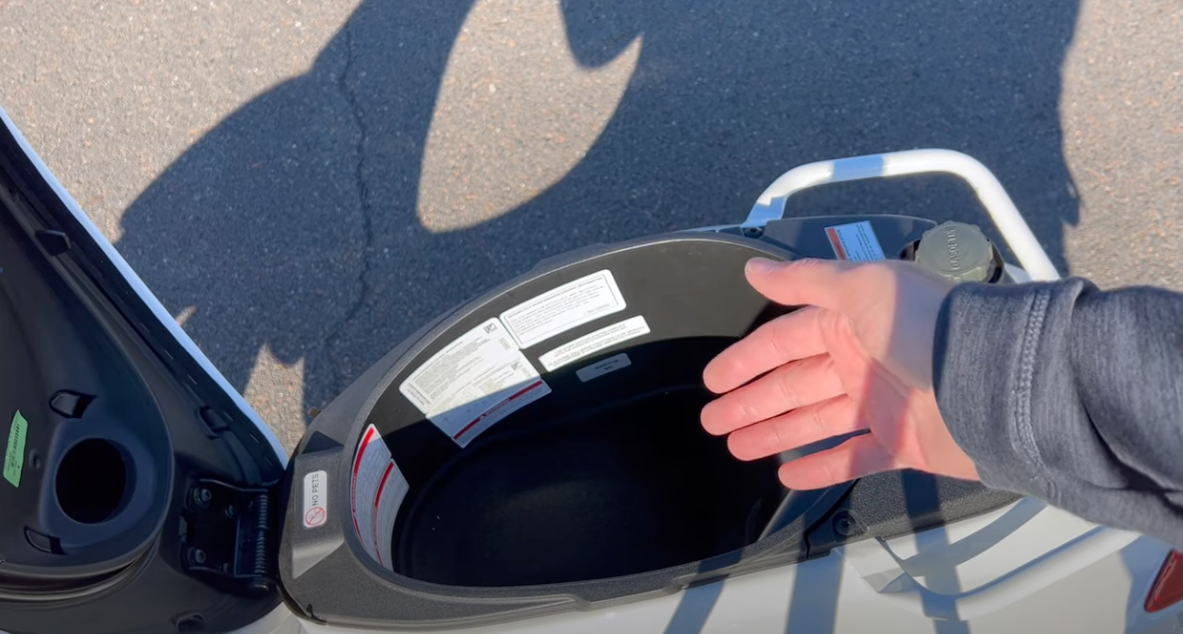 But speaking of helmets, the
Justin Bieber edition
has Justin Bieber accessories. You can get a helmet with the flames that match. You can get a top box, which is on the back end here, which holds extra storage. And of course, this is a space that while you're riding, you can use for all your daily activities. It's weatherproof. When you leave the scooter and lock the bike, it is locked up, it keeps it good. You can throw your helmet in there when you park the bike and take all your gear out. Or you could just use it for all your gear.
:
So a large storage space that you just don't get on most motorcycles, it does say don't stick your pets in here. I find that sticker funny. Don't stick your pets in there. It's just not something that's very smart. So I started the video off by talking about how these Justin Bieber Vespas, their scooters are Vespa perfection.
:
And like I said, these aren't vehicles that you buy because they're cheaper or because they're slightly more economical, although they are both of that cheaper than a motorcycle, more economical than a motorcycle. You buy them because they're cool, they're timeless, and you make them your own. And whether the Justin Bieber's style is right for you, doesn't really matter.
: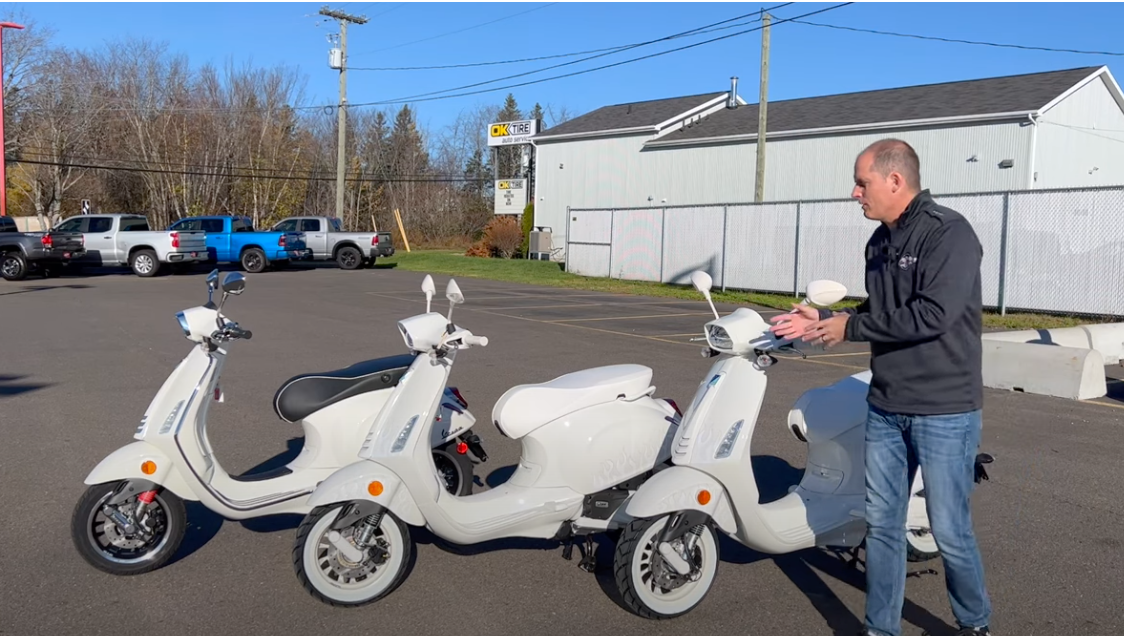 You have to come see the showroom here at
Jim Gilbert's PowerSports Vespa Dealer
because they have every style, yellow, red, black, matte colors, blue colors, matte blue colors, picnic baskets on the back, different kinds of luggage, sporty, classic, all kinds of things when you leave with a Vespa. But even if you leave with one off the showroom floor, it's unique. It's yours and it's timeless.
: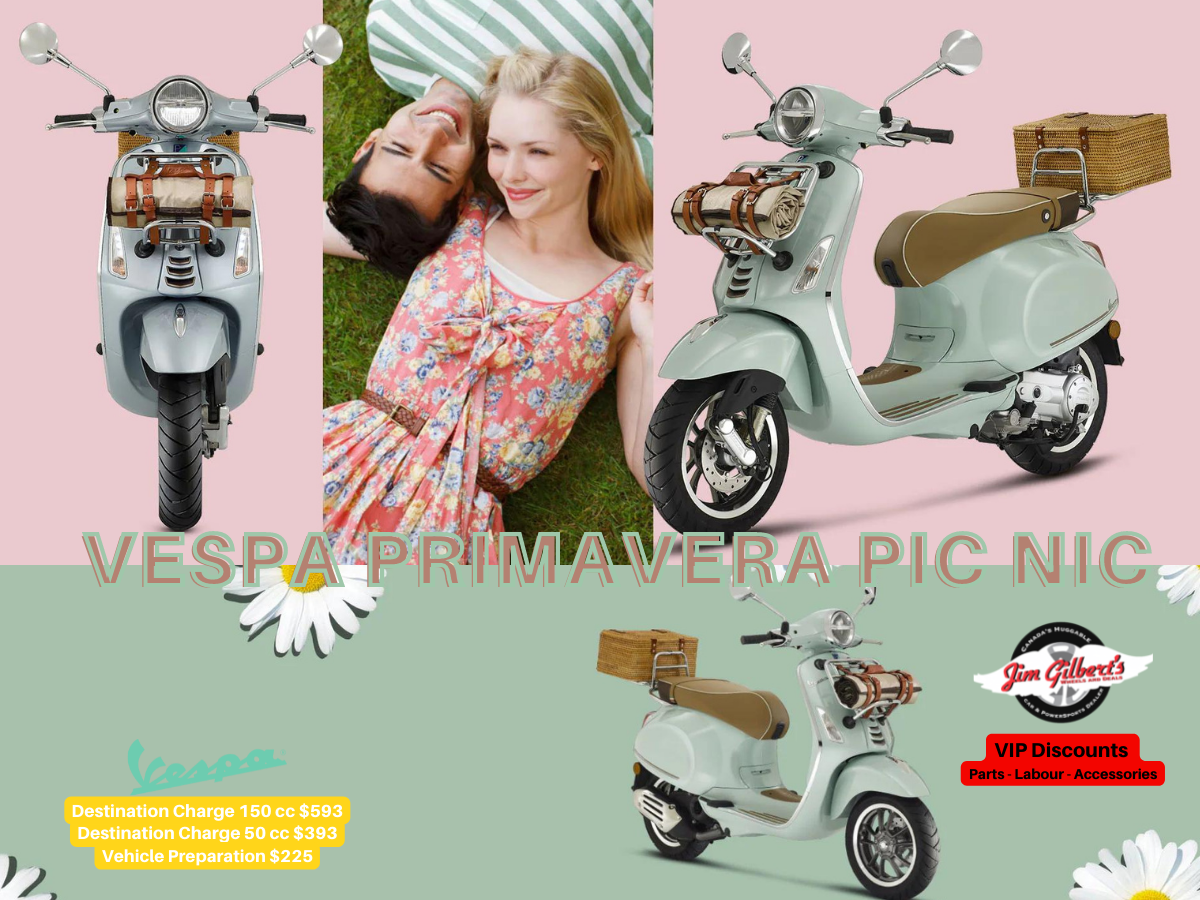 And that's one of the coolest things about Vespa scooters. So whether you have the opportunity to become a celebrity and design up one just for yourself, or whether you have the opportunity to just walk into a showroom like here at
Jim Gilbert's PowerSports
and choose one that speaks to you because it is who you are. That's the cool thing about Vespas and that's why the Justin Bieber Vespas are Vespa perfection. Thanks everybody for watching.
Full Helpful Financing available... and our specialty