2019 Bennington Swingback Pontoon Boat 25 SXP....
Jim Gilberts Powersports 25 Bennington SXP Swingback Premium Pontoon boat is an impressive blend of exquisite detail and quality.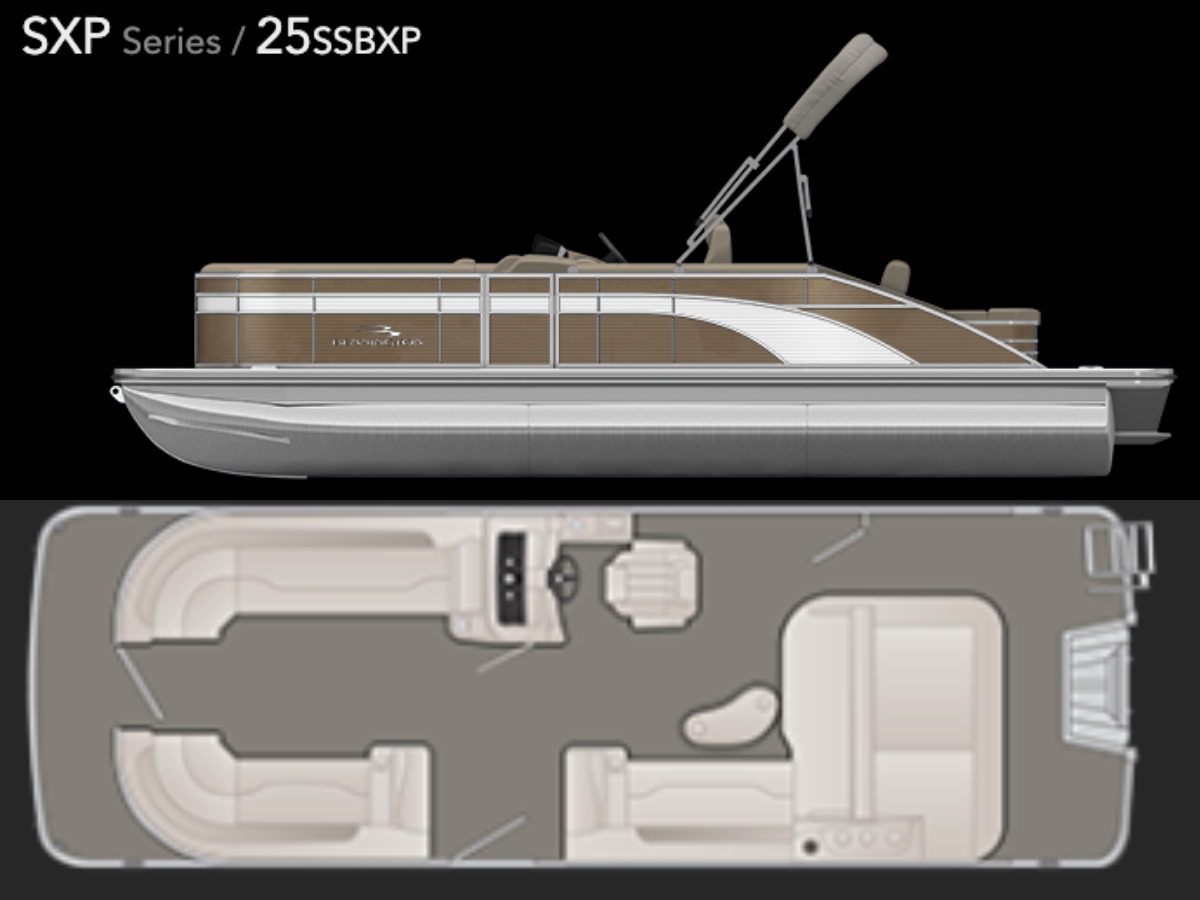 Spotting an impressive mix of great attention to detail and top-quality, Jim Gilberts PowerSports 25 SXP Swingback is an affordable boat, that will particularly offer first-timers an amazing experience on a lean budget. Powered by a four-cylinder Mercury 150 four-stroke outboard, this boat is an exquisite combination of economy and performance. The SXP25 cruises effortlessly at minimum speed without any signs of plowing. However, the sweet spot where the SXP Swingback proved its economical nature is 23mph. At around that range, the Mercury 150 uses very little fuel. Acceleration from complete rest is also a breeze. This boat is the ideal package with lots of perks for big loads and watersports.
There are facing loungers at the bow section.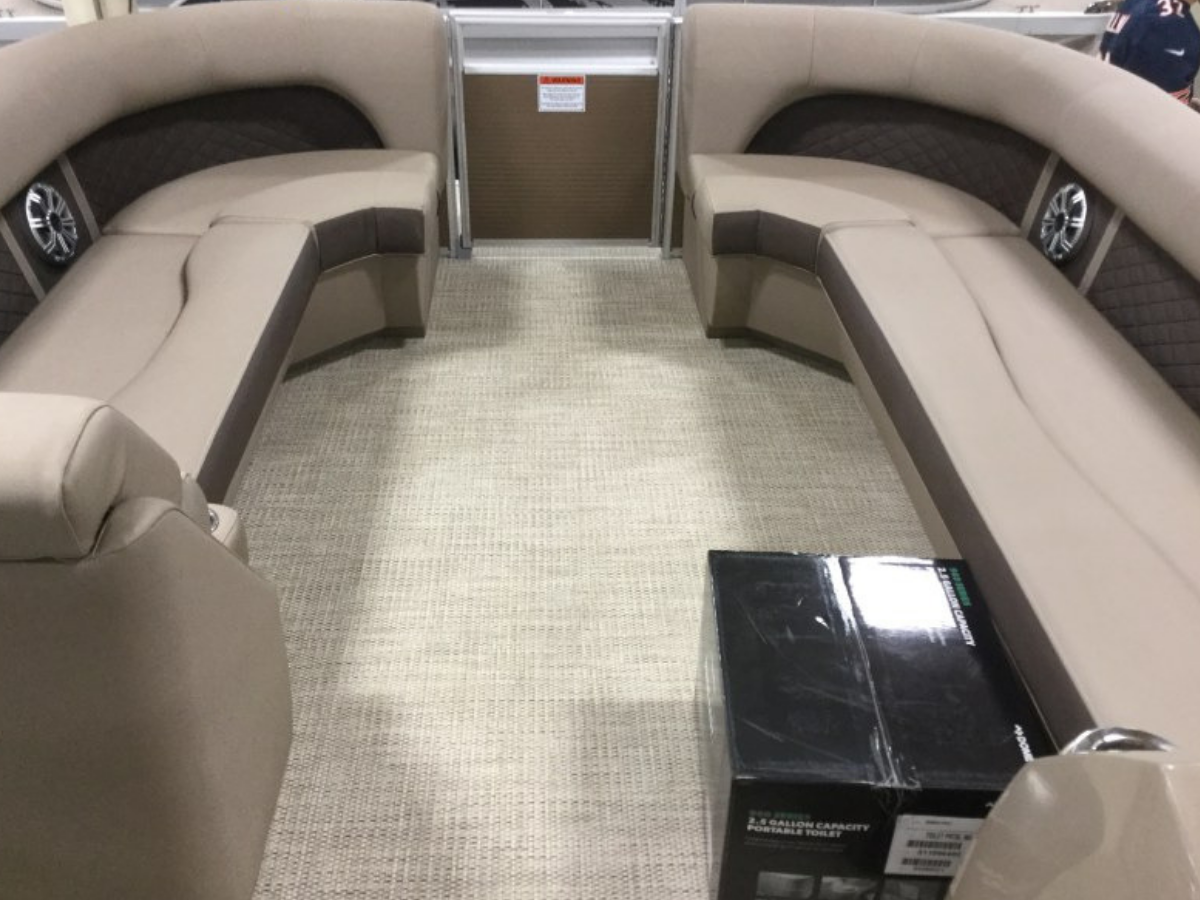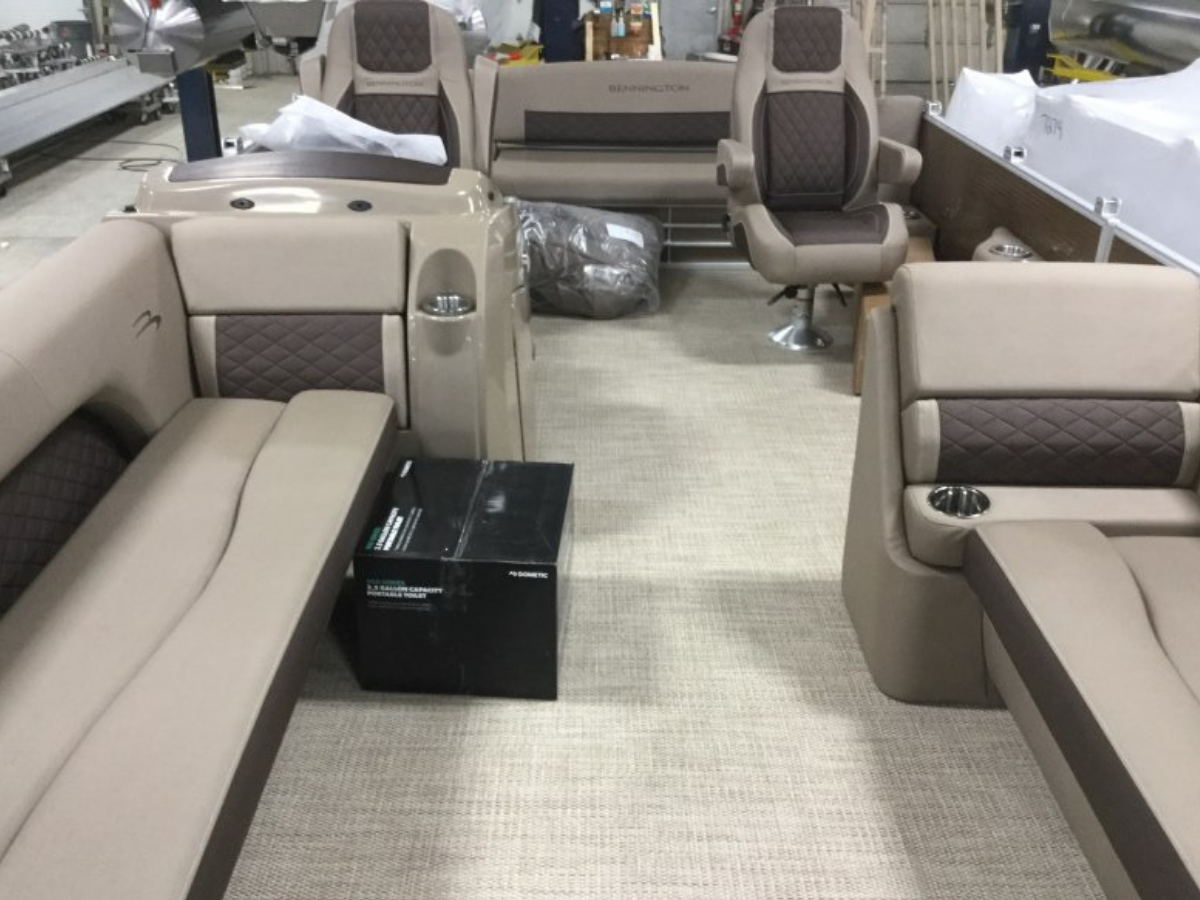 The captain can rely on the very functional helm.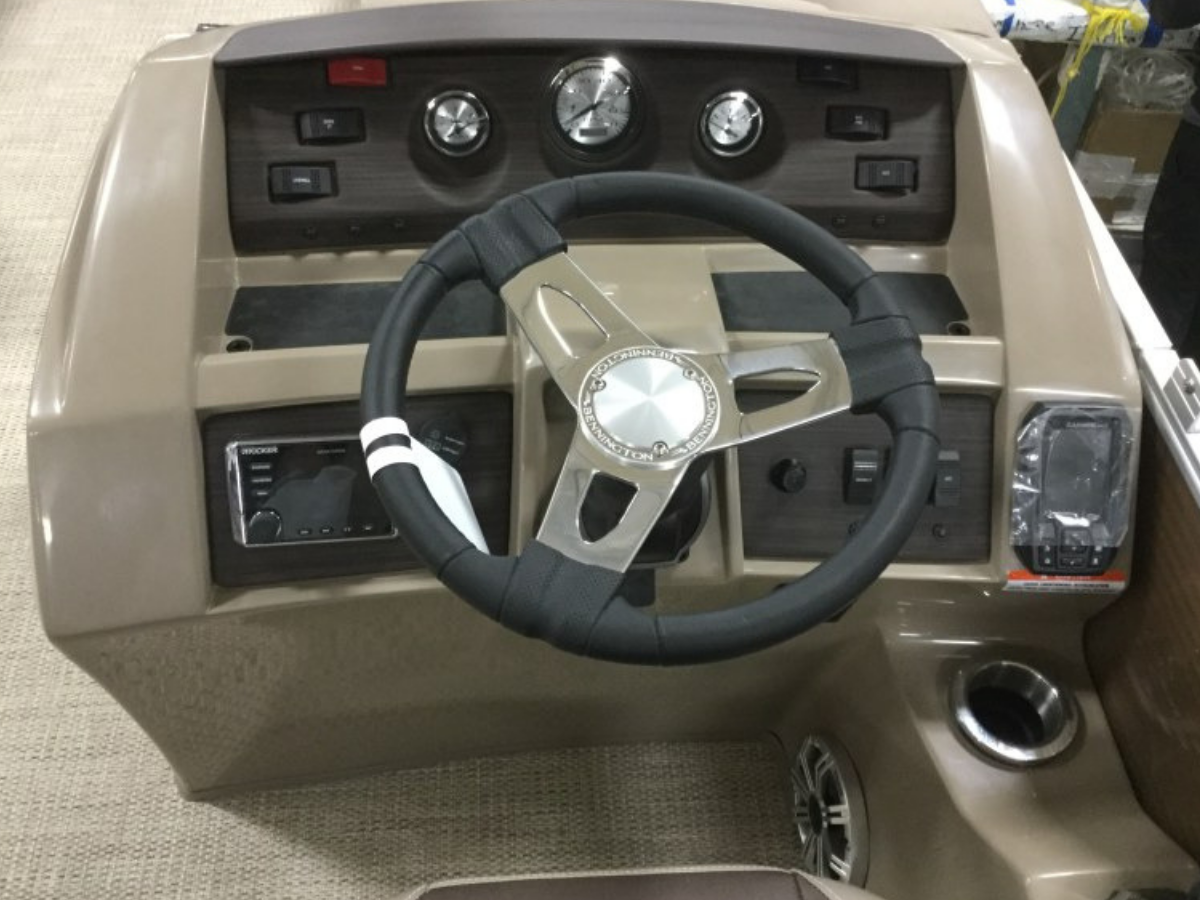 The helm features standard analog instruments (tach/fuel/trim), and an optional depth gauge, Garmin GPS and a Mercury control that all combine to offer the captain several valuable information to remain in full control of this 'toon's system. The Simtext vinyl upholstery is made of pressed diamond-pleated carbon-fiber insets for a luxurious feel and look. Also, there are facing loungers at the bow area, but what really catches the eye is the Swingback stern seating, which sports a versatile and relaxed seating platform. When the seat-back is moved forward, the entertainment area towards the back for watersports and sunning is in full view; when the seatback is positioned aft, the aft cockpit party center becomes bigger.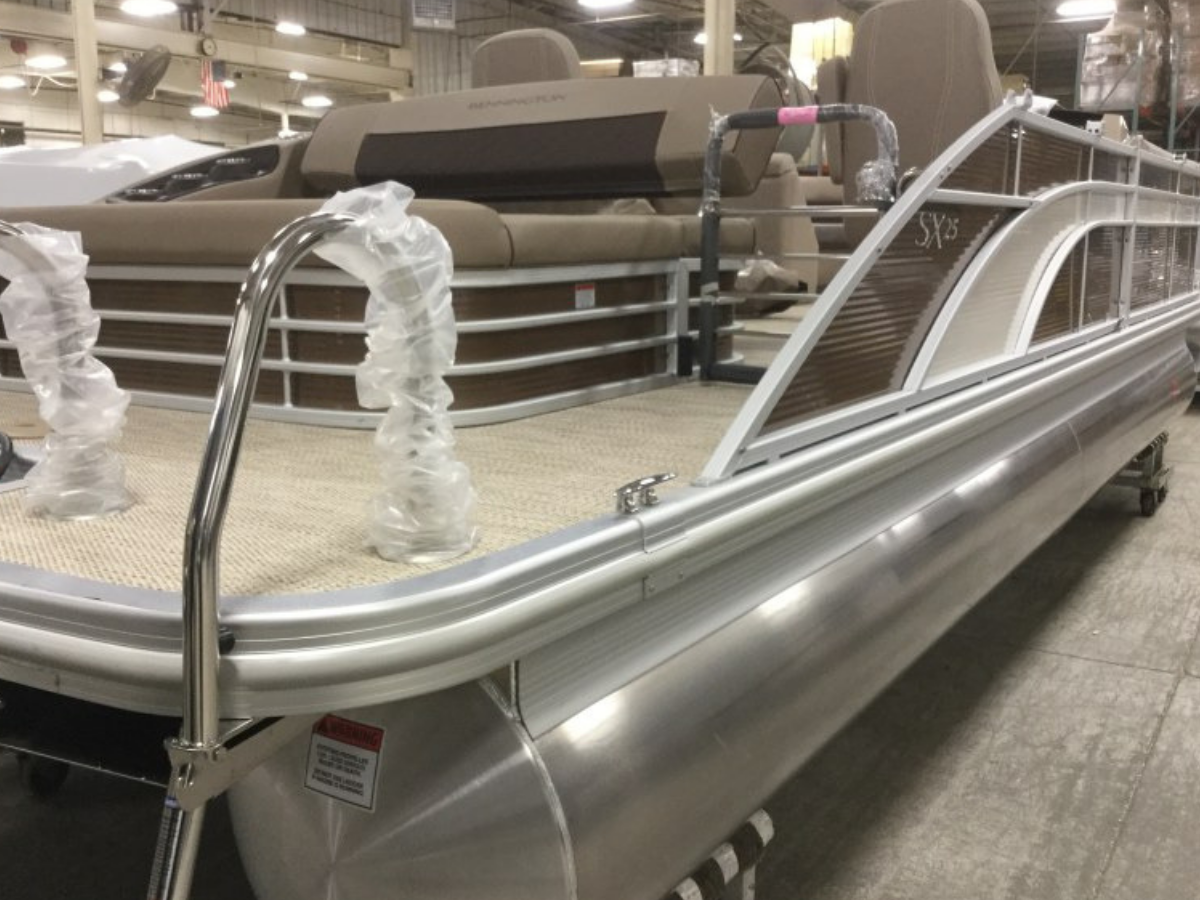 Swingback stern allows for a number of flexible arrangement.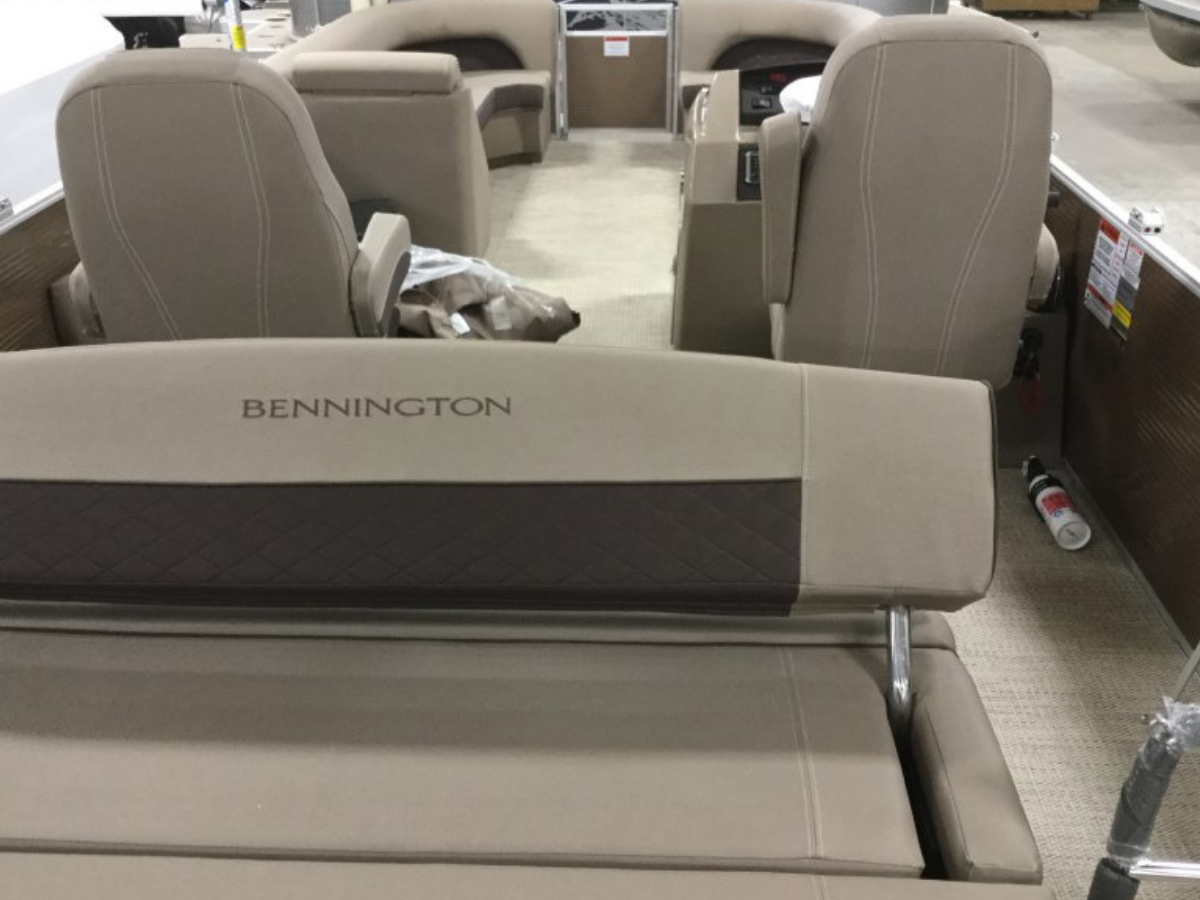 The stern ladder and Bimini top combine to form a sleek and well-arranged look. Another must-see area is the changing station.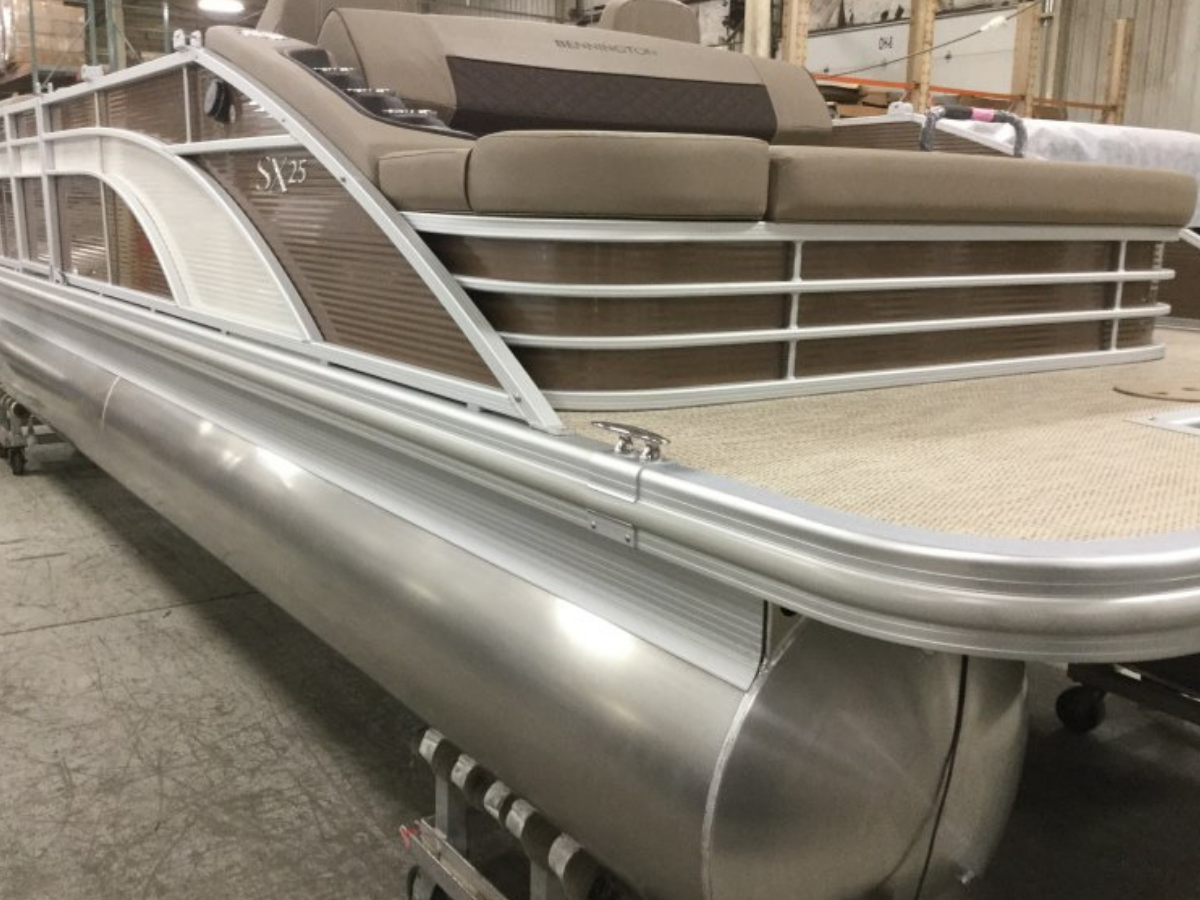 Beam: 8'6" | LOA: 24'9" | Seat/Weight Capacity: 13/1,830 lb. | Draft (hull): 1'2" | Fuel Capacity: 24 gal. | Dry Weight: 3,064 lb.
Pros
· Seat "pocket shelves" are a fancy and nifty area to store sunglasses and cellphones
· Hassle-free privacy is available in the Changing rooms.
· Secure/stable handling and flat regardless of speed, which makes for a confident cruise.
Interior • 24 Gallon Fuel Tank, 21.4 Gallon Usable Capacity • (NEW) Radius Bow Furniture • Transom Fuel Tank • Swingback Stern Lounger • (NEW) Two-Tone Vinyl Furniture • (NEW) SX Premium Furniture and Console • Horizontal Diamond Pressed Upholstery • Simtex Vinyl Upholstery • Seagrass Flooring • Duraframe Seat Bases • Fire Extinguisher • G Series Reclining Captain's Chair • KidneyShaped Table • 2 Chaise Lounges • Powder Coated Seat Hinges • Stainless Steel Rimmed Cupholders • Exterior • 25" Pontoons • 6" Stainless Steel Cleats • Anodized Raised Rails • Crystal Cap Logos • Full Length Extruded Anodized Skirting • Quick Release 10' Bimini Top with Surlast Embroidered Boot, 1.25" Frame & Trailering Struts • Stainless Steel Cleats and Corner Castings • Stainless Steel Deck Bolts (Fanged Elevator Bolts secured with Stainless Steel Nylock Nut.) • Streamline Rail System • Surlast Mooring Cover • Underdeck Spray Deflectors • Extended Aft Deck with Curved 4-Step Aluminum Ladder (above deck mount) • Flush Bow Deck • 18 IN Stern Deck • Mooring Cover Quick Clips • Full Height Panels • Extruded Splash Guards • Rounded Solid Keels • .250" Thick Bow & Stern Cross Channels • Console Features • 12 Volt Receptacle • Console Courtesy Light • Hour Meter • Locking Side Access Door • Low Profile Windshield • One Piece Fiberglass Console • Polished Steering Wheel • Rocker Switches with Dash Mount Breakers • Sealed Deutsch Connectors • Zebrawood Slate Dash Accents • All in One Kicker Stereo System
10 Year Warranty
MSRP $103,478 - Save $20,696.00 Year End Clearance 25% Off Steal a Deal Sale $82,782 10 Year Warranty - SalePrice Includes 150hp 4-Stroke Mercury & Trailer